8 minutes reading time
(1676 words)
The Women Behind the Jewelery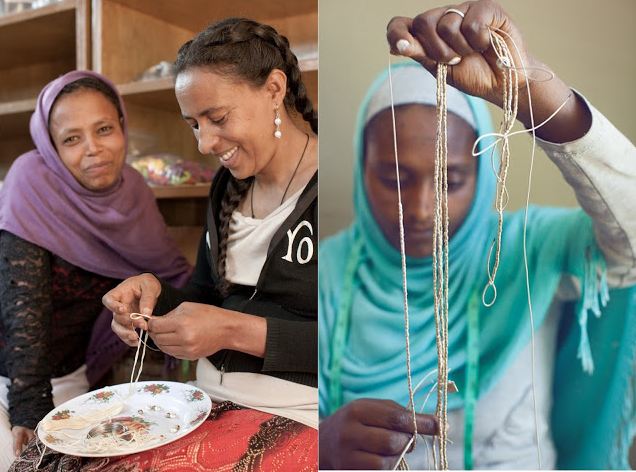 Raven + Lily was founded by Kirsten Dickerson and Sophia Lin, two amazing women who share a passion for fashion as well as helping women in need. Their collections include handmade and eco-friendly jewelery and accessories from women in North India, Ethiopia, and Cambodia. Each piece of jewelery tells the story of the woman who made it. In return, Raven + Lily dedicates proceeds to fund education, health care, and micro-loans, ultimately transforming the lives of these women and their families.
When I first came across Raven & Lily, I was completely captivated by their story. Although their unique and beautiful jewelery stood out to me, it was their desire to help those in need that really caught my attention. I watched their video and witnessed the beauty Kirsten and Sophia saw in these women. From then on, their products weren't just necklaces or earrings, but they were a story, a story about a beautiful woman and her life. I began to read more about their company and came across a story about a woman named Elsabet. Her husband left her and their young son for another woman, leaving Elsabet with nothing. In order to help make a living for her and her son, Elsabet began begging on the streets for money. Some hope came her way as she began attending a Saturday education program, which later led her to join a jewelery making program. Elsabet's life changed from that moment on. She was no longer begging in the streets but instead she was a strong, independent woman making money to support her son. It is women like these that inspire Raven + Lily and that inspire me. It was then that I realized the impact Kirsten and Sophia were making in the lives of these women and I had to know more.
Kirsten Dickerson took time out of her busy schedule to answer some questions about the journey of Raven & Lily.
S805

:
What inspired you to start this project? What about these women caught your attention?
R&L:
Raven + Lily
was born out of a desire to combine our love of design with our hope to alleviate poverty among women around the world. Sophia and I were able to collaborate with other designers in LA who shared the same passion. We launched Raven + Lily in partnership with women I knew in Africa and India from years of travel and relationship. I truly believe in the model of creating sustainable income opportunities for women, not just charity or handouts. Each woman is valuable and needs to know that! Raven + Lily provides opportunity to bring hope and dignity into the lives of woman who have suffered deeply. The beauty of the products we sell is a reflection of the beautiful woman who made it and how her life is changing.
S805

: What percentage of the proceeds goes to these women and partner communities?
R&L:
As a company, we reinvest all of our profits back into our efforts to provide sustainable, fair-trade employment for women around the world. An example of this would be placing larger orders from season to season and investing more in growing the size and skill level of our artisan groups. On top of that, we specifically designate 10% of our sales at the end of the year to donate to a non-profit working with our artisan group. This donation goes to furthering education and providing health care for the community. To see more specifics of our impact in 2011, check out our

Infographic

.
S805

: How exactly is this benefitting the women making the products? More specifically, what has changed in their lives since you began this company?
R&L:
My favorite experience has been seeing visible changes in the women we work with. We have had the opportunity to witness the transformation of HIV positive women in Ethiopia on the verge of death, who are now thriving and providing for their families because of our partnership. The stories of the women behind the scenes whose lives are being filled with hope and purpose is truly our greatest accomplishment.
Employment with our artisan groups provides not only sustainable income, but it gives so much dignity. Some of them go from being terribly shy and insecure to having so much liveliness and confidence. The specific moment that comes to mind was when Sophia and I were in Cambodia with our newest artisan group of women. We showed them on a map where all our other partnerships were, and told the stories of the women we work with in each country. They were amazed to learn that other women around the world were HIV positive, and impoverished, and shared the same struggles

.

Seeing the photos of these other women whose lives had been transformed made them giddy with joy, and so excited to be part of the work that Raven + Lily is doing around the world.
S805

: Do you keep contact with these women? Do you maintain relationships?
R&L:
All of our programs have been started based on personal connection, and that is something we always have to maintain with our groups

.

Our lead designer visits each artisan group once or twice a year to help with training on new designs and connect personally with the women in our partnerships. There are challenges that come with working around the world, like language barriers and cultural differences, but it is a joy for us to work through those as we keep up these important relationships. A key way for us to do this is through having country directors that we are in constant communication with, who can share with us the stories of these women and give us regular status updates on our programs. In addition, I'm leading the first Ambassador Trip to Ethiopia this October so key volunteers/supporters of
Raven + Lily can first hand meet the women and see the impact of empowering women through design.
S805

: Do you think this idea will catch onto other designers throughout the world? What would you say to them to convince them of this approach?
R&L:
We certainly hope so! Every day there are more and more companies making efforts to create social change through their business operations. This has been a trend we've seen developing in European brands for a while now, and we hope it will continue to spread. I think that if a brand designs products that are good for the earth and good to people it will be rewarded for its efforts

.

Consumers today are beginning to care more about a company "doing good" all the way through their supply chain, and are wanting a personal connection to the people who make their products. This concept of "social-business" does good on so many different levels.
S805

: What materials do these women use? Do they find them locally?
R&L:
We use local, recycled and handmade materials as much as possible that are eco-friendly and support local artisans. Our Ethiopia jewelry collection is sourced through our relationship with villagers that hand-form beads made from melted bullet casings from previous wars. Hand-making beads is a skill that has been passed down from generation to generation in Ethiopia; we love that this method has so much history behind it! In India, all wood and leather are sourced locally and our paper collections are made from recycled paper and cotton was from the textile industry. Our Cambodia partnership (launching in Fall 2012) utilizes hand-loomed fabrics made by local artisans, as well as remnant, re-purposed cotton jersey. Most of our products tell the story of taking what was once meant for harm or something no longer considered useful and re-purposing that material into something of great beauty.
S805

: I see you've done a lot of work with impoverish women in Indonesia and North India. Do you hope to expand to other countries?
R&L:
Every season we try to add a new artisan group to our collection. But as we grow, we want to deepen our relationships in each country as well as expand to new ones. Right now we are committed to working in Ethiopia, India, and Cambodia with the partnerships we have already established. Over 200 women receive employment through our orders, and we hope that number continues to grow. To give you a sneak preview, some of the partnerships we have "in the works" are with formerly homeless women in Los Angeles and Maasai women in Kenya.
S805

: What makes these products special? What about this jewelry stands out?
R&L:
Our products are special because they tell a story of hope and beauty
. Each piece is crafted with the utmost thought and care about how it's designed, who made it, and what materials are used. When someone says they love a Raven + Lily product, then they are bringing value to the women who made it, not just the design itself. We want our customers to feel proud about wearing their purchases knowing that they are making a difference in this world!
S805

: Lastly, how have your lives changed since you began this company?
R&L:
I think the women behind the scenes have given us the strength to not give up when things are tough or not working out as planned. We are always going back to why we started Raven + Lily: to empower impoverished women. Having a higher purpose for design has given us the motivation to work through most any challenge that has come our way. I think we have learned to take things one day at a time, we have learned the importance to pray about everything, and we have learned to value each life that is touched by Raven + Lily, whether it's a customer or a woman in our partnership.
Thank you Kirsten & Sophia, for making dreams possible.
For more information, please check out the video below.
Comments
No comments made yet. Be the first to submit a comment