2 minutes reading time
(453 words)
3 simple no-bake brunch hacks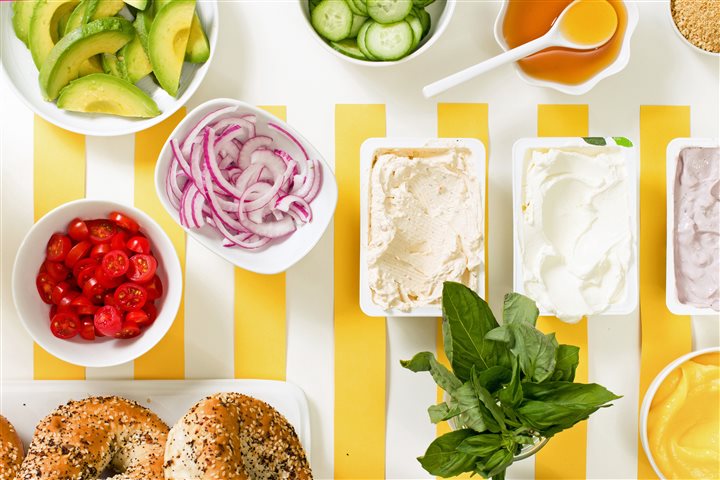 In the heat of summer, a homemade brunch can seem like a daunting task, but don't let that stop you from entertaining. Everything from scrambled eggs to pancakes to coffee cake require a hot oven or stove and can weigh heavy in your stomach on a hot day. When the last thing you want to do is turn on the oven or eat a heavy meal, follow these easy no-bake brunch hacks to keep cool and have a delicious brunch on the table all summer long.
Made-to-order smoothies
Summer calls for fresh, seasonal produce whizzed into a chilled smoothie. Choose a few recipes ahead of time and give guests the option to select from the ingredients available. For a more filling smoothie, add protein powder, oats or peanut butter.
Hint: Skip the tedious task of cleaning the blender between each smoothie by borrowing blenders from friends and family so each recipe has its own. Plus, multiple blenders allow the option to blend more than one smoothie at a time.
Bagel bar with toppings
Guests will love this hands-on approach to brunch, and hosts will love this hands-off approach to entertaining. Simply plate a variety of bagels and fill the table with cream cheese and pre-sliced toppings like fruits, veggies and herbs.
Hint: Trade regular baking cream cheese for something you can feel good about sharing with your family and guests: Arla cream cheese, which is made with only four core ingredients - milk, cream, cheese culture and salt. That way, the only added ingredients at brunch are the ones guests choose from the toppings table.
Don't forget to put out a toaster (or two) to give guests the option to toast or not toast, and let the rest happen naturally. For additional goodness, serve the bagels with seasonal fruit, both for enjoying on its own and for dipping into extra Arla cream cheese.
Make-ahead yogurt parfaits
Rest easy knowing everything is taken care of with make-ahead yogurt parfaits. Find decorative plastic cups at any party store for easy cleanup, then layer plain or vanilla yogurt, fresh fruit and crunchy toasted nuts and coconut. Change up the flavors in some of the parfaits so guests can choose their favorites. If picky eaters are in attendance, top a few parfaits with chocolate sprinkles for a more enticing (and good-for-them) treat.
Hint: Granola is a tasty topper for parfaits, but can get soggy if left overnight. To avoid, toss on the granola minutes before the party begins.
At any brunch, coffee is a must. For a cooler approach, provide an iced coffee option alongside chilled orange juice and iced tea. With fresh, summery spreads like these, guests will never realize their host didn't bake a thing.
Related Posts
Comments
No comments made yet. Be the first to submit a comment