5 minutes reading time
(1017 words)
Review - Open Meeting Closed at the Elite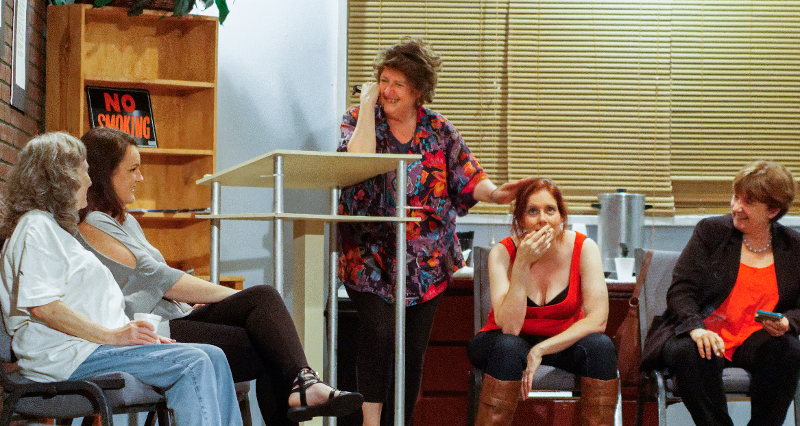 Last weekend to see this
The Elite Theatre Company's Tom Eubanks has wisely brought fellow playwright, Michael Perlmutter's new play Open Meeting Closed to their South Stage for what is turning out to be a banner year for the Elite's South Stage. Perlmutter also directs.
Perlmutter has been quite active acting in the local theatre scene this year as well with appearances at the Santa Paula Theater, Flying H, and Ojai, but this play makes clear that Perlmutter is, after all, a fine writer and playwright.
Perlmutter's play is set in a women's-only AA meeting where the other women find out that one of them has been sleeping with their husbands and they decide to take things into their own hands with an intervention. From the get-go there are so many things wrong with this on so many levels that you know we are in for some crazy good theatrical fun.
The meeting quickly goes awry; from there Perlmutter twists the plot through several hilarious twists and turns until we arrive at its very satisfying ending.
In theatre, It all starts with a script, and this one has some strong bones with a lot of things going for it including its humor.
This humor also walks a very tight line, retaining a deep respect for the humanity and lives of the people and themes involved.
Yes, serious and classic issues are touched, but never slighted.
The play's characters are, indeed, a crew of very dysfunctional ladies, stumbling through life, working it out as it comes along. The play never loses sight of the fact that there are often very powerful forces and reasons driving people down the roads they ride and that we have to respect that and remember there is a possibility, always, of healing and moving on, not to mention the possibility of seeing the completely inane, hilarious side of it all. In the end laughter is the ultimate healer and Perlmutter gives us plenty of it.
In another vein, you hear a lot these days about the lack of good female parts. An editor of a recent anthology for plays with strong female parts confided that when she first got the project she was not sure there were enough plays to fill the publisher's request. She did locate enough plays but felt she was dragging the bottom of the barrel quality-wise to reach her quota.
Well, Permutter's play gives us half a dozen good female parts in a play that looks like it has some good legs to go somewhere. In fact, it is a play, like another play by a playwright that lives here in Ventura, Kieron Barry, that gives us a play with an entire cast of female parts.
It is always a treat to see a playwright direct their own work; but it also makes one want to see someone else do it, for there are always things an author does not see in their own work. This is the kind of play I can see another director really taking into realms this production didn't get to.
Even so, it is a special thing to see this kind of production, of a playwright doing their own work, in community theatre. But that is community theater in the 805, where theaters, mostly due to financial constraints, work like community theaters, but attempt a lot things, like world premiers, workshopping plays with playwrights, and doing things that are more typically attempted in full-blown professional productions, not to mention having access to the kind of talent pool that includes both working playwrights and strong production talents, with experienced actors.
I also have to give Perlmutter credit for pulling off something in his script that, when you see it, and think about it, is pretty outrageous, and quite funny, but I dare not say what it is and spoil the fun for you. Let's just say there are some fine and unusual aspects to this script that are a tribute to the kind of writing this playwright is capable of, irregardless of the production.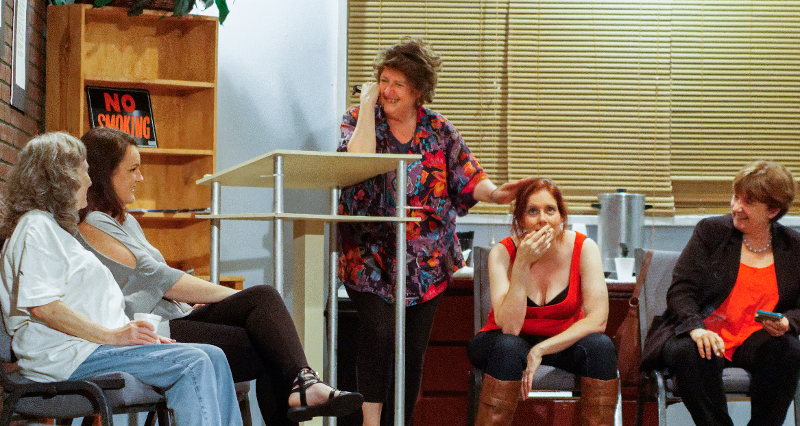 Nancy Solomons, Kelley Rohrborn, Angela DeCicco, Jolyn Johnson, Sindy McKay in OPEN MEETING CLOSED
As for the production itself, the play is a tight ensemble work, given honest due by the likes of Angela DeCicco, who comes off her excellent work in the Uncanny Valley earlier this year at the Elite, Crystal Hutcheson, who has an amazingly expressive face, and proves she doesn't have to be singing and should consider more straight drama, Kimberly Denmary [we did not see Kelley Rohrborn, the alternate for this part], Sindy McKay as a strong, extremely well-done Rebecca, Jolyn Johnson as the husband-touring Helen central to the play's plot, and the exceptionally experienced Nancy Solomons. I particularly liked the work of DeCicco, Hutcheson, an McKay; but Johnson does some amazing stuff, even when supposedly comatose, and each character gets to pull off some very funny lines. Solomons and Denmary carry their parts well, and both are good off-line as well as on, helping to anchor and solidify the ensemble. Thus we get a solid ensemble feel, without weak links, working with a strong ensemble script.
In the end, it is a fun little evening of theatre with a dedicated cast and production. By all means, do not miss a chance to see one of our own local playwrights directing his own very good script on one of the 805's better run stages.
Open Meeting Closed a new play by Michael Perlmutter
Directed by Michael Perlmutter
Starring Angela DeCicco, Crystal Hutcheson, Kimberly Demmary, Kalley Rohrborn, Sindy McKay, Jolyn Johnson, and Nancy Solomons
Tom Hannon, Producer and Stage Manager, Vivien Latham, Managing Producer, Stephanie Rice, Producer and Production Manager, Pat Lawler, Technical Director and light technician, ChrisBryson, Set Decoration, and Jennifer Corntassel, photographer.
at the Elite Theatre Company South Stage
2731 Victoria Avenue, Oxnard
Tickets $15, for reservations call 805.483.5118
Fridays and Saturdays 8 pm, Sundays 2 pm.
________________________________
Comments
No comments made yet. Be the first to submit a comment