2 minutes reading time
(496 words)
Cooking Ideas for Parents and Kids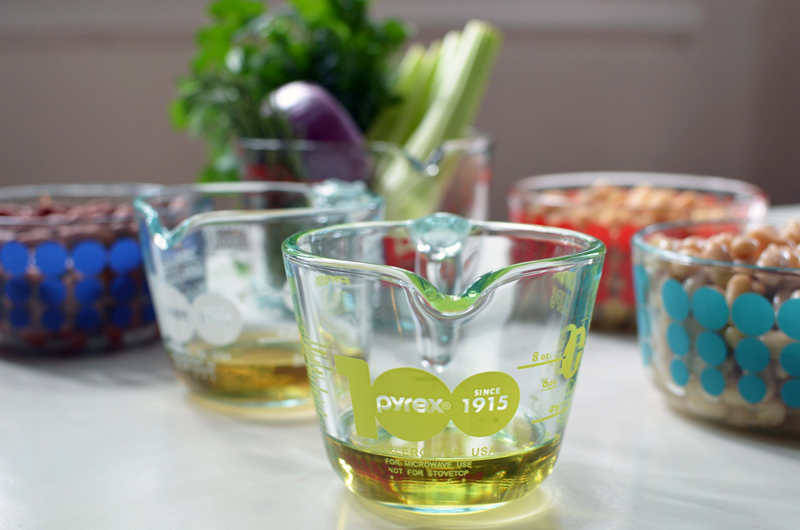 Food brings family together. And time spent in the kitchen is how cooking traditions and those secrets behind the best dishes get handed down from generation to generation.
Here are two delicious recipes for parents and kids to make together, shared by food and family experts, as part of the celebration for Pyrex, a World Kitchen brand's 100th anniversary.
"Like my own kids, I loved helping my mom in the kitchen," writes food and parenting expert Monica Marino in a recent posting on her "Marino Bambinos" blog. "Along with the kiddos (a.k.a. expert bean rinsers) we made one of her delicious three bean salads."
• 1/3 cup apple cider vinegar
• Optional ingredients: green beans, garlic powder, onion powder, ground cayenne pepper, honey or sugar.
Rinse and drain beans. Chop the vegetables. Mix together in a large serving dish. Separately, mix olive oil, vinegar, salt, and pepper. Add dressing to the large bowl, toss and chill for several hours to soak up.
"Whenever my mom offered to make something special, the answer was always French toast casserole," writes Katie Meyers, on "Meyers Styles," her lifestyle blog. "When I heard Pyrex was commemorating its 100th anniversary, I couldn't resist raising my measuring cup with my daughter, and toasting a kitchen icon with this same treat."
Meyers is sharing her French Toast Casserole recipe, which brings back special memories of baking with her mom.
• 1/4 cup white sugar, divided
• Optional ingredients: maple syrup, raspberries, powdered sugar
Preheat oven to 350 degrees F. Lightly spray an 8×8 inch pan with cooking spray. Line bottom of pan with bread cubes.
In a large bowl, beat together eggs, milk, 2 tablespoons sugar, salt, almond extract and vanilla. Stir in pecans. Pour egg mixture over bread. Dot bread mixture with butter and let sit for 10 minutes.
Combine remaining 2 tablespoons sugar with 1 teaspoon cinnamon and sprinkle over the top. Bake about 35 to 45 minutes, until top is golden.
Dust with powdered sugar and a few raspberries, then drizzle with maple syrup. Serve immediately.
To follow the #Pyrex100 campaign and learn more about this American-made kitchen staple, visit Pyrexware.com.
Creating delicious foods with your family is time well spent. Look for those recipes that are easily shared -- from creation to consumption.
Related Posts
Comments
No comments made yet. Be the first to submit a comment