2 minutes reading time
(438 words)
April Showers Bring May Flowers- Even in Southern California!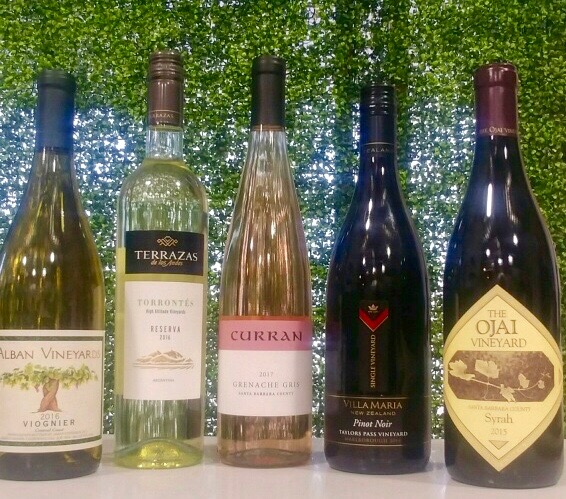 Here in the 805, we can't always count on prolific April showers to bring May flowers. Sure, we did receive a few sprinkles this year, and there are colorful spots of wildflowers visible on our hills. But in a month known for its abundant blooms, we're turning elsewhere to get our floral fix. We are looking at wine!
Since wine comes from grapes, and grapes originate from flowers, it makes sense to find floral aromas lingering about in our glasses. The different efflorescent textures of grapes complement the flavor profiles of wine varietals, offering tastings that can surprise and delight the senses.
One can find aromas of honeysuckle within late harvest Rieslings, notes of violets in classic reds, like Merlots and Malbecs, and essences of the iris in a Sauvignon Blanc. A sweet Moscato might offer the cranberry-like scent of the hibiscus. The lilac appears in peppery wine blends, like Rhône varieties. And warm, rosy peonies can be detected in rosés. The garden of possibilities is vast, and our palates love discovering hints of favorite flowers and blooms amidst more expected flavors.
Here are some of our favorite wines with distinct floral notes that we are toasting to this month:

2016 Alban Viognier, Central Coast - A quintessential varietal for those seeking an introduction to floral wines, this viognier delivers breezy essences of honeysuckle and jasmine that complement its peach, tangerine, caramel, and vanilla flavors.

2016 Terrazas Torrontes, Salta Argentina – With energetic aromas practically leaping from the glass, this wine is perfect for people who truly delight in blooms and bouquets. Light-bodied and flavorful, this wine offers the vivid fragrance of rose petals and geraniums, complemented by notes of Meyer lemons and juicy peaches.

2017 Curran Grenache Gris, Santa Barbara County - A lively and refreshing rosé with lifted aromas of jasmine, this light, blush beauty is complemented by fruity aromas of just barely ripe strawberries, cherries, and watermelons.

2014 Villa Maria Pinot Noir, "Taylor's Pass Vineyard," Marlborough, NZ – Take a spring stroll through a fragrant garden with this delightful Pinot Noir from New Zealand, and enjoy the rich Pinot fruit and floral aromas of cherries, berries, and spices.

2015 The Ojai Vineyard Syrah, Santa Barbara County – Dense and spicy, this full-bodied wine is ideal for those who adore the smell of lavender. Other decadent flavor notes include black plums, cracked pepper, and the essence of smoke.

Reminiscent of sweet-scented gardens, rich in color and elegant blooms, these wines will brighten your table, picnic basket, or springtime adventures. Even if you can't count on the rain in Southern CA, you can count on delightful floral essences in your glass.
Related Posts
Comments
No comments made yet. Be the first to submit a comment