4 minutes reading time
(883 words)
Discover The Undiscovered - Cimarone
Discover The Undiscovered - Cimarone
If you've had the pleasure of touring Santa Barbara's wine country, you've likely visited some combination of the Santa Maria Valley, the Foxen Trail, Los Olivos, the Sta Rita Hills, the downtown "funk-zone," or the Santa Ynez Valley. These fantastic wine trails are posted clearly on most wine maps. But not all of the great spots are included on the maps for mainstream wine travelers to visit, and not all spots are open to the public. Santa Barbara's wine business has grown and evolved over the years, and now includes some recent discoveries and new AVA's. One of the younger AVA's in California, and more specifically Santa Barbara County, is Happy Canyon, which officially earned its AVA designation in 2009.
Situated about 40 miles

northwest of downtown Santa Barbara, on the east side of the Santa Ynez Valley, sits a pocket of one of the hottest growing areas in the county, Happy Canyon. This region is a wide-open panorama studded with oak trees and littered with horse ranches, and is nearly 40 miles wide. This is the smallest AVA in Santa Barbara County. With the high mineral terroir (loam/clay with red/yellow chert, and magnesium-rich serpentine cobbles), low nutrients, and hotter temperatures (low 90's), this location primarily boasts Bordeaux varietals like Sauvignon Blanc, Cabernet Sauvignon, Cabernet Franc, Merlot, Malbec, and Petit Verdot.
During prohibition, alcohol was produced in the region. The story goes that people would take a trip up Happy Canyon to make their purchases, and the name was born. Recently, I took my own "Happy Trip."
As no tasting rooms are permitted in Happy Canyon, fewer wine enthusiasts are able to learn about this remarkable region's wine. Happy Canyon is home to just six vineyards and three wineries. I was fortunate enough to visit one of them, Cimarone. Cimarone's name is derived from a combination of the first two letters of its proprietor's first names (Cilla, Mark, Roger, and Neal)
Husband and wife team Roger and Cilla Higgins describe, "The dream of Cimarone Estate Wines started on a dreary London morning in 2000 when Roger revealed that he'd been dreaming of a little vineyard; the sun shone on verdant grape leaves and a tractor motored through the vines with a perfect puff of dust behind it. It wasn't difficult to convince Cilla that a small vineyard in a sunny part of the world would be an ideal retirement plan; her childhood had been spent in Africa in the care of an ecologist father – the climate of a wine-growing region elicited feelings of home."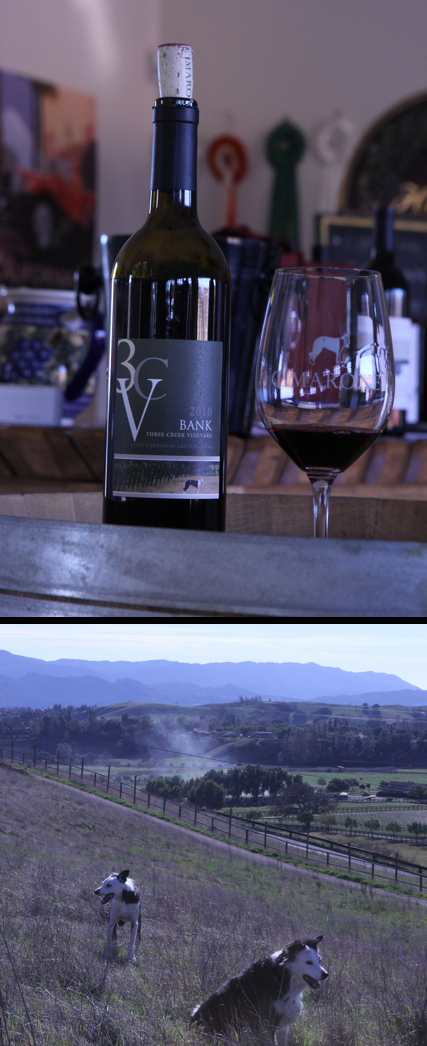 After Roger and Cilla Higgins visited a few locations for their move, the 100-acre Happy Canyon property was selected and purchased in 2000. Three Creek Vineyard was soon born in 2001 with 26 acres of vines planted. The first vintage arrived in 2006. Grown on the estate are Sauvignon Blanc, Cabernet Sauvignon, Merlot, Malbec, Petit Verdot, Cabernet Franc, Syrah, and Sangiovese. They produce small artisan lots, just around 3,000 cases. The Cimarone label represents their higher-end wines, which include "Gran Premio," a nice Sangiovese, and "Le Clos Secret", a Bordeaux-style blend of Cabernet Franc, Cabernet Sauvignon, Malbec, and Petit Verdot. On a personal note, this was my favorite. They also offer the "3CV" label, for their more approachable, value-based wines. Among them is the 2010 3CV "BANK" is a blend of Cabernet Sauvignon, Cabernet Franc, and small amounts of Syrah, Malbec, Merlot, and Petit Verdot. Buy this wine at $19 and you'll feel like you just robbed a bank as the quality to price ratio is in the buyer's favor.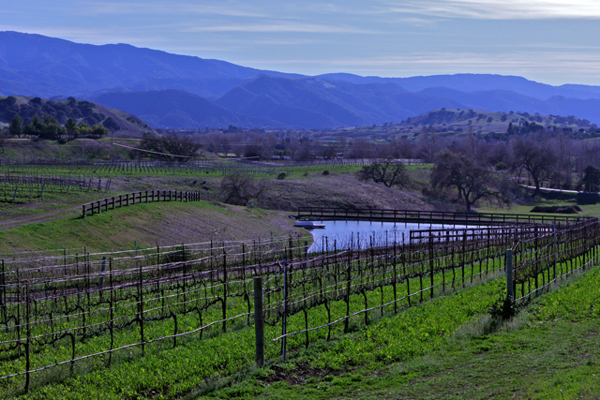 Taking a closer look at the wine labels, one might notice a dog in a vineyard. Seems wineries just aren't complete without a good dog on the property. In the Higgins' case, they have two, Kali and Mac. Shortly after the vineyard's birth, these two lovable dogs joined the family. Mac is a long-haired Border Collie. The more "label-famed" Kali which means "fierce" in Swahili, is also a Border Collie, but is anything but fierce. As I toured the grounds with the Higgins, I spied Kali lying in the tall grasses. He seemed more like a placid zebra relaxing in the savanna, than a 'fierce' prowling lion. Kali loves to run in the vineyards; he landed in some early vineyard photos and became the logo model.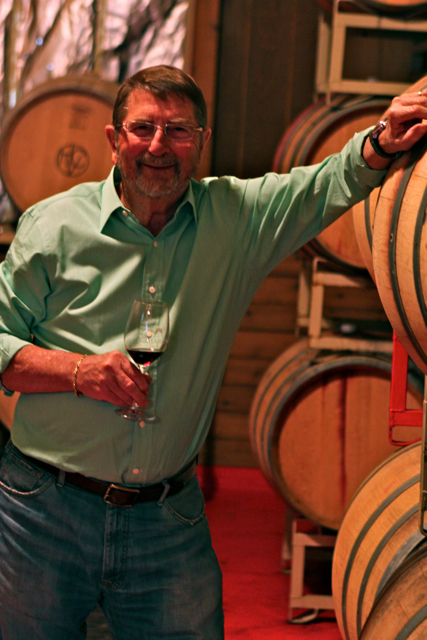 The well known and highly respected Doug Margerum has been making the wines from the beginning, and has recently handed off the winemaking reins to the extremely talented Andrew Murray. Andrew's first vintage for Cimarone/3CV will be the 2011 vintage, and the Sauvignon Blanc will be the first wine released with his fingerprint. While there is no tasting room currently, there is a hunt underway in Santa Barbara's Los Olivos area.
Until a tasting room is opened, you can take your own 'Happy Trip' by seeking these great wines locally at the following locations, or online at www.Cimarone.com:
Santa Ynez: Brother's Restaurant, The Ballard Inn, Los Olivos Wine Merchant, Figueroa Mtn Brewing Co, El Rancho Market, and R Country Market.
Santa Barbara:Olio e Limone and Pizzeria, Opal Restaurant and Bar, Whole Foods, Vino Divino, Tri-County Produce, Carpinteria Wine Co., and Lazy Acres.
LA:Akasha Restaurant, Porta Via Cafe, The Village Idiot, Morel's French Steakhouse, Whole Foods, Wally's, Trattoria Trulli, Colorado Wine Co., and Jar Restaurant.
Related Posts
Comments
No comments made yet. Be the first to submit a comment