LONESOME TRAVELER nominated for Outstanding New Off-Broadway Musical Tom Dugan nominated for Outstanding Solo Performance in WIESENTHAL
(Ventura, CA) – At a ceremony on Monday at the Manhattan Friar's Club, Broadway stars Raul Esparza and Katie Finneran announced nominations for the New York Outer Critics' Circle Awards. Two productions from Rubicon Theatre Company in Ventura were among the nominees. LONESOME TRAVELER, written and directed by Rubicon founder James O'Neil received a nomination for Outstanding New Off-Broadway Musical, and WIESENTHAL, written and performed by Tom Dugan and directed by Rubicon Artistic Associate Jenny Sullivan received a nomination for Outstanding Solo Performance. The first production was presented in New York by Off-Broadway Across America at 59E59 Theatres; the latter was produced with Daryl Roth Productions at The Acorn Theatre.
The Outer Critics' Circle is the organization of writers covering New York Theatre for out-of-town newspapers, national publications, and other media beyond Broadway. Outer Critics' Circle members are affiliated with more than 90 newspapers, magazines, radio and television stations, internet and theatre publications. The Outer Critics' Circle nominations mark the beginning of the New York theatre awards season. Winners will be announced May 11, and the Gala Awards Dinner will be held on May 21 at Sardi's Restaurant.
"We at Rubicon have a deep commitment to finding, nurturing new works and are thrilled to be in the company of so many esteemed theatres and artists," says Rubicon Producing Artistic Director Karyl Lynn Burns. "Lonesome Traveler originated here at Rubicon as a co-production with the Laguna Playhouse;" continues Burns, "and we were fortunate to have Wiesenthal came to us after a successful run at Theatre 40, where it won the Los Angeles Drama Critics Circle Award. We were privileged to get to work with Tom Dugan and director Jenny Sullivan to continue to develop and refine it prior to a pre-New York run produced by Normand Kurtz and Derelle Bunn at the Stage Door Theatre in Florida and the Off-Broadway premiere.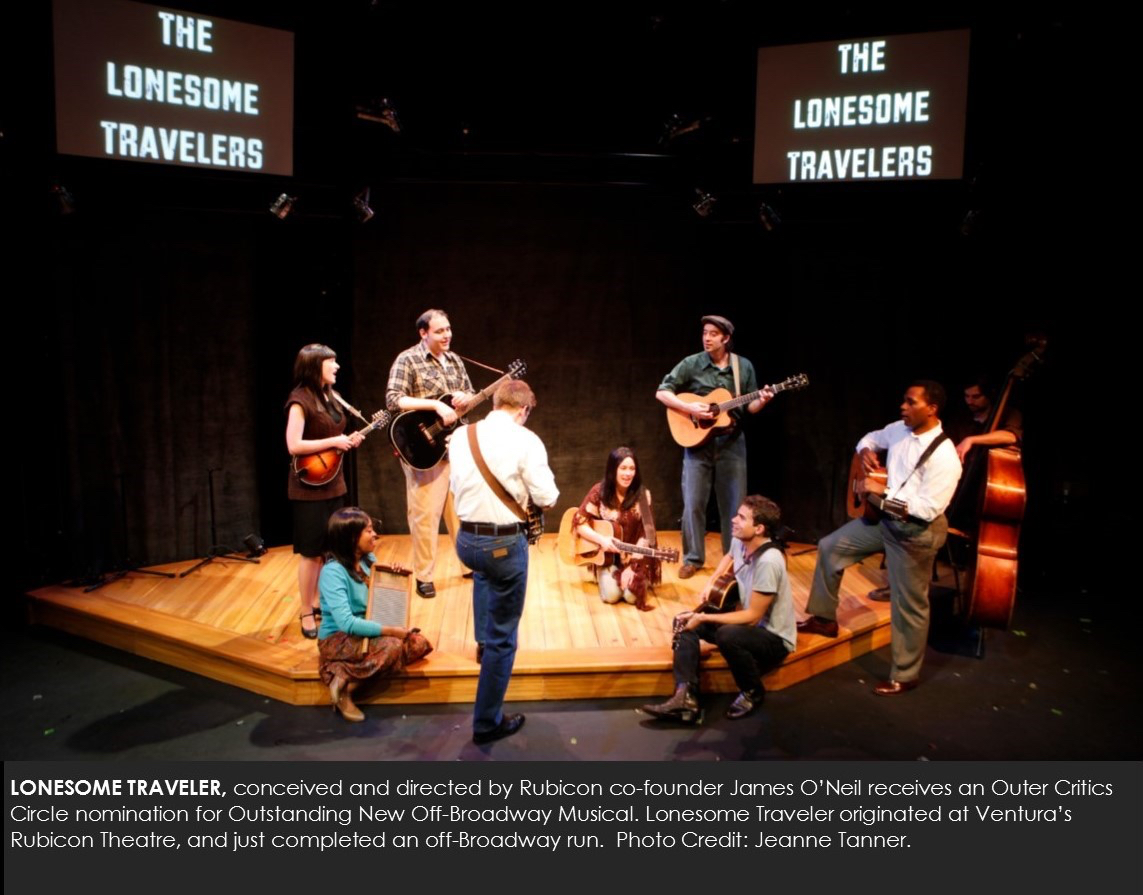 LONESOME TRAVELER was conceived, written and directed by Rubicon co-founder James O'Neil and premiered at Rubicon in 2011. Dan Wheetman provided musical arrangements and served as Musical Director (with son and cast member Trevor Wheetman assuming MD responsibilities in New York.) George Grove of The Kingston Trio is orchestrator. Featuring songs like "Tom Dooley," "Goodnight Irene," "Puff, the Magic Dragon" "Blowin' in the Wind" and "This Land is Your Land," the show takes audiences on a journey from the 1920s to the 1960s -- from hills of Appalachia to the nightclubs of New York and San Francisco. Lonesome Traveler was produced off-Broadway at 59E59 theatre and was produced by Off-Broadway Across America in association with Rubicon Theatre, Larry Janss, Claire Bowman, Karen Fritts and John Schwope, Jody Legendre and David Bryant. The cast of Lonesome Traveler in New York is Matty Charles, Nicholas Mongiardo-Cooper, Sylvie Davidson, Jamie Drake, Justin Flagg, Samuel Gelfer, Anthony Manough, Jennifer Leigh Warren, Trevor Wheetman. The design team was Thomas Giamario (sets and lights), Dave Mickey (multi-media), Jonathan Burke (sound), Pamela Shaw (costumes); with associate design for lights and projections by Mike Billings. Production stage manager was Linda Tross with David Beller as ASM. Katharine Farmer was Associate Producer and Assistant Director. With special support from Elysabeth Kleinhans and Peter Tear, the production was a limited 8-week run as part of the inaugural season at 59E59 Theaters. Lonesome Traveler opened in 59E59's Theater A March 17 after two weeks of previews and closed yesterday.
Legendary folk music icon Peter Yarrow attended the show last week and described the show as "a beautifully produced historical journey...the cast is simply wonderful. They all have beautiful voices and great sensitivity to the music and tradition they are honoring. I got to speak to the cast after and realized, as I was talking to them, how deeply they felt about this production and how sincerely they had come to embrace the spirit of traditional folk music as well as the activist message of Peter Seeger and the Weavers that so inspired me, Noel Paul Stookey, and Mary Travers. For many people who were unable to live through the 60s folk revival, Lonesome Traveler is clearly the best way to get the sense of it, and, for a moment, rejoice in its very special history."
Yarrow made a surprise appearance onstage with the cast in New York earlier this week, leading the audience in a sing-a-long of "This Little Light of Mine" and other spirituals.
Broadway World called Lonesome Traveler "performance perfection."...a completely inspiring musical and theatrical experience, a true gem. The show strikes a perfect chord and doesn't miss a beat. The Huffington Post reviewer wrote, "In this wonderful production, a group called The Lonesome Travelers folds and unfolds on itself, portraying the different period of folk music and the bards who led the songs. By the second half, tears started to flow." Of the original run, the L.A. Times described the show as "a collective memory, calling across time, singing from the soul...a warm, embracing communal experience...a joyous commingling of voices and instruments, each voice retains its individuality yet twines with others to create a more glorious whole. It is, in a way, an expression of an ideal America."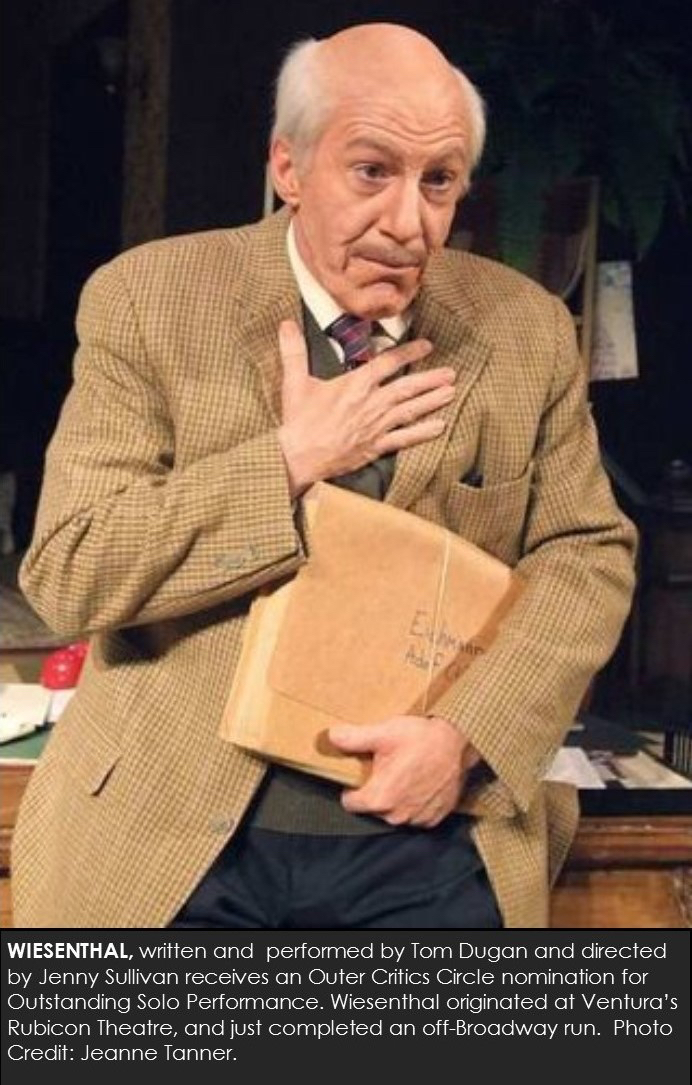 WIESENTHAL premiered at Rubicon in 2012. The powerful one-man show was written and performed by Tom Dugan and directed by Jenny Sullivan. It garnered the Los Angeles Critics Circle Award and three Ovation Award Nominations including Best Director, Best Play and Best Leading Actor. The story follows the life of Simon Wiesenthal, sometimes called "The Jewish James Bond" and recounts—like a gripping spy thriller—how this heroic man, after escaping death at the hands of Hitler's S.S., devoted his life to bringing war criminals to justice. Told with warmth, insight and surprising humor, this critically acclaimed production stars Tom Dugan, who himself has a personal connection to the story. Wiesenthal was produced Off-Broadway by Karyl Lynn Burns and multiple Tony Award-winner Daryl Roth, in association with Catherine Adler, Suzy and Burton Farbman, and Anne and Michael Towbes. The design team was Beowulf Boritt (sets), Alex Jaeger (costumes), Joel E. Silver (lighting), Shane Rettig (sound). Joel Goldes was Dialect Coach. Katharine Barrett was Production Stage Manager and Katharine Farmer served as Assistant Director. The show ran from November 5, 2014 to February 22, 2015.
The Theatermania review described Wiesenthal as follows: "An impressive performance, thoroughly edifying and surprisingly uplifting. Tom Dugan portrays Wiesenthal with charming Charisma." The New York Post reviewer wrote, "Wiesenthal succeeds with skill and unexpected humor in bringing its heroic figure to life."
For more information about Rubicon's new works program, Lonesome Traveler or Wiesenthal, please call Producing Artistic Director Karyl Lynn Burns at (805) 667-2912, ext. 224