Ashleigh Sumner & Michael Qinlan

MARCH 3 – APRIL 3, 2016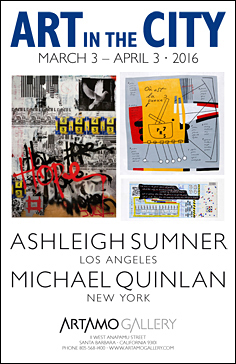 ART IN THE CITY
There will be an Opening Reception Thursday March 3, 2016 5:00 – 8:00 PM.
This March Artamo Gallery presents new and recent works by two artists, who draw their inspiration from impressions of big city life. Their work is based on living in Los Angeles and New York and time in Paris, London, and Berlin. Quinlan is merging his graphic design work with his love for French language into Basquiat-like paintings in basic colors. Sumner's work reflects street art and graffiti with her layered collage style, resin-finished pieces. Though both seem rough in style, their messages come out of deep heart sentiments. Meet both artists at the 1st Thursday opening.
Ashleigh Sumner is a Los Angeles based actress and artist, originally from North Carolina. Sumner received her BA in Theatre Arts before moving west to pursue an acting career on stage, in film, and television.
As an actor, Sumner has appeared in popular television drama shows has starred in the comedy movie "And Then Came Lola," a loose remake of the classic German film "Run Lola Run."
As an artist, she makes the most amazing paintings — comparable to an explosion on canvas. She says, her paintings are inspired by urban environments. The lines, frenetic energy, and movement of a metropolis are inspiring. The raw, gritty industrial areas are oddly beautiful to her, and she tries to capture this essence in her creations.
In her latest work, she has started integrating collage, often with a strong Asian influence. This has begun to reflect her personal and spiritual journey with eastern philosophy. And she also began incorporating text through a stenciling technique that has a rough "street art" feel.
Michael Quinlan is a New York-based painter, graphic designer and art director. After earning degrees in law and business and working briefly as an attorney in his hometown of Chicago, his brain took over and steered him into creative art .he has worked in design, art, and advertising ever since.
Michael is drawn to the little details of life: patterns, shapes, intersections, colors. He is also fascinated by how language — with its colloquialisms, idioms, and varied meanings — shapes our everyday existence. Michael believes language, French language in particular, is in itself a work of art.
Armed with a voyeur's propensity to observe, and a mash up of collected tastes and interests, Michael uses words, shapes, colors, and sounds seen, said, imagined, heard and overheard in real life, film, literature, art, music, memories, dreams, and popular culture to formulate his abstract expressions.
Michael prefers working in acrylic, with bright solid colors and simple lines. Influenced by his graphic design background, he gravitates toward an arrangement of words and graphics that tells a story in a most impactful nonverbal way. He thinks of his work as "talking pictures."
Tuesday–Sunday, 12:00–5:00 PM
First Thursday until 8:00 PM
and by appointment only