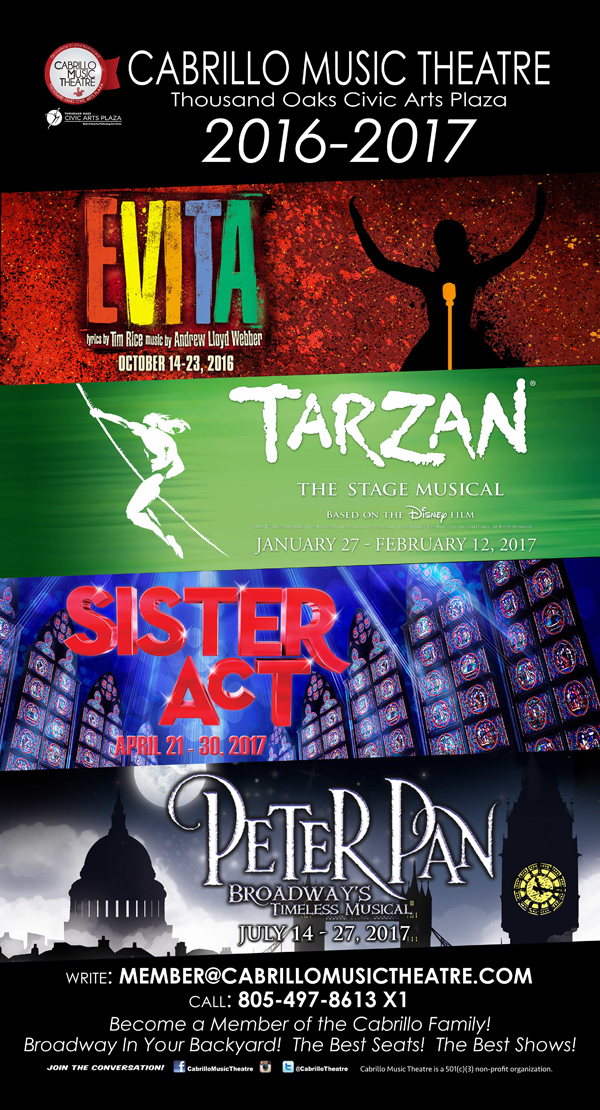 CABRILLO MUSIC THEATRE
ANNOUNCES ITS 2016-2017 SEASON!
EVITA! TARZAN! SISTER ACT! PETER PAN!
Four great shows in oneHIGH-FLYING SEASON!
Broadway in Your Backyard at the Thousand Oaks Civic Arts Plaza!
Thousand Oaks, CA

Cabrillo Music Theatre proudly announces the 2016-2017 season of shows. Cabrillo's High-Flying Season features three Cabrillo debuts and one classic favorite not seen in nearly 15 years. All of Cabrillo's productions are locally produced, auditioned and rehearsed in Southern California, and performed exclusively at the Bank of America Performing Arts Center at the Thousand Oaks Civic Arts Plaza.
Cabrillo Music Theatre's 2016-17 season includes three shows in the larger Kavli Theatre (EVITA, SISTER ACT and PETER PAN) and one in the more intimate Scherr Forum (TARZAN.) Says Cabrillo's Artistic Director Lewis Wilkenfeld, "This might be the most exciting season we've ever put together! I'm getting overwhelmingly positive comments from our season subscription members, and I think the public will be enthralled by our shows." Adds Wilkenfeld, "All audiences have something to embrace this season! Because of Cabrillo's brand of quality, including full casts and professional orchestras, and the very best of local talents onstage and off, we can guarantee our audiences a great theatre adventure every time the curtain goes up."
The CABRILLO MUSIC THEATRE 2016-2017 season:
Cabrillo Music Theatre's premiere! See the Webber/Rice Classic in a whole new light!
EVITA
October 14-23, 2016
Lyrics by Tim Rice
Music by Andrew Lloyd Webber
Stand back, Ventura County! The revolutionary Andrew Lloyd Webber/Tim Rice musical is produced by Cabrillo Music Theatre for the very first time! Argentina's controversial First Lady is the unlikely subject of this dynamic musical masterpiece. Told through a compelling score that fuses haunting chorales with exuberant Latin, pop and jazz influences, EVITA's songs include "Buenos Aries," "High Flying, Adored," "Another Suitcase in Another Hall," and the electrifying "Don't Cry For Me, Argentina." The winner of seven Tony Awards, including Best Musical, EVITA creates an arresting theatrical portrait, as complex as the woman herself! You haven't experienced EVITA until you've experienced Cabrillo Music Theatre's EVITA!
The Adventure! The Humanity! The Music! Get ready for an extraordinary theatre experience in the intimate Scherr Forum!
TARZAN
January 27-February 12, 2017
The Stage Musical
Based on the Disney Film
Music and Lyrics by Phil Collins
Book by David Henry Hwang
Adapted from the story "Tarzan of the Apes" by Edgar Rice Burroughs
Originally Produced on Broadway by Disney Theatrical Productions
TARZAN® owned by Edgar Rice Burroughs, Inc.
Based on Disney's epic animated musical adventure and Edgar Rice Burroughs's "Tarzan of the Apes," and with the same Broadway verve of BEAUTY AND THE BEAST, THE LION KING and MARY POPPINS, TARZAN features heart-pumping music by rock legend Phil Collins and a book by Tony Award-winning playwright David Henry Hwang. High-flying excitement and hits like the Academy Award-winning "You'll Be in My Heart," as well as "Son of Man" and "Two Worlds" make TARZAN an unforgettable theatrical experience. Washed up on the shores of West Africa, an infant boy is taken in and raised by gorillas who name him Tarzan. Apart from striving for acceptance from his ape father, Tarzan's life is mostly monkey business until a human expedition treks into his tribe's territory and he encounters creatures like himself for the first time. Tarzan struggles to navigate a jungle, thick with emotion as he discovers his animal upbringing clashing with his human instincts. Cabrillo Music Theatre's all-new production is the first in the region, and TARZAN will get an intimate and exciting interpretation for the entire family in the Scherr Forum.
The Riotous Comedy Movie becomes a Rockin' Stage Experience!
SISTER ACT
April 21-30, 2017
Music By Alan Menken
Lyrics by Glenn Slater
Book by Cheri Steinkellner and Bill Steinkellner
Additional Book Material Douglas Carter Beane
Based on the Touchstone Motion Picture "Sister Act" written by Joseph Howard
Cabrillo Music Theatre presents the regional and Civic Arts Plaza debut of SISTER ACT! SISTER ACT is the feel-amazing musical comedy smash based on the hit 1992 film that has audiences jumping to their feet! Featuring original music by Tony and 8-time Oscar winner Alan Menken (NEWSIES, BEAUTY AND THE BEAST, LITTLE SHOP OF HORRORS), this uplifting musical was nominated for 5 Tony Awards including Best Musical. When disco diva Deloris Van Cartier witnesses a murder, she is put in protective custody in one place the cops are sure she won't be a found: a convent! Disguised as a nun, she finds herself at odds with both the rigid lifestyle and uptight Mother Superior. Using her unique disco moves and singing talent to inspire the choir, Deloris breathes new life into the church and community but in doing so, blows her cover. Soon, the gang is giving chase only to find themselves up against Deloris and the power of her newly found sisterhood. Filled with powerful gospel music, outrageous dancing and a truly moving story, SISTER ACT will leave audiences breathless. A sparkling tribute to the universal power of friendship, Cabrillo Music Theatre's SISTER ACT is reason to rejoice!
Welcome back to Neverland! The timeless classic returns to the Civic Arts Plaza in a brand new production!
PETER PAN
July 14-23, 2017
A Musical Based on the Play by Sir J.M. Barrie
Lyrics by Carolyn Leigh
Additional Lyrics by Betty Comden and Adolph Green
Music by Morris (Moose) Carlap
Additional Music by Jule Styne
Originally Directed, Choreographed and Adapted by Jerome Robbins
This classic musical for all ages gets a brand new production by Cabrillo Music Theatre! Based on J.M. Barrie's classic tale and featuring an unforgettable score by Morris "Moose" Charlap and Jule Styne with lyrics by Carolyn Leigh and Betty Comden and Adolph Green, PETER PAN is more than just a family favorite - it's one of the most beloved musicals of all time. In this high-flying Tony Award-winning musical, Peter and his mischievous fairy sidekick Tinkerbell visit the nursery of the Darling children late one night and with a sprinkle of pixie dust begin a magical journey across the stars that none of them will ever forget. Featuring the iconic songs "I'm Flying," "I've Gotta Crow," "I Won't Grow Up," and "Never Never Land," and a rousing book full of magic, warmth, and adventure, PETER PAN is the perfect show for the child in all of us who dreamed of soaring high and never growing up. Cabrillo Music Theatre's PETER PAN will have audiences flying!