2 minutes reading time
(480 words)
Smart House: Five Ideas to Raise Your Home's I.Q.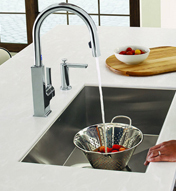 Remember the first time you met that "out of this world" family, the Jetsons? Fast forward to today, and it suddenly isn't all that far-fetched. While we may not have flying cars or robot maids just yet, the idea of a "smart home" is real.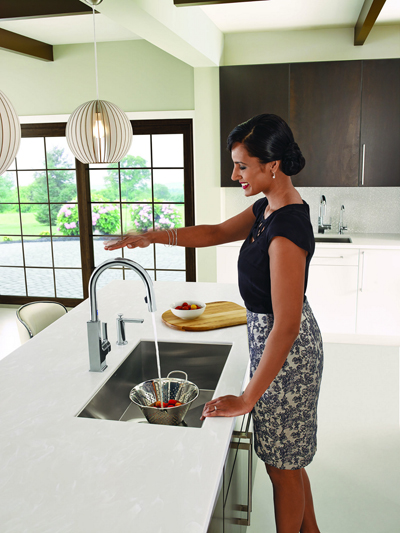 These five upgrades can go a long way to boost the intelligence of your house.
The kitchen is the hub of the home and it sees much more than just meal prep and dinner time. From homework to casual conversation, your family expects more from this already hard-working space. In fact, the kitchen is the number one room where homeowners would like to incorporate technology, according to a recent research study by Moen.
• One-third of homeowners charge devices in the kitchen, according to the Moen study. You can make this task simpler and cord-free with new countertops, such as the Corian line from DuPont, which features wireless chargers seamlessly embedded into its surface. Or install a docking and charging station with a built-in USB power strip to maximize the number of devices you can charge at once.
• At the top of consumers' kitchen tech wish list is a hands-free faucet, for good reason. For the convenience of a faucet that senses what you're trying to accomplish, and with a wave of your hand immediately responds to your needs, check out the slim and sleek new STō pulldown kitchen faucet from Moen with MotionSense. In addition to the traditional handle, you can activate the faucet by waving your hand over it to turn it on and off, or by placing your hands or an object under its spout. For more information, visit

moen.com/motionsense

.
• Worried about what your appliances are up to when you're gone? Whirlpool Smart Appliances with 6th Sense Live technology now allows consumers to access appliances remotely. You can manage refrigerator temperature or lock the dishwasher control console and see when the washer cycle is complete, all from a connected application on a smart device.
• Long gone are the days of shuttling a portable stereo from room to room. A smart system of HiFi wireless speakers and audio components can unite a digital music collection. With a Sonos speaker, for example, you can control what's streaming from any device, and the music can be heard in any room.
• You can transform the mood of a room at the touch of a button with new smart LED lightbulbs that allow you to change the color or brightness any time, even from your smartphone. Studies show that light can affect mood, productivity and eyestrain. By optimizing lighting for each activity, you can live better and enjoy your home more.
Being among the first to embrace new technologies in your home can make it the smartest in the neighborhood.
Related Posts
Comments
No comments made yet. Be the first to submit a comment