7 minutes reading time
(1301 words)
Dancing with Our Community Star Competitor Jack Tingstrom
Former Mayor and Councilmember for the city of Ventura 1990-1999 Jack Tingstrom will be three weeks shy of his 79th birthday when he steps out onto the dance floor for CAREGIVERS at this year's Oxnard Salsa Festival.

Jack and his wife Luana have been married for 57 years this Thanksgiving Day. Luana who is a homemaker dedicated her life to raising their two lovely daughters LeAnn and Cathy. Both daughters attended Assumption Grammar and Saint Bonaventure High School.
LeAnn received her degrees from Idaho State Univ., a BS degree and 2 Masters degrees, one in Pathology and one Audiology. She is a Speech Pathologist –Audiologist with the Evanston Wyoming school district, along with her husband John, who has a PhD in Information Technology. They have a son and daughter, their son is a Master Architect in Salt Lake City, Utah and his wife Chelsea is the Director of Student Loans at the University of Utah and they have two sons Aiden and Jayce. Daughter Kimberly and her husband T. C. Stanley have a Daughter, Calliope, and live in Charleston SC where he is stationed with the U.S. Air Force.
Their youngest daughter Cathy received her BA degree from Saint Mary's College in Moraga CA, her Masters from Idaho State Univ., Pocatello ID, and a PhD in Kinesiology from UNM in Albuquerque.
Cathy teaches and does research in Kinesiology at the University of New Mexico and works with the veterans who are in rehab at the Veterans hospital in Albuquerque.
Jack is very proud of his family. "They are the reason I have done so much in my life" said Jack.
"Twinkle Toes", as he is now recently known these days, is a U.S. Navy veteran. He has been serving his community since the time he left the Navy where he served as a cryptography throughout his career in telecommunications.
Today, he volunteers his time with Rotary International and raising funds to support CAREGIVERS: Volunteers Assisting the Elderly, which are two of his passions. Jack is dancing for CAREGIVERS. Vote4Jack.com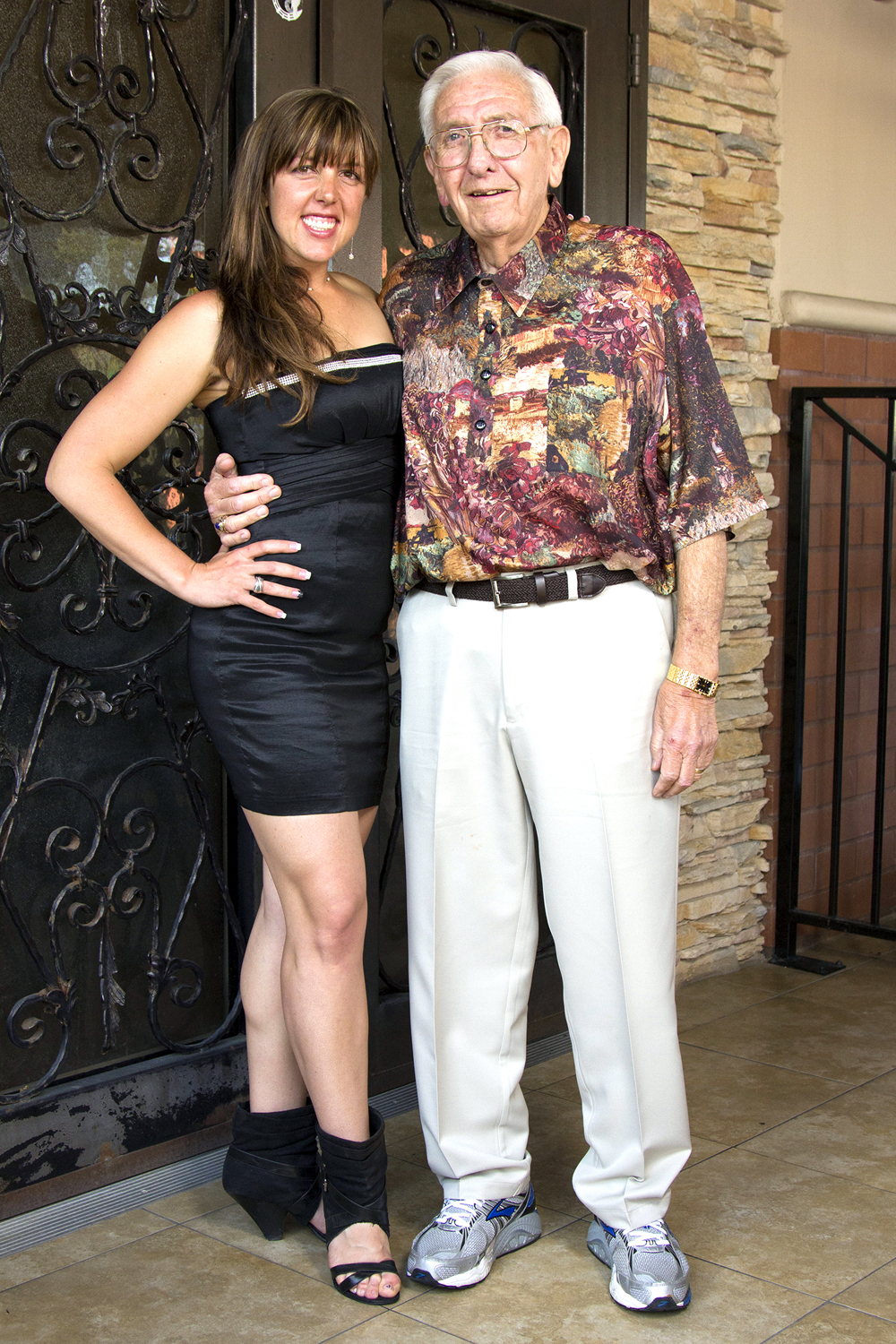 S805
-
How excited were you to be asked as one of the competitors for Dancing with our Community Stars Dance Contest & Fundraiser? Do you have any dance experience?
Jack
- Stunned is a better way to explain my reaction. At my age and condition I should just be enjoying the music and dancing not to be a dancing participant. I will be celebrating my 79th birthday next month and it is my way to give back to those who need to be taken care of in their late years.
S805
-
How thrilled were you to meet your lovely dance partner

Christina Maggio

? Were you nervous?
Jack
- Christina is a lovely lady, mother, teacher with two young daughters, and she is a tremendous example of what accomplishments you can achieve with hard work.
Scared is a better word than nervous to describe my reaction to meeting her.
S805
-
Should the other contestants shake in their dancing shoes with fear, after all you are nick-named "Twinkle-Toes"?
Jack
- The other contestants won't have time to shake in their dancing shoes, they will be laughing to hard. I have been called a lot of names but "Twinkle- Toes is a first, the only that will be twinkling will be my shoes ...maybe.!!!!
S805
-
Now let's change gears now and talk about you. How does one go from working for GTE for thirty years to working as a "public servant of the people"?
Jack
- My whole life has been service in one way or another. While at GTE one of our responsibilities was to do community service to the areas we served. During my years at GTE I served as an advisor to groups such as; Jr. Achievement for High School students, Boy Scouts, Girl Scouts with my wife and daughters, Girls Softball and basketball fund raising, and teaching. As my career went on I became involved with various Chambers of Commerce in areas I lived and worked in. Served as Carpinteria C of C president, Rotary International clubs in Santa Paula, Carpinteria, and Ventura holding positions of Pres., treasurer, and all of the avenues of service chairs, long range planning, Served 8 District Governors as Conference Chair, Assembly chair, community service chair, Vocational Chair, Executive assistant to 4 District Govs, Assistant Gov. to 5 of the 8. Our District serves 74 clubs and approx 4,000 Rotarians. Religious service consisted of managing 3 fund raising projects for churches built in Santa Barbara, Goleta and Ventura cities. In my later years with GTE, I served as president for employees government affairs committee, Company Spokesperson for Divesture and Deregulation during the early 80's, explaining to various consumer groups what the effects would be due to the break-up of the regulated Telephone industry. I was also appointed to the Ventura Parks and Rec. Commission for 9 years and served as Chair of that body twice, and we were responsible for the building 10 parks.
Upon my retirement, went into business owning Batting Cages for baseball, worked as an Executive Recruiter, and served 3 Chambers of Commerce in Ventura County. Won a seat on the Ventura City Council in 91 and served two terms, became Mayor in 95, during this time I held positions as Chairman in Ventura County and State Committees such as : County Council of Governments, county transportation, Economic Development, Water, Finance, League of California Cities Administration and Public Speakers bureau. During my tenure as Mayor, I was a member of the negotiation team for the $100 million reconstruction project of the San Buenaventura Mall to the Seaview Mall. While Mayor I received my BS degree in Public Admin and an MBA with concentrations in Executive Leadership and Strategic Planning. Upon leaving the City Council after 8 years, I went on to teaching at Azusa Pacific University in both undergraduate and graduate programs. I also taught at the University of La Verne.
I have served Caregivers as a Board member for about 20 years, being involved in fund raising thru golf tournaments and all other fundraising projects. As a member of Rotary since 1978 and now with Ventura South, our club is a major partner with Caregivers.
Last March the golf tournament and auction made over $100,000 thru the efforts of our Club members. My continued Rotary Service consists of the position of Rotary District 5240 Director of PRLS (Potential Rotary Leaders Seminars). Responsibilities include providing Leadership training for 74 clubs and 4000 Rotarians located in the Counties of San Luis Obispo, Kern, Santa Barbara and Ventura.
I hope this tells the story of "Public Service", it has been a long and tremendously rewarding road, plus you always get more than you give.
S805
-
Can you tell us about some of the fundraising events that CAREGIVERS have?
Jack
- Caregivers is expanding their fundraising events so as to grow our coverage of seniors needing help. We would like to be the link of help to seniors leaving hospitals and rehabilitation that have a need for assistance in order to stay in their home and not have to go into a rest home. With all of the costs of care rising everyday it is important that we provide volunteer healthcare. Projects and events include Sailing races, Art shows, silent auctions and co-sponsoring entertainment events, plus other events approved by our Board of Directors.
S805
-
Can you tell us what's next in the horizon for Jack Tingstrom?
Jack
- As long as the good Lord provides me with good health and the strength to continue, I would expect to stay close to Caregivers and Rotary by providing them examples of successful leadership....As our motto in Rotary states "Service above Self".
We look forward to cheering Jack and the other contestants on Sunday July 27th at the Oxnard Salsa Festival.
Comments
No comments made yet. Be the first to submit a comment