5 minutes reading time
(984 words)
Dancing with Our Community Star Competitor Mike Barber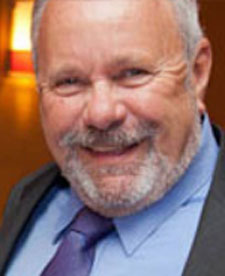 Mike Barber is another contestant who founded the Santa to the Sea Half Marathon as a children's Christmas fundraiser. It's mission is to provide all who participants with a fun, healthy and safe running event while supporting and showcasing the local communities.
Race Director for the

Santa to the Sea

Mike Barber is a
Vietnam Veteran, and he was a union ironworker for 33 years. In 2003, Mike played an instrumental role in moving the huge Santa statue that sits on the northbound side of the 101 freeway, at the north end of Oxnard from its home based in Carpinteria at Santa Claus Lane to its current home in Nyeland Acres. When you drive by you can see Santa wearing his shades and waving hello to all who passes by.

In 2008 Mike founded the Santa to the Sea Half Marathon as a children's Christmas fundraiser. Santa to the Sea mission is to provide all participants with a fun, healthy and safe running event while supporting and showcasing local communities. Santa to the Sea collects Christmas gifts and provides toys for underprivileged children in Ventura County. They partner with Oxnard Police Dept., Ventura County Sheriff's Dept., Cal­i­for­nia High­way Patrol, Oxnard Fire Dept. and Ven­tura County Fire Dept. The offi­cers are there on the front line, come rain or shine, hand­ing out toys. Mike will be dancing for Santa to the Sea.

Vote4Mike.com
In partnership with Oxnard College and Gene Haas Foundation, Santa to the Sea also provides

scholarships

to local high school seniors, as well as adults continuing their education.
Mike is married to Linda Lester-Barber and they have three daughters and nine grandchildren!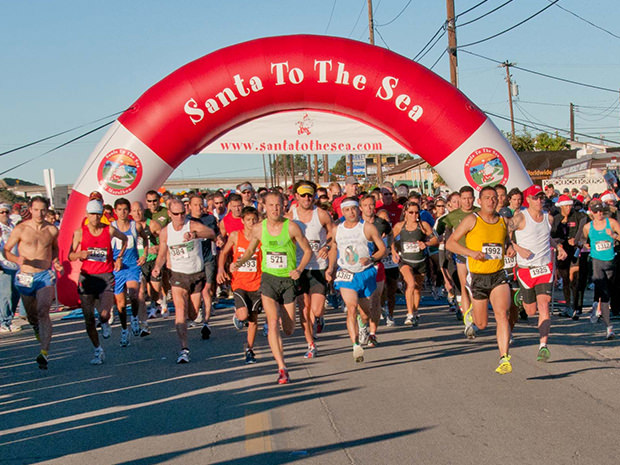 S805
-
How excited were you to be asked as one of the competitors for Dancing with our Community Stars Dance Contest & Fundraiser? Do you have any dance experience?
Mike

- I was very excited and a little intimidated, but this gives us a chance to bring community awareness to what we do for our community and our signature event Santa to the Sea. I have no dance experience especially Salsa
S805

-
What
was your first impression meeting your dance partner Alethia?
Mike

- Alethia is a wonderful dance partner, who has lot's of patience. We hope to put on a great show.
S805

-
How often are you able to practice with Alethia?
S805

-
I would imagine working as an ironworker in the past and working with iron is pretty tough. Which is easier salsa dancing or working with iron?
Mike

- Well being a Union Ironworker for 35 years was a very dangerous job. You have to be aware of your surroundings , yourself and your working partner, one mistake can cause injury or possibly death.
Learning to Salsa dance is fun and if you make a mistake, you just start over.
S805

-
Since you are having fun learning salsa, do you think you will continue salsa dancing after the competition?
Mike

– Yes, my wife Linda has always wanted us to dance more, and now I actually am learning to Salsa. I think we both will take a few lessons so we can go out there and have fun salsa dancing.
S805

-
Tell us about
Santa to the Sea
?
Mike

-
The Santa to the Sea Half Marathon and 5k, is based in the coastal community of Oxnard, Ca., and just 40 minutes north of Los Angeles. The Half Marathon and 2 Person Relay starts at the legendary Santa Claus statue, located along the 101 freeway in Nyeland Acres, just outside of Oxnard. The runners follow a flat and fast, USATF certified course, running along the fragrant strawberry fields, through the areas of historic Oxnard decorated for the Holidays, to the beach, and finishing at Channel Islands Harbor and our EXPO Village. Our certified looped 5k course, perfect for both experienced runners and those new to the sport, starts and finishes at the Marine Emporium Landing EXPO Village in the Channel Islands Harbor. New for 2012, was our supervised 1K Kid's Run, taking place in EXPO Village, and allows the kids to safely finish, on the race course, and in the Finish Chute.
S805

-
Where did the idea for
Santa to the Sea come from
?
Mike

– After we saved the Giant Santa and with community help built a small park around him I was asked " what's next? I really didn't have a answer. Thinking about this I thought what does Santa do? He gives away toys to kids at Christmas time. So, that year (2003) we gathered toys from friends and local businesses and the Saturday before Christmas we opened up Santa and gave away toys to needy kids. This event grew and my biggest fear was not having enough toys.
With the idea that we would ask our runners as part of their entry fee they bring along a toy to the start line. This is how we started Santa to the Sea.
S805

-
Can you tell us about some of the fundraising events that Santa to the Sea have?
Mike

- For the Salsa Festival we plan a fundraiser at the Waterside Restaurant and Wine Bar. This will be a fun afternoon of salsa, food, wine and beer and a silent and live auction. We will also do a short dancing demo. For the live auction we will be offering two Friday nights concerts in the Santa to the Sea booth at Heritage Square. This package will include food (tapas), drinks and the best seats at the concert.
August 29th Dirty Rice

September 5th Woodstock Tribute

S805

-

What's next in the horizon for Mike Barber?
Mike

– I have a wonderful wife, 3 beautiful daughters and 9 grandkids, life is good and I just want to help our community any way I can.
We look forward to cheering Mike and the other contestants on Sunday July 27th at the

Oxnard Salsa Festival

.
Related Posts
Comments
No comments made yet. Be the first to submit a comment