9 minutes reading time
(1743 words)
Review: Shepard's True West at SPTC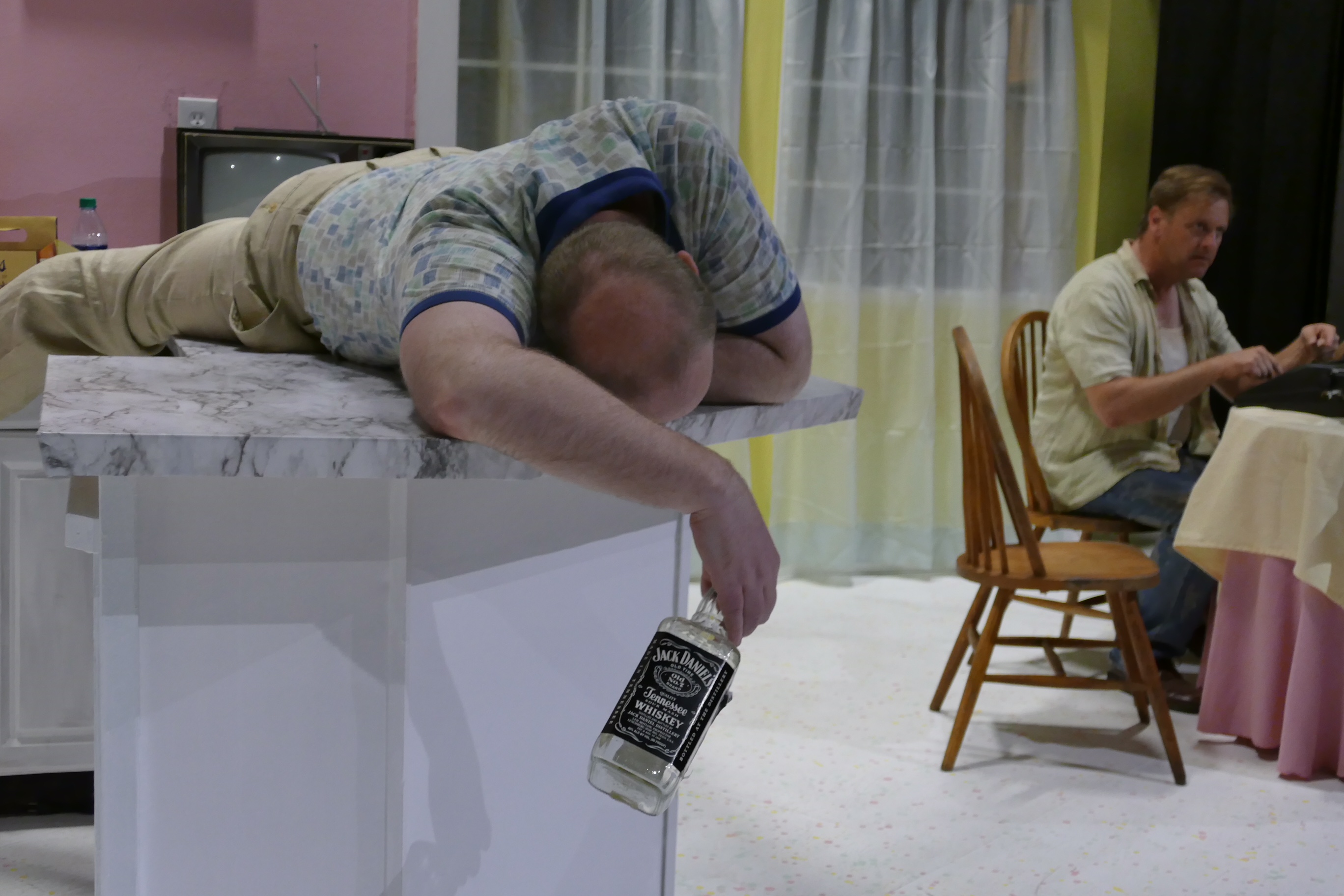 Theatre
Shepard's True West at SPTC
We have passed the one year anniversary of the death of one of America's greatest playwrights, Sam Shepard, and Santa Paula Theatre Company has appropriately commemorated the moment by producing one of his best plays, True West. In spite of its complexities and the murkiness of its depths, True West may be Shepard's most accessible and funniest play.
SPTC has brought on one of our region's best young directors in Jessi May Stevenson, who directed SPTC's heart-felt hit from last season,
Becky's New Car
. The play is exceptionally well-cast with Ron Feltner, Brian Robert Harris playing the leads, along with
Nigel Chisholm
and Nancy Solomons playing the minor, but crucially important secondary roles.
Stevenson says she first saw the play performed when she was 18 and that it was a transformative experience. Her deeply felt insights into the material shows. Stevenson has repeated an interesting experiment that reveals the range of interpretation possible within the play and the depths of its script, by reversing the lead rolls on alternating weeks, a feature as well of the 2000 revival of the play at the Circle in the Square Theatre with Philip Seymour Hoffman and John C. Reilly playing the leads.
This reversal puts tremendous demands on the lead actors, but the rewards are more than worth the trouble, essentially giving us two different plays with the same cast and script. Though it sounds like a gimmick, it does not come across as such; instead what it gives us is insight into the richness that can be reaped from this script and a tremendous opportunity to witness the range of interpretation and craft inherent in great theatre.
The switch in roles is revealing and subtly changes the play on multiple levels, even the comic timing shifts as different lines punch out more than others in each version. There isn't a better version, and a serious student or fan of theatre will want to see this production twice to experience the differences first hand.
As originally cast, Feltner plays Lee, the drifting never-do-well who has dropped in unexpectedly on his brother Austin, played originally by Harris, his diligent, disciplined, screenwriting brother who is house-sitting in their mother's house while he writes a career make-or-break screenplay.
It is a showdown between two world-views--or is it? In Shepard, the fruit never falls far from the family tree. The dreams, fears, demons, and philosophies of these two brothers are far more entangled than they suspect. For one, they are more entwined with their absent alcoholic father than either wants to admit. For another, they oddly admire the other's life-choices while feeling more or less disenchanted with their own. It is a twisted Cain and Abel tale, free of biblical, and perhaps even moral, trappings, which helps fuel its wicked fun.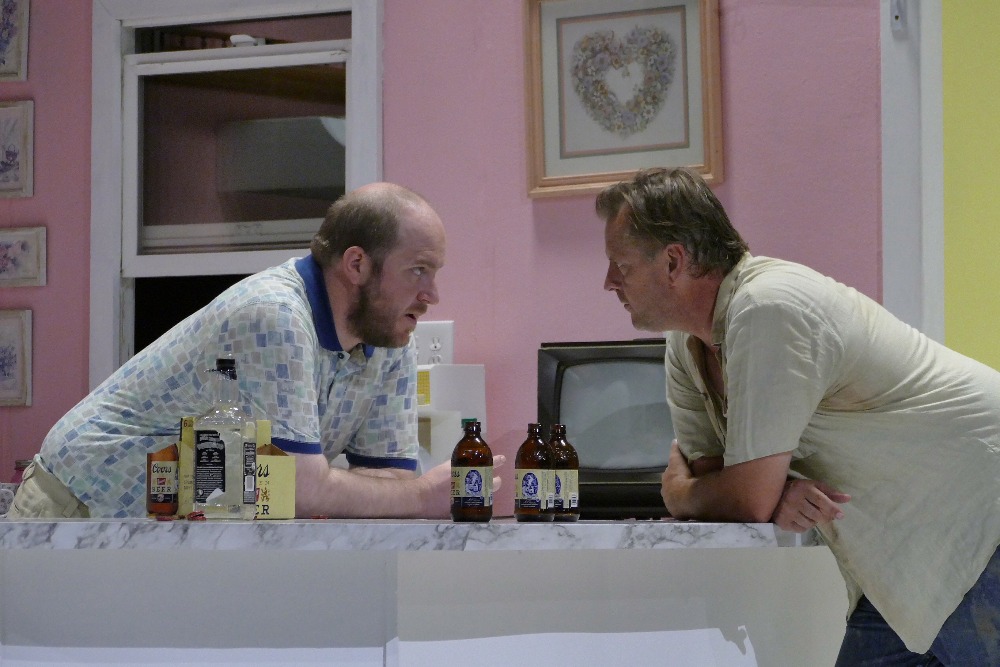 The brothers are not only antagonists, but seemingly almost complete opposites of each other, then before our eyes, they turn into each other, pretty much trashing their world, and the set, along the way.
True West builds in a rather round-about manner as each brother starts to take on aspects of the other. The set-up is richly, darkly, comic, and Shepard gives us some of his best comic dialogue along the way. But dark nevertheless. After the first two scenes, things go awry fairly fast as we plummet deliciously toward the play's kick-ass conclusion.
True West is undeniably an actor's play. Stevenson herself is an "actor's director" and her ploy of giving us two casting options makes it even more of a vehicle for displaying the depths of the craft. The cast is essentially an all-star cast of some our region's best ensemble community theatre actors.
Both Feltner and Harris are on a bit of a roll in the regional theatre scene, with Feltner coming off strong leads in SPTC's well-done Outside Mullingar [which he did opposite Stevenson in the lead role], an unusual and empathetic rendition of Macbeth in Ojai Theatre's recent Macbeth [also opposite Stevenson's stunningly good Lady Macbeth], among other strong performances, while Harris has a substantial string of solid performances, including one in Small Engine Repair at the heavily missed Flying H Theatre, in SPTC's American Buffalo, Becky's New Car, Kimberly Akimbo, and Night Alive. In fact, if one lines up the best productions over the last two years in local community theatre, many of them will have either Feltner or Harris in their cast.
With Stevenson directing the way, they clearly relish the range that Shepard's play gives them. Feltner seems particularly well-suited to Shepard's approach to things. Stevenson brings out the best in both actors, with some of the better moments on stage we've seen from either. What makes the switching of roles with these two actors and this play most interesting is that one of the strengths in the acting approach of both Feltner and Harris is their ability to explore a character's flaws. But they do this entirely differently.
As originally cast, we get Feltner's more visceral, unnervingly threatening, almost Mephistophelic, street-wise, Lee the hustler. He slides up against Harris's somewhat flustered, frustrated, yet never deceived, and worldly in his own way, Austin, the screenwriter. Harris's Austin is never completely taken in by Lee's cunning--he's a brother who knows his brother all-too-well, and has his own shrewdness to rely on when needed.
Harris is more of a face-actor, Feltner more of a voice actor. Feltner's Lee uses his vocal range to inject an almost animalistic, guttural, wolf-like menace into the proceedings--Feltner's Lee is a Lee that we could imagine getting out there and devouring a few of those damn coyotes he keeps complaining about. When Lee observes that the coyotes on the desert don't yip like the city coyotes, "they howl" -- we get a clear feeling that he knows more than a thing or two about howling. It is a line that burns into our consciousness. In the reverse roles, the line is almost a throwaway, for Harris's Lee has other things on his mind. His is a more carefree, drifter, Lee, who is open to accommodating himself anywhere, not so beholden to the desert.
Harris's Austin bounces off the physicality of Feltner's Lee with a wonderful range of looks to express an ongoing commentary on the proceedings, beyond words, from dismay to cynicism to disbelief. One thing about Harris, who does some directing as well as acting, is that he brings a certain intelligence to everything he portrays. The production as originally cast possesses a greater sense of irony. At its outset it is more of a confrontation between inchoate forces and Apollonian rigor, an almost archetypal confrontation; thus deepening the irony when things reverse.
When roles reverse, it's not so archetypal, we more clearly see two prodigies from the same flesh who have chosen two deeply different paths in life, yet arriving together in the same cul-de-sac.
When the roles reverse, Harris gives us a more slovenly, more completely debauched Lee; a man capable of surviving anywhere. He's a rounder, more adaptable fellow, bouncing through life. Feltner's Lee has sharp edges; Harris's has voluminous, satisfyingly deep beer belches. He's not so much of a wolf pestered by coyotes as a more wily alpha coyote who is happy to have escaped from the miserable pack schlumping around in that desert. Feltner's Lee is a fallen angel, warring against and cursing his Fall, as such he retains a shred of moral character beneath all the dirt. Harris's Lee wallows in the Fall completely unbothered or fettered by morals; he no longer remembers anything but dirt.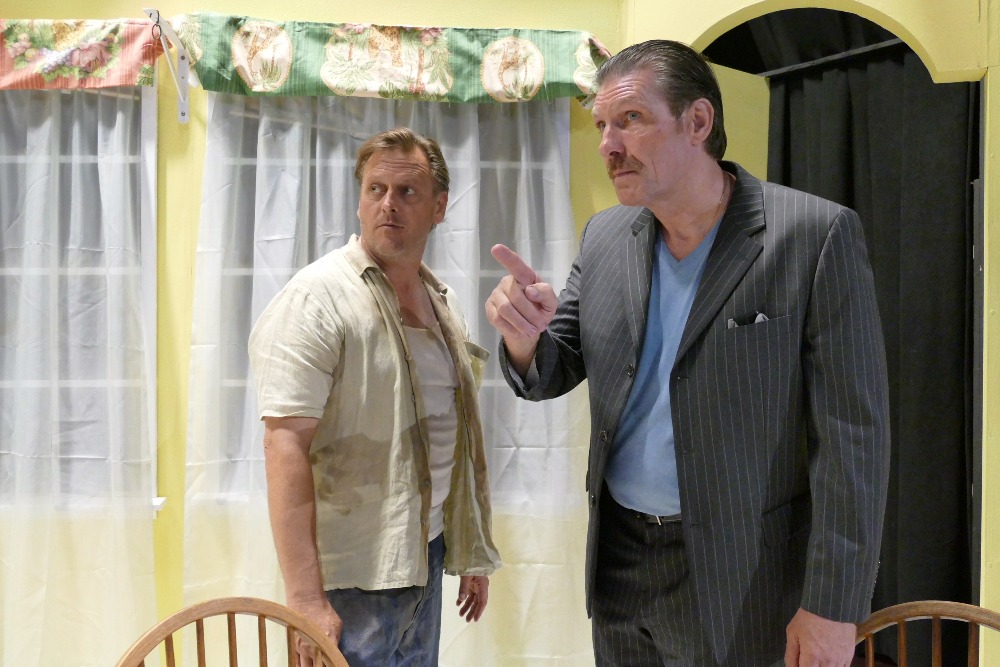 Against Harris's Lee, Feltner gives us a more harried, in some ways more naive and astounded, Austin. He is nervous and less sure of himself. This brings about a less ironic, but in some ways more nuanced comic dimension to the situation. As Austin, Feltner reveals some comic dimensions to his abilities I am not sure we've seen before.
Either way, it is sheer delight watching these two tangle on stage for an hour and a half that feels half as long. Comparing the two versions is a bit apples and oranges, but clearly instructive. If one has only time or funds to see the play once, either option is a safe bet.
As for the rest of the acting, anchoring the lead duo are two very fine actors in our community. Saul, the Hollywood producer who is more than capable of his own hustling, is played by Nigel Chisolm, who clearly realizes the darker, as well as the darkly comic, aspects of his part. Chisolm's Saul exudes his swarmy charm like a bad perfume too liberally applied, subtly adjusting his role to fit the two different casting options. Chisolm takes this minor part and uses it to reveal what Shepard surely wants us to see, a side to our shabby American "culture" which tends to fulfill the opinion of that older playwright who has a character in one of his plays tell us that "America is the only society in history that has progressed from barbarism to decadence without bothering to create a civilization in between." Chisolm, rarely seen on our local community stages, is a delight to watch, a rare bird of consummate technique.
Last, but not least, is Nancy Solomons, playing the brother's mother. Less said about her role the better for those who have never seen or read the play. Her part is one of those wondrously delightful Shepard inventions that add a "whole 'nother layer to the cake" of madness and dark humor to a play that would have been far different without her. Solomons is coming off her heart-piercing performance in Kimberly Akimbo, at SPTC, and simply put, she nails it. As I was leaving, I overheard several people say that hers was their favorite part of the play. That's saying a lot for a play that has so much in it.
In the end, it is the good graces of Stevenson and company that allow us to see the greatness of Shepard and why this is considered by many his best play and one of the greatest plays written by an American.
_____________________________
Directed by Jessi May Stevenson
Starring
Ron Feltner
,
Brian Robert Harris
,
Nigel Chisholm
,
Nancy Solomans
Sam Shepard's True West
playing at Santa Paula Theatre Center
125 South Seventh Street, Santa Paula
Related Posts
Comments
No comments made yet. Be the first to submit a comment