4 minutes reading time
(894 words)
Superb Heisenberg at Rubicon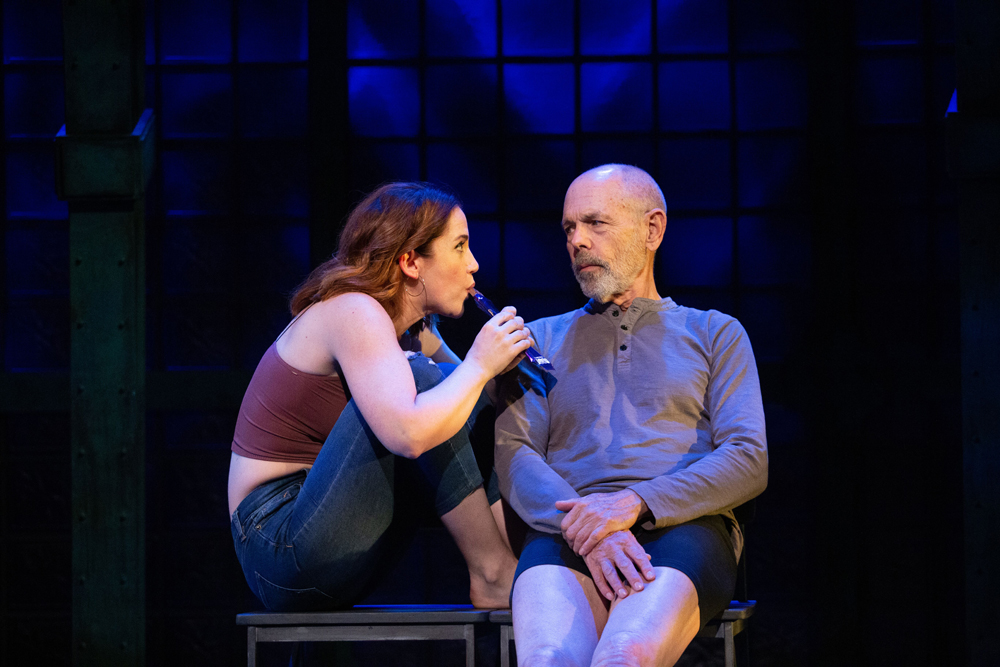 Theatre
Superb Heisenberg at Rubicon
Ventura 7 February 2019
-- Ventura's Rubicon Theatre kicks off 2019 with a superb rendition of Simon Stephens' understated, penetrating, psychological masterpiece,
Heisenberg
, running from 30 January through 17 February 2019. New York Times' Ben Brantley once called
Heisenberg
"one of the most emotionally complex and fulfilling plays to grace a New York stage".
The Rubicon calls on two of its acting heavyweights with long-standing relationships with their theatre to pull off an acting tour de force. Faline England, a long-time local favorite and the well-known Joe Spano give us a Georgie Burns and Alex Priest that are so completely realized, of such depth and insight, so thoroughly inhabited, that in spite of the script's episodic structure we feel we thoroughly know them, perhaps even better than the character's know themselves.
The script imposes relatively severe restrictions on the set, which Mike Billings responds to with a gorgeous, soaring, railway station-like design that fully respects the script's minimalist intentions while creating just the right atmosphere for the unfolding of this tale about two flawed human beings' journey together. It is a journey where the characters' better selves struggle and win out against the momentum of their surface, more everyday, uglier selves, all in good humor.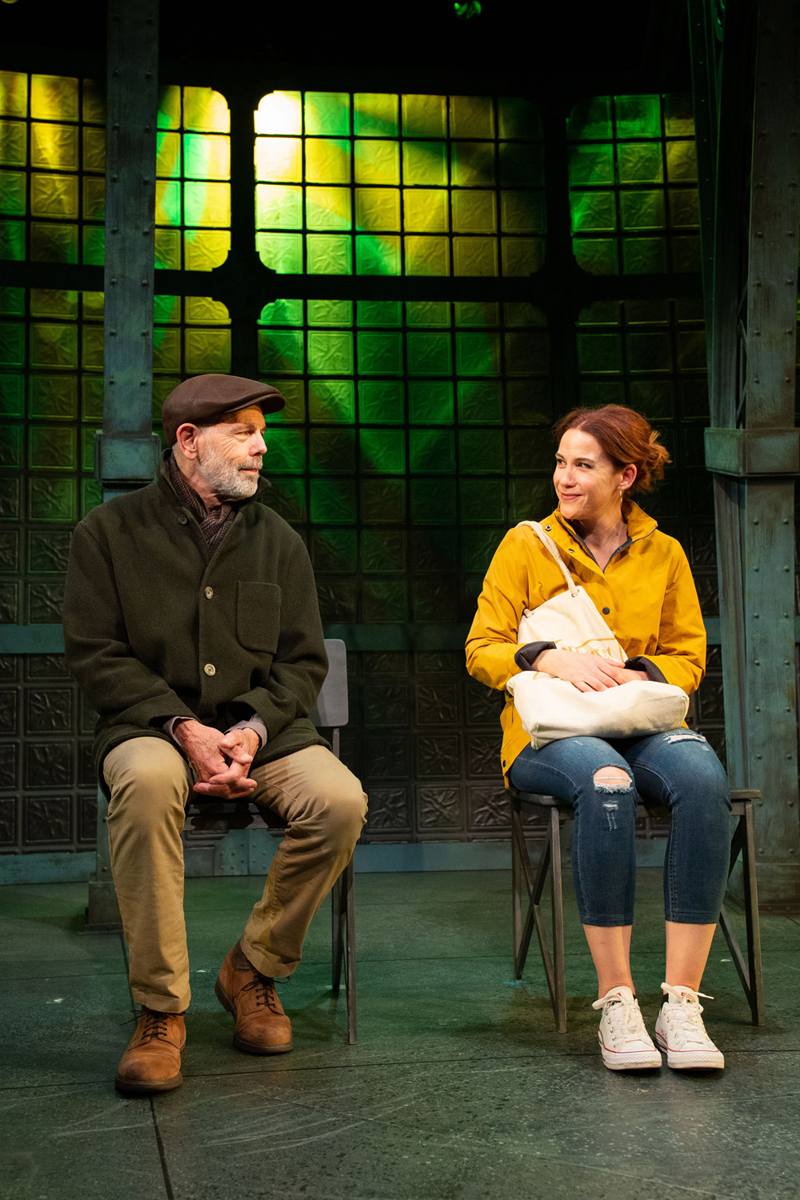 The Manhattan Theatre Club commissioned the English Playwright Simon Stephens to write Heisenberg. It premiered Off-Broadway at the New York City Center, Stage II in May 2015 [official opening 3 June 2015] moving to Broadway at the Samuel J. Friedman Theatre in September 2016. The original production was directed by Mark Brokaw with Denis Arndt, who was nominated for a Tony for Best Actor for his Alex Priest, and Mary-Louis Parker playing a darkly conflicted Georgie Burns. The play was produced in 2017 at the Los Angeles Mark Taper Forum with the original director and cast.
The play gained a reputation for being off-beat, quirky. Georgie Burns is definitely one of the more unpredictable characters to grace a Post-War stage. It is one of those plays where having seen it once and knowing where it is going can change how you see earlier scenes, so a lot of people end up going to it more than once. It is also a script that, seemingly simple and pared down on the surface, is open to a tremendous range of interpretation; as Spano and England amply demonstrate, a surprisingly wonderful range of interpretation.
We've seen Brokaw's excellent Heisenberg with Denis Arndt and Mary-Louise Parker when they presented it at the Mark Taper Forum, and as Spano told us, "It was a different play, wasn't it?"
So true. What Spano and England do with this play goes in another direction altogether from Brokaw's original production. Both productions do justice to a great script. The Rubicon production brings us to a very satisfying conclusion: Spano gives us an Alex Priest who undergoes a more complete, radical, but supremely subtle, transformation by play's end. Early on Georgie tells Alex that he isn't really living. It is a challenge that Alex has to respond to. In Spano and England's Heisenberg we are more clearly sure that Alex is really living by play's end.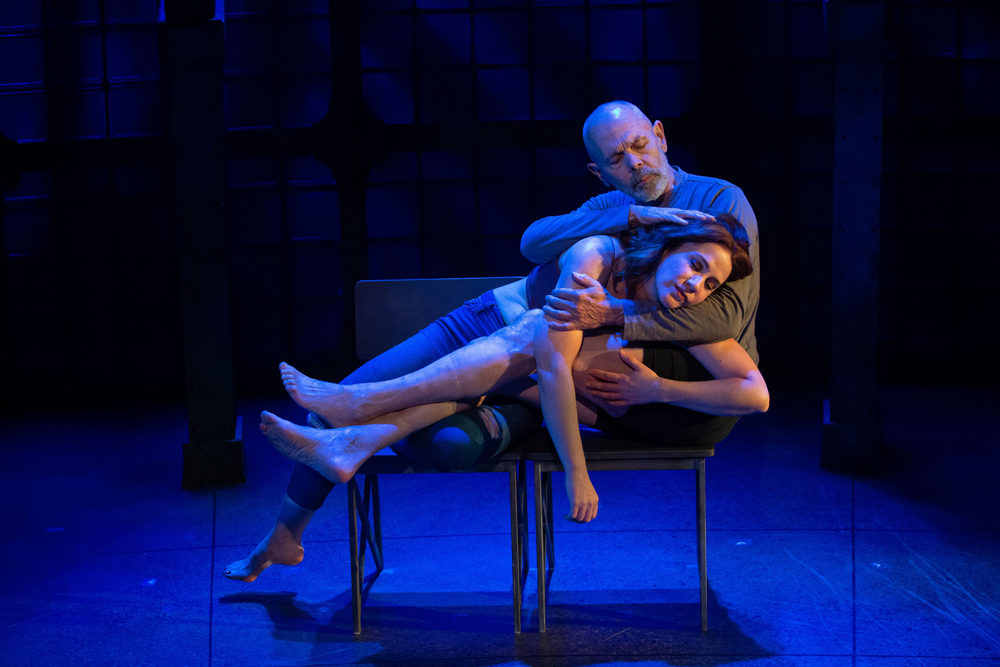 The original production went more for alienation and darkness, the Rubicon production goes for something more visceral and personal; Spano and England go for transformation and clarity over the chasm of human alienation. This makes the Rubicon version more uplifting, more human. This direction is assisted greatly by England's more ecstatic interpretation of certain intimate moments. The Brokaw version ran darker, colder, more ominous in its shadings. Not that the Rubicon version softened any edges or anything, there are cuts enough to go around [with Stephens' good humor intact, of course], but Spano and England brought something more healing to their transformation and characters' sensibilities.
Stephen's script is full of humor, much of it based on the multi-layered ambiguities couched in and between many of the lines. The script requires, even demands, that we monitor the facial and bodily reaction of the off-line actor at any given line; Spano and England exploit this to the hilt.
Another strength of the Rubicon production is Jessie Vacchiano's sound design. The script makes it clear that Alex Priest processes a lot of his feelings via music. He listens to everything: jazz, pop, symphonic, electronic, country western, you name it, he listens to it. It is an almost throw-away passage, so a production is free to do something with this or not. Usually not much. But the Rubicon production uses an extremely appropriate score for a soundscape between scenes that reminds us that this is a man who processes his world through music, echoing the emotional timbre of the adjacent scenes. Then we realize that yes, Alex, at the play's opening was sitting listening on headphones, and, it turns out, not much else. Just listening. Alone, in the middle of London's Saint Pancras railway station at 6:25 one fine evening. Then along comes this much younger woman …
____________________
Heisenberg by Simon Stephens
Directed by Katharine Farmer
Starring Faline England and Joe Spano
With Mike Billings, sets and lighting, Jessie Vacchiano, sound, Michael Mullen, costumes, Cate Caplin, choreography, Joel Goldes, dialect coach
Rubicon Theatre Company
1006 East Main Street, Ventura, California, in Ventura's Downtown Cultural District
30 January to 17 February 2019
Related Posts
Comments
No comments made yet. Be the first to submit a comment