2 minutes reading time
(474 words)
Kay Kay and his Weathered Underground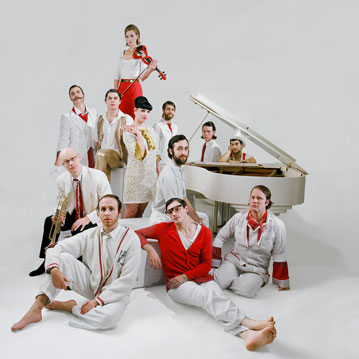 Kay Kay and his Weathered Underground.
Photo:Hayley Young Photography, courtesy of
Seattle Magazine and Seattle Business Magazine.
Some might argue that Monday nights are a tough sell. I completely disagree. That's the time you get to see the world as it really is, without make up, hung over from the mess it made during the weekend. Especially walking down Sunset Boulevard.
Last Monday, I was pleasantly surprised when I stumbled upon Kay Kay and His Weathered Underground at the Echo in Echo Park. The band hails from Seattle, Washington and consists of main writers Kirk Huffman (vocals/ guitar) and Kyle Oquin (keyboard) with whatever arrangement of revolving musicians the situation can facilitate. Their record is 15, though we were treated to six. Kay Kay has toured with Portual.The Man and the Rx Bandits and has performed on Last Call with Carson Daily. Their self-titled 2008 release earned them a place on Alternative Press's Top Ten Albums of 2008.
After their slim silhouettes' swaggered on stage, the bass dropped and a heavy Police-like dance hall rhythm filled the room. Note by note the air became saturated with ethereal, symphonic textures, soaring vocals, and tinges of teenage awe. The vastness was quickly swept away and replaced by an almost comedic vaudevillian stomp. For a time, synthesized horns and a ragtime shuffle grooved beneath blues guitar licks and Huffman's incomprehensible mumble sing. This shift between reggae and circus sideshow persisted with the occasional injection of Beatles Abbey-Road-era-psychedelica and straight ahead garage rock. Despite the wide range of genres attempted, there was no point in the show where the band sounded at odds with itself. You could tell that the songs were much less tunes and more compositions, carefully plotted and ably executed.
However, the disco ball spinning above the floor of the Echo gave the performance some much needed movement. The only members of the group who appeared to be enjoying themselves were guitarist Thomas Hunter and his Monopoly Guy mustache. Though Huffman's stationary stance was both intriguing and powerful, he barely opened his eyes and rarely addressed the audience. I couldn't determine if they were plagued by the perils of hipster pretention, or if the fact that it was the last date on their tour had made them sleepy, but either way they could have bumped up the energy.
I left the Echo glad I had stopped in and though I didn't have a single lyric or motif of Kay Kay's stuck in my head, I was filled with a sense of wonder. Their unique blend of orchestral pop had inspired possibility and their worker fatigue reminded me of my own finitude. And although Huffman's onstage claim that, "Our new record will change your life," was a bit generous, the album and the band are definitely worth checking out.
Comments
No comments made yet. Be the first to submit a comment