5 minutes reading time
(984 words)
Review: Acting Rules at Flying H and Elite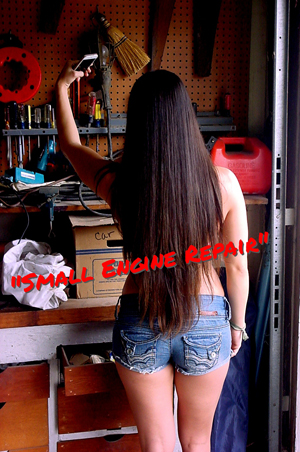 Some scripts call for tremendously committed acting. These are the kind of scripts that great actors hunger for; but often aren't produced as they scare the daylights out of everyone else. John Pollono's Small Engine Repair, and Jim Brochu's Zero Hour are scripts that might be considered in that category. Both scripts are smartly written, with sweeping structures yet tightly focused, giving both the kind of range and focus that great actors like to exploit. Both plays take a certain level of significant courage and commitment from their actors. A level that lessor talents dare
to attempt
.
It is to the great credit of Flying H Theatre and the Elite Theatre to produce these plays: Flying H with Small Engine Repair and the Elite with Zero Hour. Flying H's production will run through the end of the month. Unfortunately, I was only able to see Zero Hour at the end of its run, but I cannot let the quality and significance of this production go unnoticed.
Flying H's Small Engine Repair features highly kinetic ensemble acting and the kind of gritty, tough delivery that its script deserves from a fine trio of actors -- Michael Wayne Beck as Packie, Eric Mello as Swaino, and Brian Robert Harris as Frank, playing three very close friends who have known each other since childhood. They are augmented by Joshua Kahn playing an outsider, a seemingly casual acquaintance of Frank's, unkown to the other two.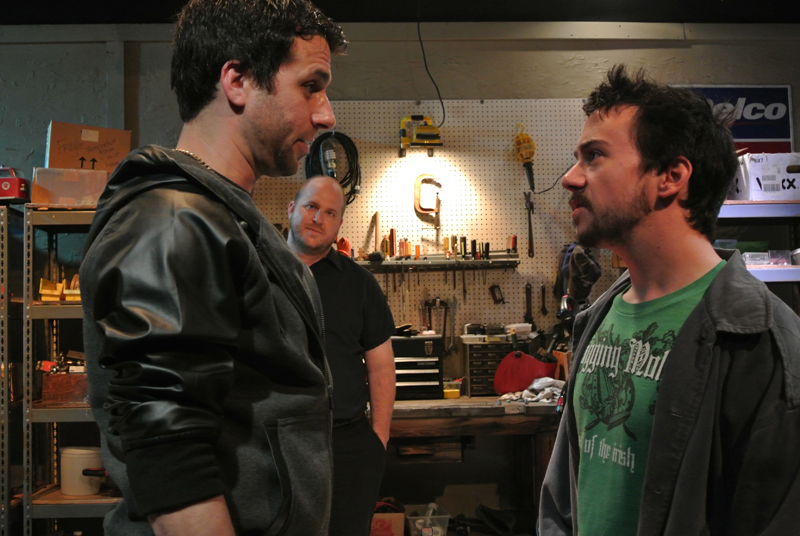 Eric Mello, Brian Robert Harris, Michael Wayne Beck- Photo credit:Maria Rojas
It's a play written for and by the internet generation and the less one knows about its plot going in, the better. Smart, savvy, and raunchily funny, this is not "family entertainment".
What's brilliant about the play is how everything counts, even though its structure and content seem fairly random at first, it does, at a certain moment, take on a very decided shape and direction.
Let's just say that each one of these three friends has many flaws. Frank is the only one who is gainfully employed and who has seemingly made anything out of his life, but then even from the first we suspect he may be a ticking time bomb; but, bless them, they do have a moral compass, even if a bit skewered by, let's say, not the world's best judgement.
All this, of course, makes for great theatre, and the quality and energy of the ensemble work of Mello, Beck and Harris and the pace of the play is breathtaking. When you see this kind of work, only a few feet away in the intimacy of Flying H's house, you see why this is what makes live theatre live and something you'll never, ever get on a screen, big or small.
Clearly Flying H Theatre is proud of this play, and well should they be, it's the kind of gritty little masterpiece they like to produce. They've also provided a gritty little masterpiece of a set that leaves no doubt that you are in Frank's garage.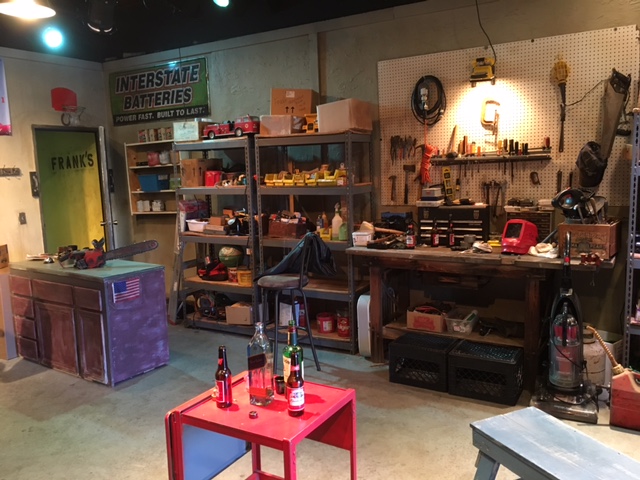 Frank's Garage set designed by Taylor Kasch
Brochu's Zero Hour is a play everyone should see at some point. It not only excavates the sad and tragic inner workings of one of the greatest comedians of all time, Zero Mostel, it gives a very deeply felt insight into the workings of the evil underneath the Communist witch-hunts of the McCarthy era and the black list that doomed Mostel at the peak of his career. Unfortunately, it is rarely performed, even though it is a wonderful script, in part because you need someone like John Medeiros to do it.
John Medeiros is Zero Mostel. Literally. It's like a reincarnation. It's not just that he's played parts first made famous by Mostel: Pseudolus, the scheming slave in A Funny Thing Happened on the Way to the Forum, and Tevye in Fiddler on the Roof [one of the great crimes of the black list was not using Mostel in the film]. It's that In Zero Hour, Medeiros enters into Mostel's persona so completely that we are left with no doubt of the authenticity of the truths and psychic forces unleashed.
And forces are unleashed. Mostel was larger than life and Medeiros obliges. The play is a one-man-show tour de force. It is basically a one hour interview of Zero Mostel by a writer/journalist/biographer with added flashbacks, where we only see and hear Mostel.
My only problem with this production has nothing to do with Medeiros, who was flawless and needs to be seen in this play in a forum of much greater import, like a major Los Angeles, or New York, Chicago, or London house.
No, the problem with this production was that in a sense the play is somewhat abstract in concept and would have been helped by an abstract set. All Medeiros really needs is a stool, a chair, a surface for a telephone and lights. The set Elite provided was a distracting mess, including a few misleading and historically suspect details, sometimes impinging on Medeiros's free movement. When the set gets in the way of a play's meaning and force, that's a problem.
But for Medeiros this is no real obstacle, his acting is so huge and marvelous we forget everything and spend an hour with Zero Mostel, one of the world's most beloved, and tragic, comedians.
Flying H Theatre Company
presents Mad Gravity by William Missouri Downs and directed by Larry Swerdlove. For tickets call 805.901.0005 or go to
www.FlyingHGroup.com
site for tickets, information and directions to the theatre.
Reservations Highly Suggested
.
Run dates October 9 through October 31
Friday and Saturday nights at 8:00pm
Sunday Matinees at 2:00pm
Thursday nights at 8:00pm
October 9 through October 18 (Fri, Sat, Sun)
October 22 through October 31 (Thurs, Fri, Sat)

JUST ADDED NOV 6-7 FRIDAY AND SATURDAY NIGHT
Comments
No comments made yet. Be the first to submit a comment