4 minutes reading time
(891 words)
Review: Do Not Miss The Other Place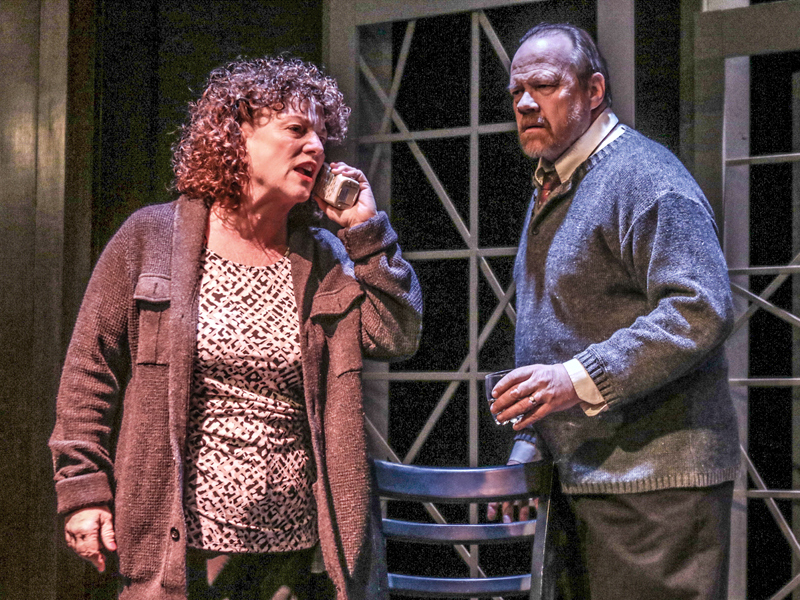 Review-
Santa Paula Theatre kicks off its new season with a wonderful production of Sharr White's beautifully written psychological drama, The Other Place.
Producer Leslie Nichols has brought in the dynamic duo behind Flying H Theatre, Taylor Kasch and Cynthia Killion, to do their magic, and magic it is, with the tight ensemble work, extremely effective set, production details, cast and crew excellence, collaboration and execution of high order we've come to expect from all things Kasch and Killion.
Killion and Perlmutter re-arranging the tectonic plates of the mind
in Sharr White's The Other Place at the Santa Paula Theater Center Photo Credit: Brian Stetham.
At the core of White's The Other Place is Juliana [Cynthia Killion], a successful molecular geneticist who has discovered a breakthrough treatment for an elusive form of dementia. Around Juliana, White carefully arranges a constellation of characters, led by her husband Ian [Michael Perlmutter], an oncologist, and a score of minor characters that can be, and are in this production, played by a single male [Scott Blanchard] and female [Amanda Canty] rotating through the various parts.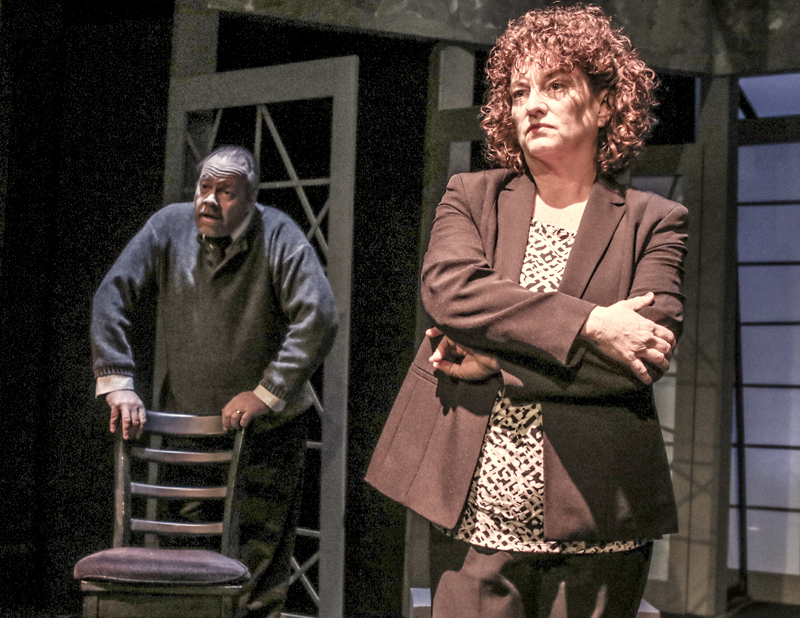 Over the edge into the darker fringes of the mind, Michael Perlmutter and Cynthia Killion triumph in Sharr White's The Other Place at the Santa Paula Theater Center Photo Credit: Brian Stetham.
Killion's Juliana is an acting tour de force, an emotional juggernaut at the core of every scene.
The minor male parts are played by Scott Blanchard, echoing his recent good work in Flying H's Mad Gravity.
Michael Perlmutter, a playwright in his own right, brings the more thorough understanding of his part we might expect of a playwright, giving his Ian all the jangled exasperation, dismay, force, gravitas, compassion, and a dozen other emotions that Sharr has written into this deceptively complex part. It is a part that could be easily overplayed. Happily, Perlmutter refuses to take the easy way out.
Producer Leslie Nichols says, as for "the special Amanda Canty, joining us for the first time, we're elated." No lie. Canty delivers beautiful work, bringing a deep compassion and understanding to her parts, especially her last incarnation.
What Canty and Killion accomplish in the long, heart-wrenching, penultimate scene, the climax of the play, is quite special. To see these two women work together in that scene is itself sufficient reason to go see this play, but definitely far short of the only reason.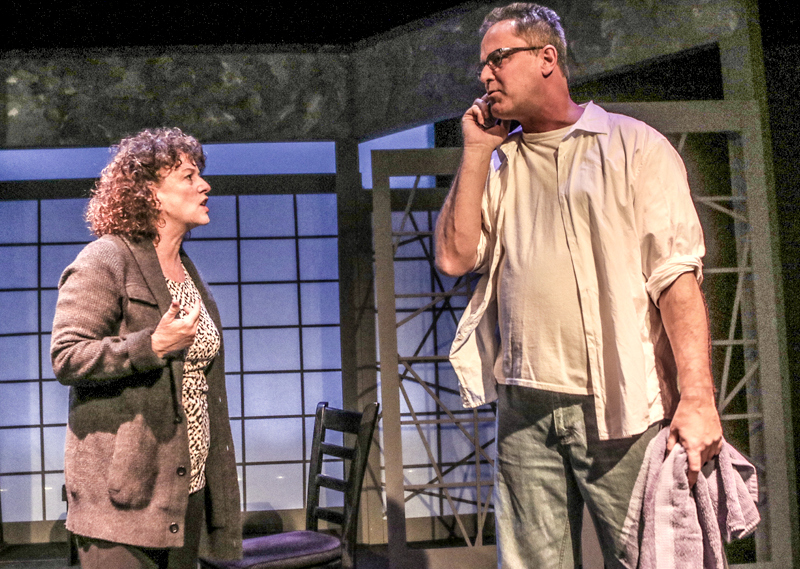 Twisting reality around the heart
, Cynthia Killion and Scott Blanchard in Sharr White's The Other Place at the Santa Paula Theater Center
Photo Credit: Brian Stetham.
This is ultimately a play that depends on actors conveying inner states and inner realities. This is tricky territory for any playwright and any group of actors. The stage does not have all the tricks and technical devices of film to cue in the audience to inner realities. But this lack of cues can also be exploited to deepen the level of ambiguity for unique psychological ends. Ends unique to theater. Sharr's script does this and Kasch's production understands this and executes it flawlessly.
Kasch fully exploits the set with rapid scene changes and seamless entrances and exits to impart a pace that brings out the best in Sharr's play. We become aware of a certain psychological momentum, a certain fluidity, a certain force of inner crisis and deterioration propelling this play into its darker fringes. This is, after all, the tale of a brilliant mind going over a cliff into the abyss, without knowing where lies the precipice's edge, no less.
All of which makes for great theatre.
Which is another reason this is a "must-see" production exhibiting tantalizingly high levels of collaboration and execution.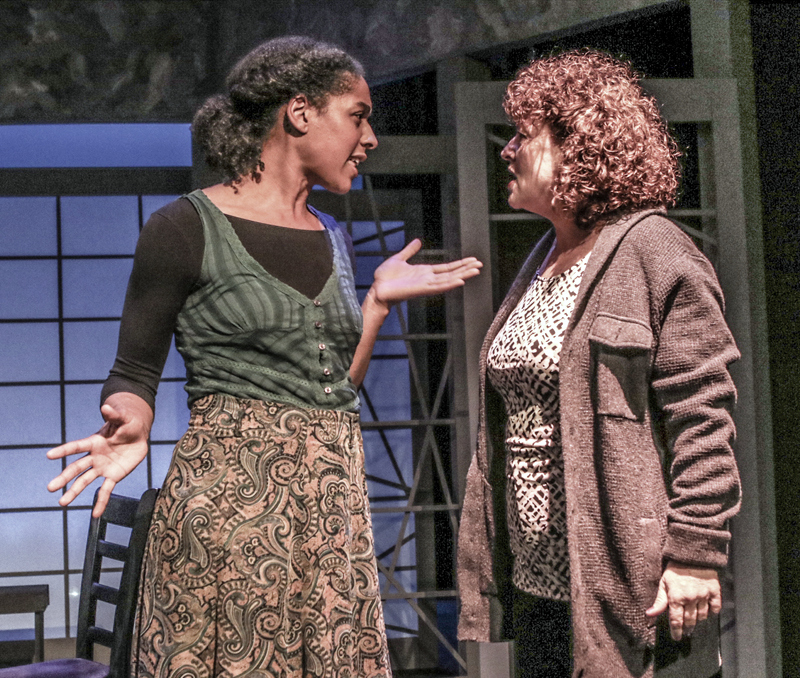 Unlocking the depths of compassion
, Amanda Canty and Cynthia Killion take us to the edge and back in Sharr White's The Other Place at the Santa Paula Theater Center
Photo Credit: Brian Stetham.
Tantalizing because it is a prime example of the kind of collaboration and execution that become possible when a large pool of diverse talents work together in and out of a couple dozen different theaters over years, even decades, within a cohesive milieu, and then a small group of them come together to put on a tight production of a heartfelt project.
Tantalizing because this is what is happening throughout the 805 with seemingly ever greater frequency. Tantalizing because it bodes well for theatre in the 805 for the future.
Tantalizing because it bodes well not just for theatre, but for the entire contemporary arts scene throughout the 805. Something is happening here, and the results are starting to show.
To see for yourself, a good place to start would be to go see The Other Place at the Santa Paula theatre, perhaps the region's most under-appreciated theatre, before it ends Sunday 13 March.
The Other Place by Sharr White
Produced by Leslie Nichols
Directed by Taylor Kasch
Starring Cynthia Killion, Michael Perlmutter, Amanda Canty, and Scott Blanchard
Set desgin by Mike Carnahan
Costumes by Barbara Pedziwiatr
Lighting by Gary Richardson
Sound by Kathleen Bosworth
Props by Gail Heck
Karl Krause, Stage Manager with tech support from Doug Learn and Jake Mailey.
Presented by the Santa Paula Theatre Center
125 South Seventh Street, Santa Paula, [tenth street exit off the 126]
Fridays and Saturdays at 8 pm, Sundays at 2:30.
Call the Box Office at 805.525.4645 for reservations and tickets
Comments
No comments made yet. Be the first to submit a comment