4 minutes reading time
(895 words)
Review: Steel Magnolias at the Elite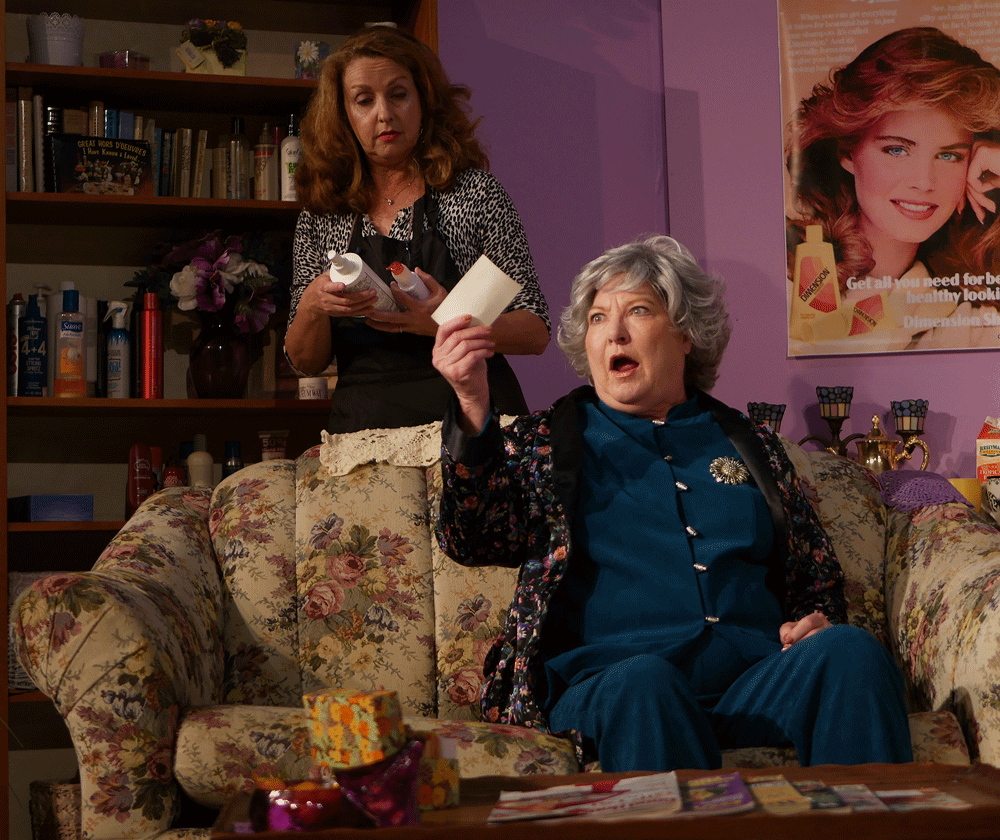 Steel Magnolias at the Elite
The play, Steel Magnolias has been a favorite of both professional and community theatre audiences for almost three decades, enjoying somewhat of a rebirth across the country since its revival with a Broadway debut in 2005.
Kim Prendergast
as
Truvy
and
Peggy Steketee
as
Clairee
,
Elite Theater Co Oxnard, CA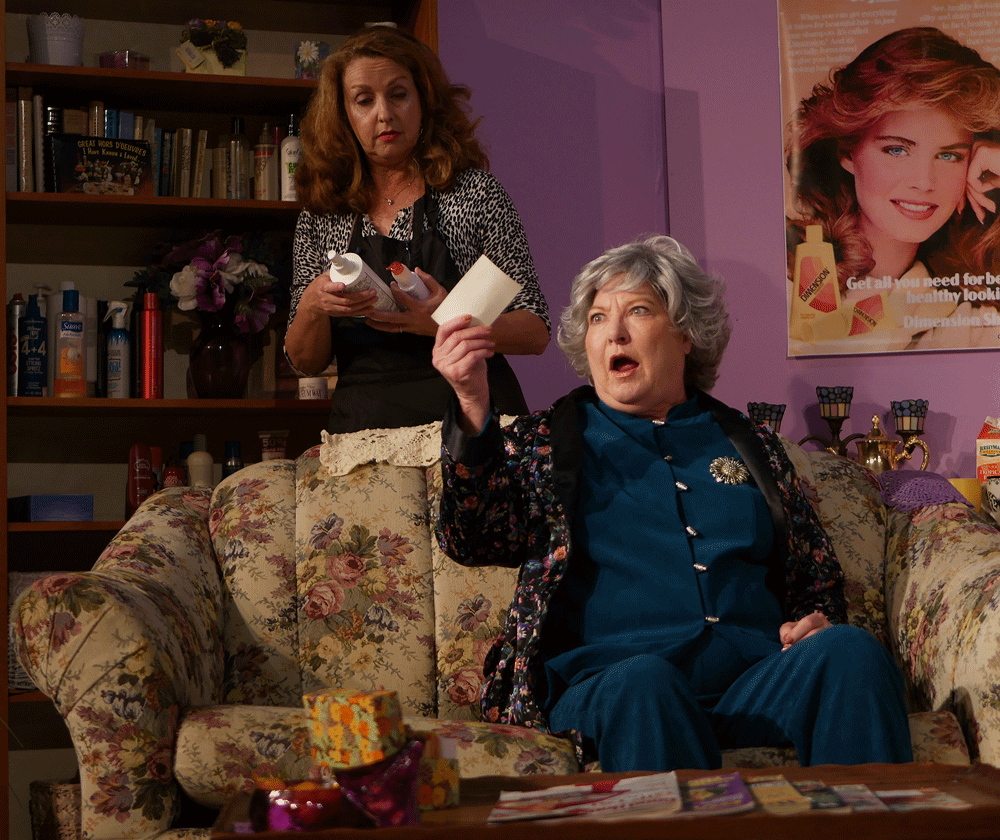 Kim Prendergast as Truvy and Peggy Steketee as Clairee,

Elite Theater Co Oxnard, CA
Steel Magnolias at the Elite
The play, Steel Magnolias has been a favorite of both professional and community theatre audiences for almost three decades, enjoying somewhat of a rebirth across the country since its revival with a Broadway debut in 2005.
The play benefits somewhat from the paucity of scripts with great female parts: Steel Magnolias boasts six distinctly different female parts all with some heft and good lines. Accordingly the Elite has brought together six of the best actresses in its orbit to produce one of the stronger productions the theatre has had in some time.
To the great good fortune of this production. Sindy McKay, also an actress, producer, and writer, gives us one of the strongest directorial jobs seen at the Elite in a long time.
As for the acting, particularly strong are Peggy Steketee's remarkably complexly rendered Clairee and Olivia Heulitt's Shelby, the diabetic central to the play's workings. Heulitt is simply radiant
But it is a strong ensemble cast, well-done all around, and everyone seems to be having a lot of fun. Kim Prendergast, as Truvy, the part that has to do a full hairdo while pulling off well-timed comic lines and have it all paced to work out just in time, pulls off a terrific wedding hairdo on Shelby. Huge kudos to Stacey McAuliffe's hair design. This is a little marvel of stagecraft all its own.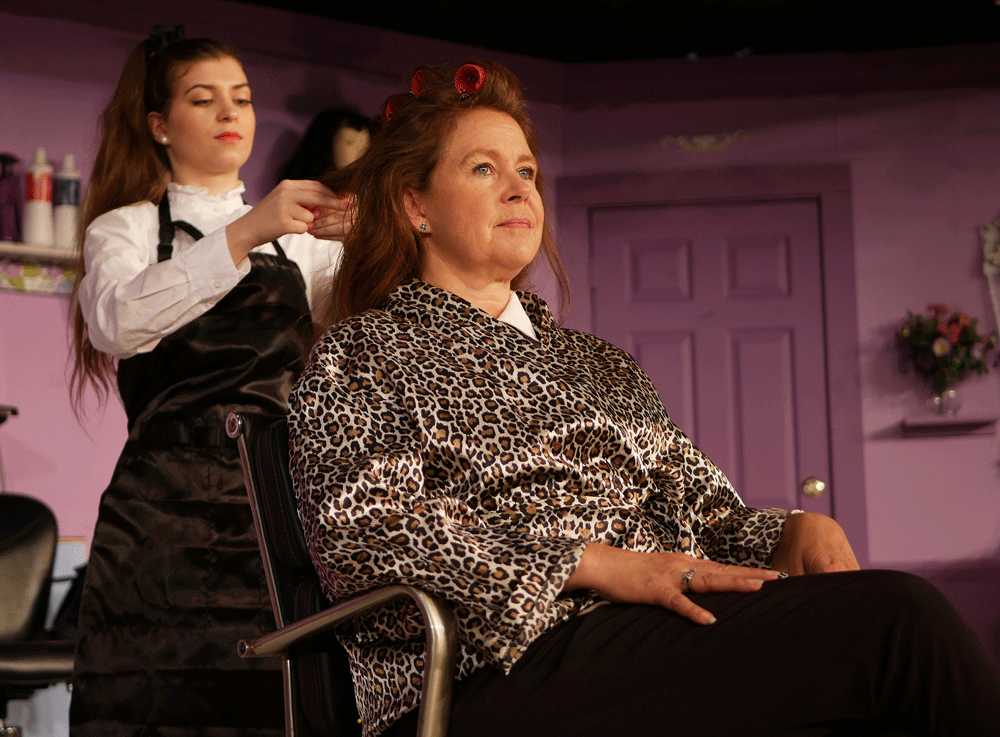 Catie Sayeg as Annelle and Christine Burke as M'Lynn.

Elite Theater Co Oxnard, CA
A lot of the edge and weight in the play has to come from Shelby's mother, M'Lynn, played by Christine Burke and the crotchety Ouiser, played by Elite favorite Angela DeCicco: neither disappoints. These two, along with Heulitt do much of the heavy lifting in this play. The Elite is fortunate to have their level of professionalism at hand.
Catie Sayeg's Annelle, a part often treated as almost a throwaway part in community theatres with less depth in their talent pool, delivers greater balance to the ensemble than usual, though there is always the amateur temptation to over-act the part's frustrations with hair-dressing. The part is stronger played with a certain darkness that cannot afford to be too high-minded about things, even after conversion, where the sly disdain of a glance carries more force than the conceit of handwaving.
Another strength of this production is the set. It is better than a lot of other Steel Magnolia stage sets, including significantly more expensive ones. It really works. Big kudos to Sheryl Jo Bedal, set designer, stage designer, costume designer, and Bob Decker, set construction manager and his crew.
The writing of the original play itself started as sobering, cathartic notes written as part of a healing process as its author, Robert Harling, coped with the devastating death of his close sister from complications due to type 1 diabetes. Less than two years later it had evolved into a short story as Harling attempted to use fiction to gain some psychological distance from the material; then inspiration struck. Within ten days, Harling, who had never written anything of any significance before, had a play. And not just any play, but a hit play, a tightly crafted one-set ensemble, all female cast, extremely funny comedy with loads of local color. Humor turned out to be the juice that healed the soul.
And turned the turnstiles as the play went from script almost immediately to an Off-Broadway opening at the WPA theatre in New York on 28 March 1987. By June it had transferred to the larger Lucille Lortel Theatre where it closed on 25 February 1990 after 1,126 performances almost three years later. By then a hit movie with an all-star cast had been released. The play has been pretty much a crowd favorite ever since while the film helped expand its audience considerably.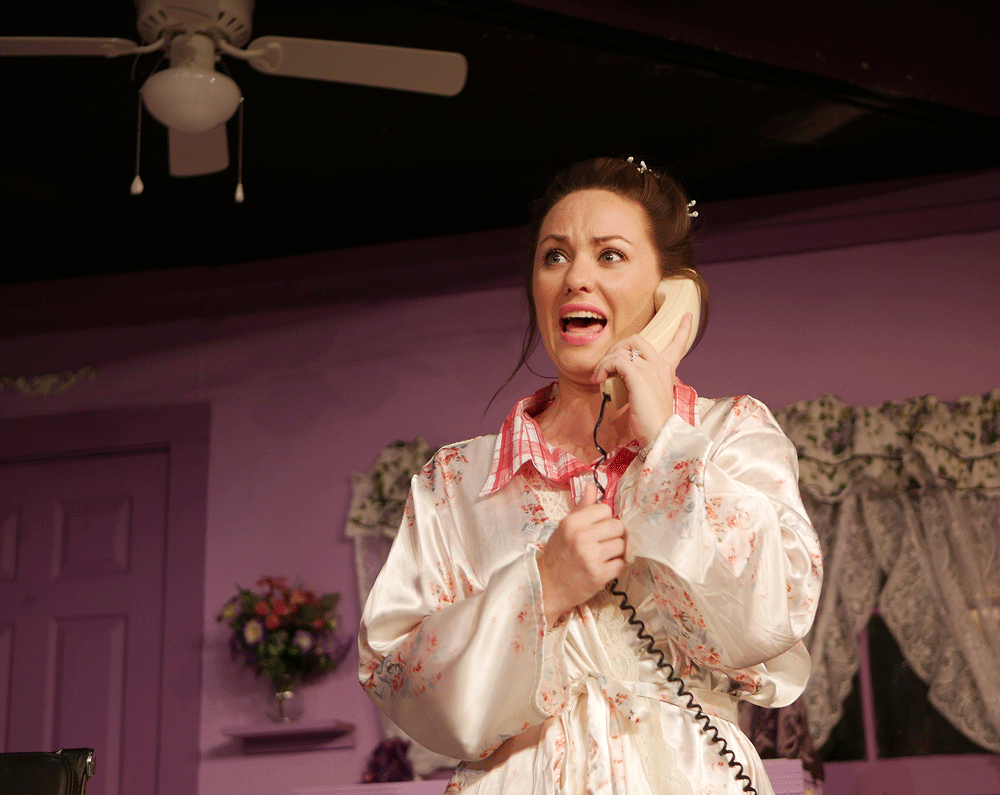 Olivia Heulitt as Shelby,

Elite Theater Co Oxnard, CA
The play's potent mix of down-home feeling, deeply felt personal tragedy, all set up with a steady stream of situational humor and quick good-natured Southern wit has proved unshakable. The play ages extremely well due to its dependence upon basic human feelings and values. It feels as fresh today as it did when it opened.

Steel Magnolias by Robert Harling
Starring Christine Burke, Angela DeCicco, Olivia Heulitt, Kim Prendergast, Catie, Sayeg, Peggy Steketee
With production by Sheryl Jo Bedal, Stage Manager, Set and Costume Designer; Pat Lawler, Techincal Director; Stephanie Rice, Lights and Sound Operator; Sam Thomas, Lighting Designer; Larry Swerdlove, Sound Designer; Bob Decker, Set Construction Manager; Chris Bryson, production Associate; Nancy Hullihan, Production Assistant; Stacey McAuliffe, Hair Design, Diana Martin, poster/banner design, Erik Villalobos, Backstage, Joe Orrego, Photography, Marcella Kowitz, Office Manager.
At the Elite Theatre through October 1, 2017
2731 South Victoria Avenue,
Channel Islands Harbor at Victoria, Oxnard

Comments
No comments made yet. Be the first to submit a comment