Vanessa Rivers, founder/designer for Happy Endingz® Eco Swimwear, grew up on an eco-ranch in Central California and attended college at UC Santa Barbara where she fell in love with surfing. The line's green concept was born out of Vanessa's passion for protecting the environment and her bikini's signature "butterfly cut" bottoms with minimal back coverage are inspired by the Hawaiian Islands. Despite having a celebrity lineage including father, singer Johnny Rivers, grandma, actress Debbie Reynolds, and aunt, Carrie Fisher, (aka Princess Leia), she has managed to stay grounded and dedicated to her goal of helping green become mainstream. Vanessa also spends her time teaching surf lessons when she is not busy designing swimwear.
S805
Tell me a little about yourself. Where are you from?
VR I was raised on an eco ranch run completely on solar energy in San Luis Obispo County. The town I'm from is called Creston, population 200 people. I grew up riding horses, fixing fences & milking cows with my mom and driving around in an electric car with my step-dad Todd, who taught me everything I know about 'going green'.
S805
Describe the general process you go through to design your swimwear?
VR
I am an avid surfer/ surf instructor so most of the inspiration for my swimwear comes from surf trips I have gone on. I was in Hawaii last fall & took tons of great photos and those pictures have become my inspiration for our next collection which I just started working on. I chose the colors for the line from some amazing sunrise shots I took on the Big Island.
As far as the actual designs go I try to create bikinis that me and my friends want but can't find anywhere in the market place. I try to take elements of other bikinis I have or see in magazines and incorporate all the best parts into a single design. Our first collection is called the One Bikini to Change the World Collection and it consists of just one bikini style in three colors. This bikini, the Recycled Nylon Ruffle Bikini, has super long side ties, minimal back coverage and cute ruffle detail, all of which I wanted in one bikini but could not find so I made it! =)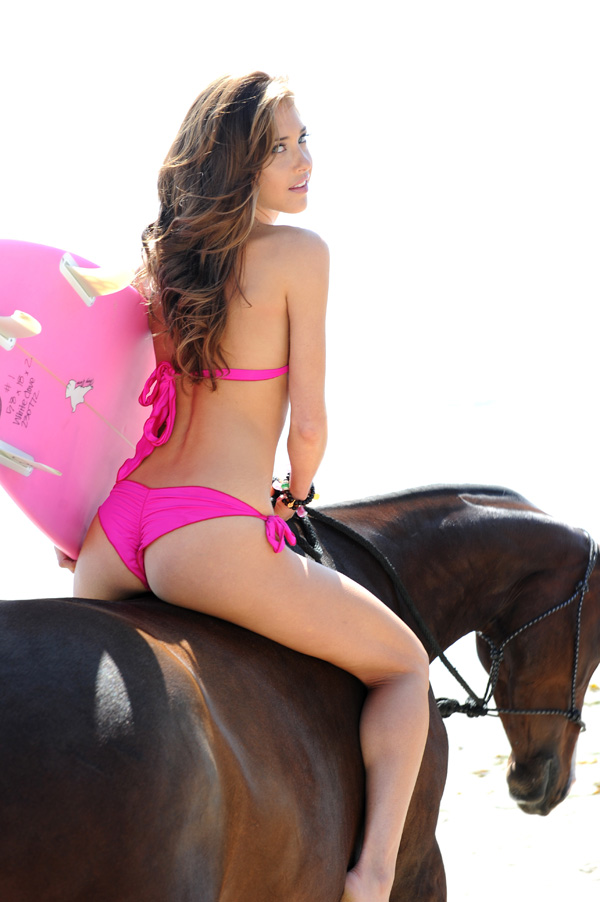 S805
What is your favorite part about conceptualizing a design?
VR

My favorite part about conceptualizing a design is that is gives me the ability to bring life to my fantasy world and share that with others. When I attended UCSB I kept my horse at a stable there. I use to ride my horse down to the beach in my bikini, with my surfboard, tie her up in a tree and go surf. I remember thinking that it was such a cool thing to get to do and wanting to share that experience with others. Now our hang tag has one of our models in a Happy Endingz® Bikini, on a horse, holding my surfboard! It gives me goose bumps just thinking about it. And watching a design come to fruition is not just about your dreams coming true, its about showing others that anything is possible if you work hard, dream big and believe.
S805
Who are some of your favorite swimwear designers?
VR
My favorite swimwear brands are Luli Fama, L*Space, Poko Pano & a new line called Mikoh Swimwear.
S805
Do you prefer sketching designs or actually constructing them?
VR
I prefer to just sketch designs v. constructing them myself. I am actually a terrible seamstress LOL. Good thing I have an amazing pattern maker (Denice Dir). She takes all my sketches and turns them into a reality. Then the samples she makes are refined and then sent on to the manufacturer for production.
S805
How would you define the style your line exemplifies?
VR
The style of my line is inspired by Brazilian bikini cuts which have minimal back coverage so my swimwear is definitely very sexy. It is also playful and fun with bright colors and feminine accents. In short I'd say the line's a mix of California chic meets tropical getaway; an attainable paradise.
S805
Where can readers find out more about you and your work?
VR
For more information about me and my swimwear line and how it's 'eco' please visit our About page on our website at www.happyendingz.com
S805
What trends do you see being big for 2011 for swimwear?
VR
I see bright colors and less is more being popular for 2011 swimwear.
S805
Where do you see Happy Endingz in 5 years? In 10 years?
VR
My dream for Happy Endingz® Eco Swimwear is to inspire others to 'go green.' I want to be the Victoria's Secret of swimwear and have our eco line become a household name that motivates others to start their own 'green' lines. Currently recycled nylon is being produced in very small quantities because there is such a low demand for it. If I can show people through the success of my line, that recycling nylon and other fabrics is just as important as say recycling paper, that would be a dream come true. We all have to do our part to protect the earth and we are all on this planet for a purpose and I know this is mine. Believe in Happy Endingz®...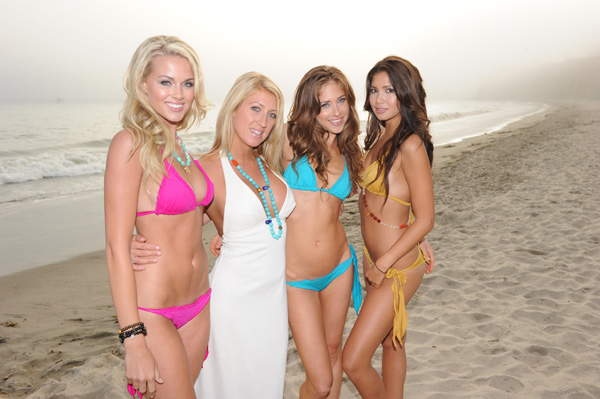 Vanessa Rivers and her swimwear models