3 minutes reading time
(631 words)
3 tips for a more flavorful holiday meal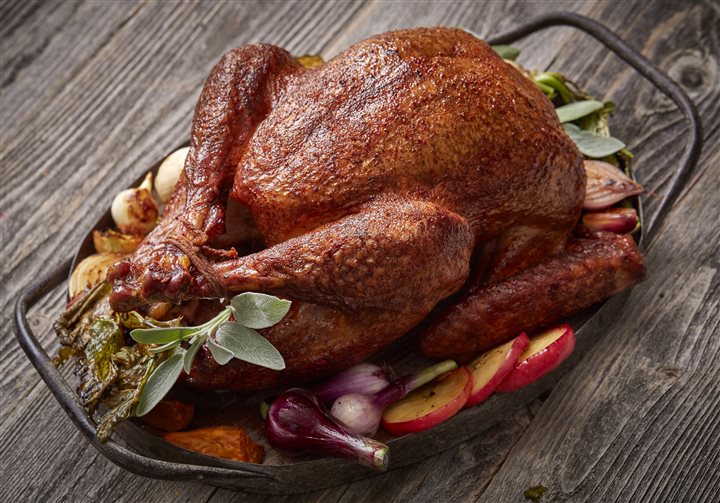 Holiday gatherings and backyard barbecues have a lot in common as they are occasions for gathering and for eating. And for both, successful execution of a shared meal means preparing what everyone likes and preparing it perfectly.

While holiday staples such as turkey, ham and brisket create the centerpiece for many of our holiday dinners, it is important to remember that the way they are prepared need not be limited to the printed instructions on your meat's plastic wrapping.
"Famous Dave" Anderson is the founder of the popular Famous Dave's Bar-B-Que Restaurants and has won over 700 awards for his expertise on smoking and grilling meats. He was recently crowned "Smoked Champion" on the TV show Smoked, taking home the top honors for being "The Best of the Best" when it comes to smoking meats. Anderson shares his expert tips for adding flavor to your holiday meal.
"To elevate the taste of your ham, turkey, brisket or other meats, consider applying the lessons learned during the warmer seasons," Anderson says. "I've always wondered why smoking seems to be forgotten as soon as the holiday decorations come out. Holidays are a time to bring joy to the table. And if you want to see joy, watch your guests take their first bites of cherrywood smoked turkey, or hickory smoked ham!"
In order to help you bring out the best flavors in your meats for your next family gathering, Anderson offers these three important tips:
Smoke it low and slow.
Holidays are a time to escape the hustle that consumes us the rest of the year. Why not apply the same relaxed approach to your holiday meal? As Anderson explains, rushing the process can rob your meats of both texture and flavor. "Slow smoking under low heat allows the meat to relax, and for the fat to properly render," Anderson says. "It doesn't matter what piece of meat you are cooking, it's all about temperature and time."
He suggests cooking temperatures of between 225 and 250 degrees Fahrenheit for the tastiest and juiciest final product.
Skip the wood chips.
Wood chips are popular and convenient, but you will never get the same satisfying smoke flavors out of wood chips that you will from using a small log. "Wood chips are a shortcut. And who takes shortcuts when preparing the perfect holiday meal," Anderson says. Wood chips also have the tendency to catch fire, which can negatively impact your cooking temperature and cooking time.
Though a fan of the flavors derived from oak and applewood, Anderson takes a different approach when the weather turns colder. "I like cherrywood for Turkey. And for ham, nothing beats the smokey aromas that come from hickory," he says.
Season(ing)s greetings.
In order to treat your guests to the most vibrant, mouthwatering flavors, Anderson insists that you check the dates on your spices. Spices greater than 6-months-old will lose much of their flavor, robbing your meal of the holiday's signature tastes. "At home, I grind my own spices. There's no better way to achieve the best possible flavors," he says. For the rest of us, Anderson suggests we refresh our aging spice racks in order to bring real flavor to the table.
Smoking the meats you typically serve over the holidays takes the best of tradition and introduces a new level of flavor. "This is the time when treating the people who are most special to us really matters. A little extra effort can make a holiday meal more meaningful and memorable than ever before," Anderson says.
To learn more about Famous Dave's and how you can make your holiday meal even better, visit FamousDaves.com/Holiday. There, you can also find Anderson's recipe for his famous bread pudding.
Related Posts
Comments
No comments made yet. Be the first to submit a comment