3 minutes reading time
(626 words)
A Sweet Tasting Room!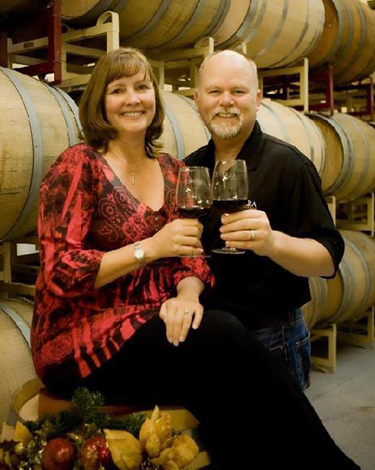 Reposted
from June 2011
, due to a crash a few years ago we lost a great deal of articles & images. Please enjoy again.
Cantara Cellars a family tradition!
Its summer time! For California wine lovers it's the time to get out in sun, do some exploring and visit some of the wonderful wine regions scattered throughout this great state. One such area is the Central Coast and Cantara Cellars is one place worth exploring! Located in Camarillo and the heart of Ventura County, Cantara Cellars is a local winery and tasting room producing a wide selection of award-winning red and white wines.
Refining their wine style, Cantara Cellars owner's Mike and Chris Brown, began their journey together as a small winery in the garage of their Moorpark home. With their home located in the "Cantara" section of the Serenata Development it only seemed fitting to name their little garage sized winery Cantara Cellars. Having been raised in Lodi California, the wine and the wine business is nothing new to Mike Brown and his family. Beginning with 250 pounds of Chardonnay hand harvested from Mike's parent's vineyard in Lodi, they fermented their first 18 gallons of wine! Well much has happened from those humble days in the garage winery, but Mike's parent's vineyard in Lodi still today supplies Cantara Cellars with wonderful grapes for many of its fine wines.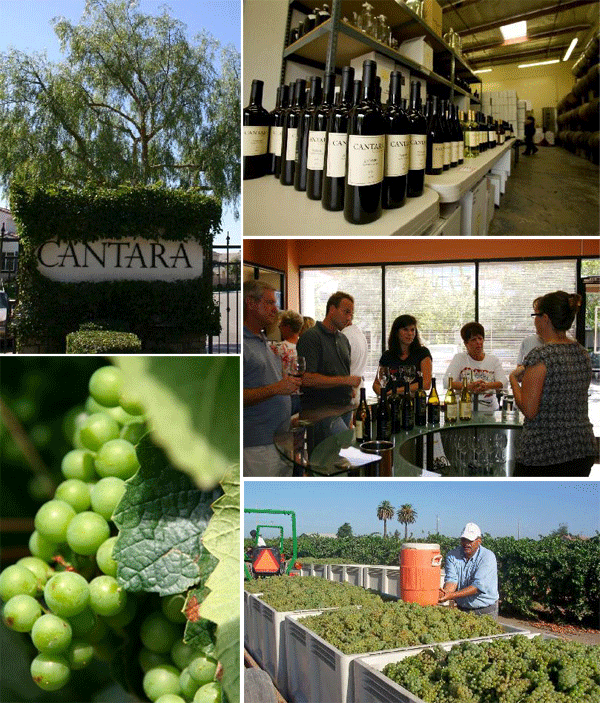 Over the years Mike and Chris Brown have carefully refined their wine style. By carefully selecting additional wine grape sources, increasing their knowledge of wine making, expanding their grape varieties and increasing production they have successfully made Cantara Cellars is one of the leading wineries along California's Central Coast wine region. They produce several wonderful wines with grapes from the Lodi area. One of their signature wines is their 2009 Zinfandel, harvested from "Old Vines" on the Mohr-Fry Ranches in the Mokelumne River area. This 100% Zinfandel is eccentric, charming and is produced from a distinctive 1941 planting of Zinfandel. This handcrafted process results in a wine rich in aromas, complex flavors, balanced acids and an opulent texture. The solid flavors of cranberry, raspberry, slate, mint, and anise wash over your palate and linger on through to the spicy finish. For those interested in sustainability this wine is certified Sustainably grown by Lodi rules and barrel aged 20 months, a true crown jewel!
Another featured wine by Cantara Cellars is their 2008 Petite Syrah for those that like wines with brawny tannins. This Syrah is radiant with fruit flavors of blueberry, blackberry and ripe plum with a spill over into hints of coconut, clove and anise. This classic petite syrah has also sturdy tannins and refreshing acids which come together to create a full-bodied wine. The tannins are caressing and velvety which make for a long lingering finish.
For those wine connoisseurs' who embellish the lifestyle, the Cantara Cellars Wine Club may be just for you. For only a 12 bottle purchase commitment per year, you will receive private invitations to three Wine Club parties per year, enjoy access to first and limited release wines, 20% discounts year round, free and private wine tastings for you and your guests.
The Cantara Cellars public tasting room opened back in 2007 and just an hour north of Los Angeles County receives hundreds of visitors per year. For those living local, their 6500 sq.ft. Production, Cellaring, Event and Wine Tasting facility is open to the public Thursday through Sunday from 11AM to 5 PM and other times by appointment and is just a short drive from anywhere in Ventura County. Make plans now to attend or visit their facility and check out their website at www.cantaracellars.com. (Originally posted June 2011)
Related Posts
Comments
No comments made yet. Be the first to submit a comment