3 minutes reading time
(684 words)
Dierberg Estate Vineyards, setting the standard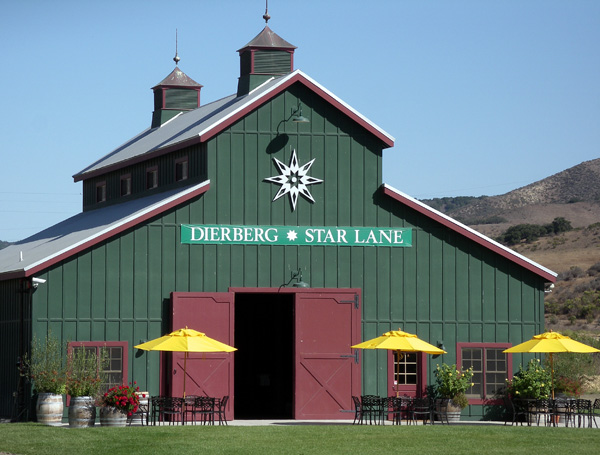 Like with all California wine regions, there are scores of smaller family owned operations and a handful of larger corporate wineries. The Central Coast, with its unique cool climatic conditions, maritime breezes and sunny days, is no exception. One of the bigger players in this area, with two vineyards totaling approximately 230 acres, is Dierberg Estate Vineyards owned by Jim and Mary Dierberg located north of Santa Barbara.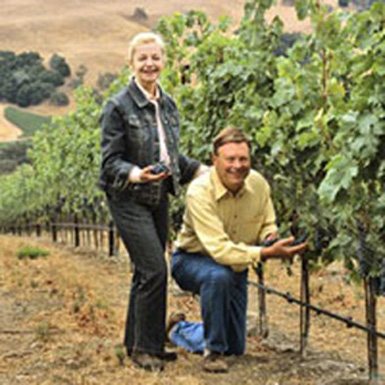 Very successful bankers by profession, Jim and Mary Dierberg are not newcomers to the winemaking industry. They have owned one of America's oldest wineries, Hermannhof, since 1974. This winery is located in their home state of Missouri, where Jim was raised in the farming tradition. Even though the Hermannhof wines are good, the couple had a desire to produce wines from grapes which made France and California renowned. Early on they looked for property in Napa, but saw the area was too crowded for their purpose. While on a business trip not far from Santa Barbara, they stumbled upon the Central Coast region.
Both Dierberg Estate Vineyards, lie to the north and south of Santa Maria. In 1997 the Dierberg's planted their first vineyard. Then seven years later, they planted a second vineyard in what is known as Drum Canyon, in the Santa Rita Hills, which lie just 14 miles from the Pacific Ocean. This 160 acre vineyard, at the southern end of the Santa Maria Valley, is graced with gentle hill slopes, sandy loam soils and western exposures. With Pacific Ocean breezes, fog and cooler weather this area of California's Central Coast wine region, is a perfect setting for crisp acidity and gentle ripening in classic Burgundian Chardonnay and Pinot Noir grapes.
In the 2010 October issue of Wine Enthusiast, reviews were done for both Dierberg's 2007 and 2008 Chardonnay's. Both wines score excellent with 92 and 90 points, respectfully. The 2007 was described as "a lovely chardonnay, bone dry and rich….with crisp acidity and a tang of minerals, the wine is citrusy and floral…" The 2008 was described "made without any oak influences, this wine shows the splendor of a great Santa Maria Chardonnay is marked by complex flavors of Meyer lemons, pineapples, orange zest and honeysuckle and is beautifully bright in crisp acidity…"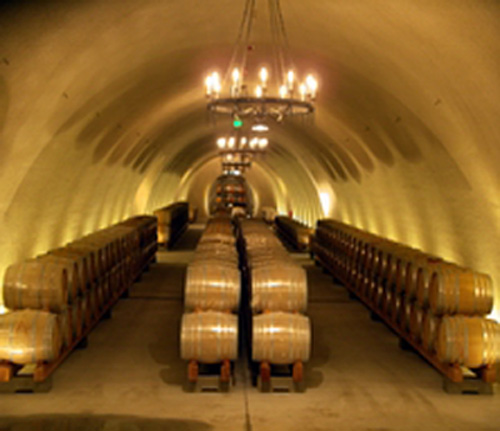 The Dierberg's care deeply about the art of winemaking and have recently completed the Star Lane and Dierberg Estate Winery. This dream has been in the making for more than a decade. It is an architectural masterpiece offering a blend of ornate French aesthetics on the outside, with stone turrets and earth toned plaster colored walls, a classic courtyard framed by stone arches and windows. The artistry of the interior is more serious and functional with their attention to detail demonstrating the fact that the winery is their greatest wine making tool. With 26,000 square feet of caves, carved deep into the sandstone at the base of a 1500 foot high ridge looming high above Star Lane Vineyards, contains no wood except for the oak barrels.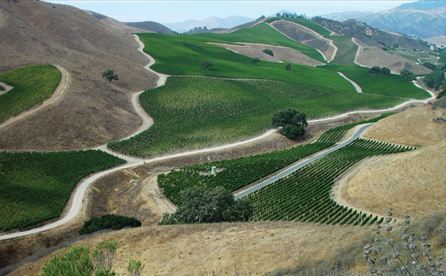 This facility is entirely encased in concrete for maximum temperature and humidity control. Perhaps the most extraordinary is the fact that from the crush pad to the caves, three stories down, all grapes, juice and wine can be moved entirely by gravity! This is to ensure the most gentle of handling possible. De-stemmed grapes are trollied along the crush pad at level one and tipped into the fermentation tanks on level two. Later, the free run wine descends to the third and lowest level, the caves for cellaring. This Gravity flow winery is operational and in full use. Andy Alba is their winemaker and Kurt Ammann is the General Manager. This unique winery is worth seeing and for those living local in the area it is a great day trip north to Lompoc. The Dierberg tasting room is open seven days a week from 11AM to 5 PM. The address is 1280 Drum Canyon, Lompoc CA 93436, approximately 6 miles west of highway 101 off Highway 246. Make plans now to visit their facility and check out their website at www.dierbergvineyard.com.
Related Posts
Comments
No comments made yet. Be the first to submit a comment