5 minutes reading time
(1014 words)
California's Central Coast Wine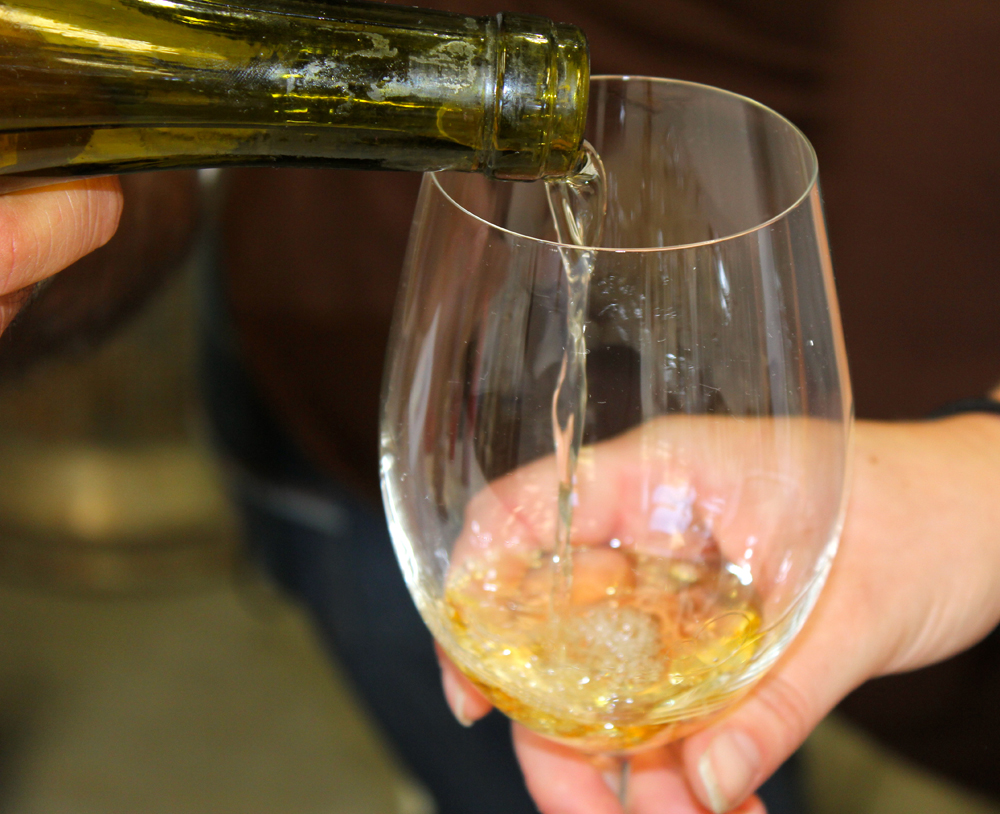 Throughout California, there are many wine appellations or AVA's. Each is broken down by distinctions like climate and soil that produce both growing and wine differentiation's. The French word terroir will not be used because I do not speak French and, well, mainly for fear of civil unrest among the hard-core. Many of the regions are known to produce and specialize in different wines. The Central Coast includes

over 30 different AVA's

(American Viticulture Areas). Having some familiarity with these regions, there are key distinctions that often can be blanketed with the term "Central Coast."
Central Coast is essentially half of the coast of California, near 300 miles in length and at its widest is near 50 miles inland. Beginning at the Southern bay area near San Francisco, to as far south as Santa Barbara, and as far East as the Paso Robles AVA. With such a large span and distinctions among them, it is almost like a person traveling abroad, telling someone in another country that they are American. It's a fantastic giant "soup pot."

The Central Coast can be referred to as the North Central Coast and the South Central Coast. Amongst the wine appellations of the Northern Central Coast, some of them include Arroyo Seco, Carmel Valley, Chalone, Monterey County, Livermore, Santa Cruz, Santa Clara, Santa Lucia Highlands, San Lucas and many others.
While wine production history for the northern region goes back to the 1830's, prohibition shut down the wine community. In 1957 Mirassou and Paul Masson purchased 1,300 acres in Salinas Valley. Bill Jekel brought high quality wine attention to the area. It wasn't long before great fame was brought by pioneers like Dick Graff producing great Pinot Noir at Chalone in the mid-1970's. Other famed producers of the area include Randall Grahm of Bonny Doon Vineyard, the Wagner family of Caymus fame and their Conundrum, Nicky Hahn launched Hahn Estates in '91 (congrats to Hahn on their recent best of class in San Diego). JC Cellars from Jeff Cohn, the well known Ridge and Rosenblum.
Many varietals produced from the Northern Central Coast including Barbera, Cabernet Sauvignon, Chardonnay, Riesling, Mourvedre, Pinot Noir, Viognier, Zinfandel, and many more. Generally, this region is warm with some cooler spots like the Santa Cruz Mountains and portions of the Salinas Valley.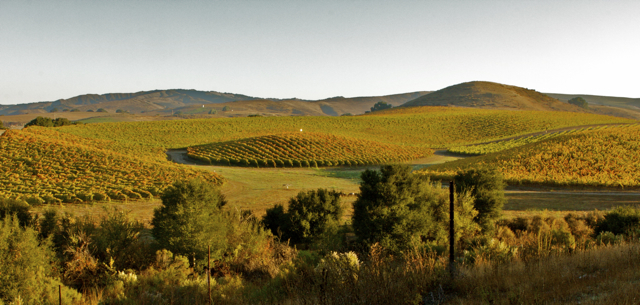 Ampelos Cellars Sta Rita Hills Vineyard
The southern region of the Central Coast has quickly become known as one of the best areas in the world outside of Burgundy for Pinot Noir and even Chardonnay. Vines were originally planted in Paso Robles in the late 18th century and Santa Ynez Valley in Santa Barbara County pre-prohibition held its fair share of vineyards. Post-prohibition didn't see it's first Santa Barbara County winery return until 1962.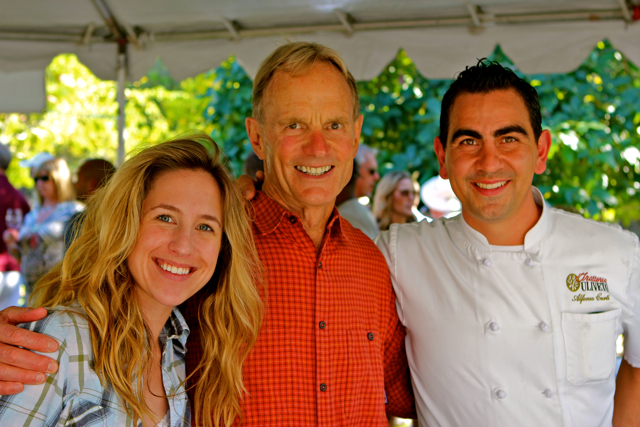 Photo Richard Sanford in the center
In 1970 pioneer Richard Sanford (Alma Rosa Winery owner) planted the first Pinot Noir in Sta Rita Hills on the westside of Santa Barbara. Not long after, Brooks Firestone started Firestone Winery and planted Cabernet Sauvignon in the Santa Ynez Valley. Since that time Happy Canyon has also been given its own AVA, which is the hottest growing portion of Santa Barbara producing high quality Bordeaux varietals. Likely, it will not be long before the warm Ballard Canyon inside of Santa Ynez Valley will become its own AVA producing amazing Syrah amongst other high quality varietals.
While grapes have been growing around Paso Robles since 1797, Paso Robles Rhone Ranger and "Godfather," Gary Eberle (see Home page for Eberle video) helped bring quality by starting Estrella winery (later Meridian) in 1973 and put Syrah on the US map, and in our glass. Other Paso pioneers include "Mr. Chardonnay" Chuck Ortman and Vic Roberts of Victor Hugo Winery. The coastal influence is blocked by the mountains allowing for many hot days and cool nights. Paso's highest acreage plantings are of Chardonnay, Merlot, and Cabernet. However, Paso Robles may be best known for Zinfandel and Rhone varietals like Syrah, Grenache, and Mourvedre. However, if you ask near 40 year Paso veteran Gary Eberle, he believes Cabernet Sauvignon is his best producing grape. If you've had Eberle Cabs, it's tough to argue, and the area has been given high accolades in the press in more recent years.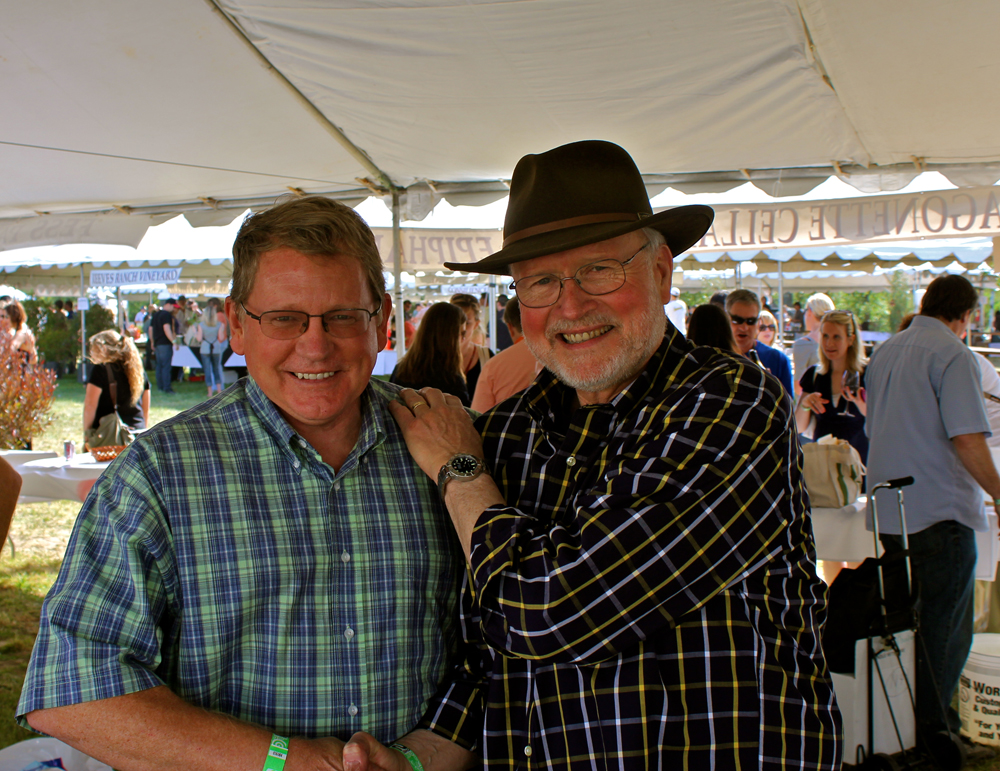 Left Ken Volk, right Ken Brown
Just south of Paso sits San Louis Obispo, known as "SLO" to locals, and Edna Valley, home to less than 20 wineries. Pinot Noir, Syrah, and Chardonnay shine in this area with fantastic producers like Chamisal Vineyards and Talley, among many others. This region is home to my wife's and friends alma-motter, a well known agriculture college producing enology and viticulture professionals, Cal-Polytecnic-University.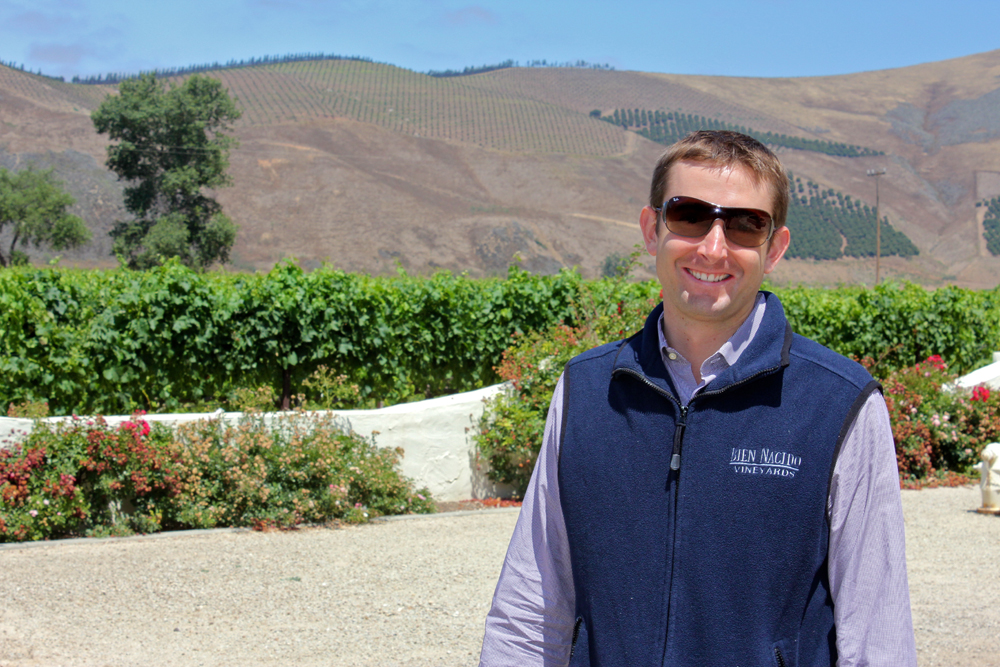 Nicholas Miller in Bien Nacido Vineyards
Santa Maria Valley resides slightly south of Edna Valley past Arroyo Grande, in the Norhtern region of Santa Barbara County. Santa Maria Valley is one of the oldest AVA's in the US and home to some of the most famous vineyards, the Miller family's Bien Nacido and Solomon Hills vineyards comprising nearly 2000 acres. Over the years major press have indicated these vineyards to be amongst the top ten in the United States. Some of the most notable wines of California source their fruit from these vineyards including Au Bon Climat, Qupe, Foxen, Kenneth Volk, up and comers La Fenentre and Presqu'ile.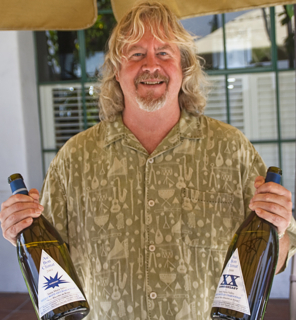 Jim Clendenan Photo Courtesy of Au Bon Climat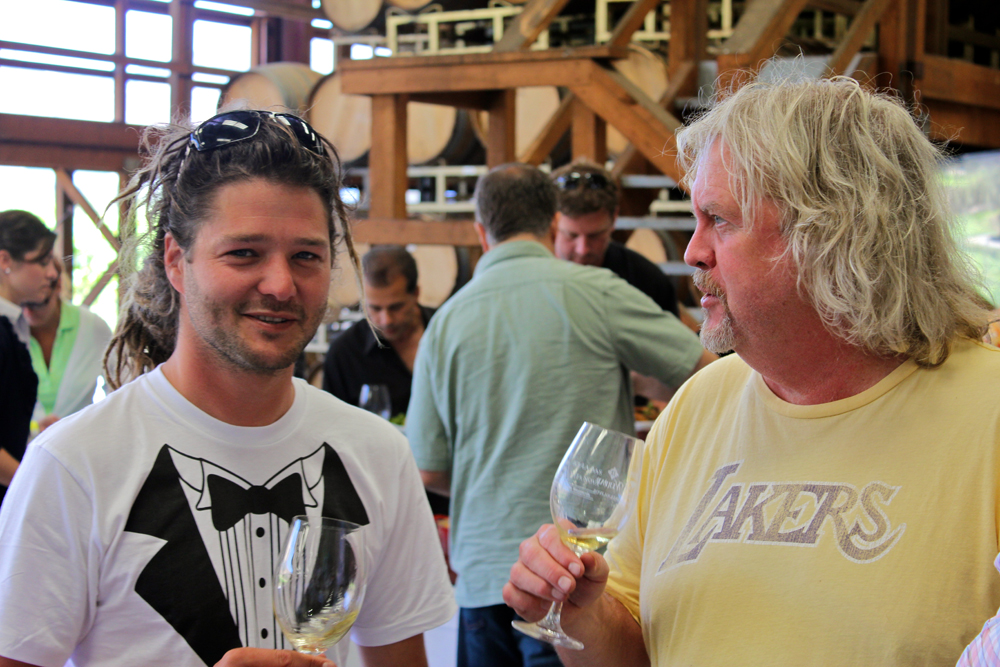 Dieter Conje winemaker of Presqu'ile with Jim Clendenan
So the next time you see Central Coast, you know it's a fantastic giant "soup pot" with very high quality in both the north and the south. So grab a bottle and join many of us on social media Thursday, March 15th, drinking and twitting #CCWineDay starting around 5PM PST. For this social media event I will be tasting wines from Hahn Estates in the northern central coast of Montery, a personal Pinot Noir selection grown from Bien Nacido, and hope to meet many new freinds in the middle sharing Paso Robles wines. This is a great day to unify our wine distinctions and embrace their differences in a glass

.
Related Posts
Comments
No comments made yet. Be the first to submit a comment