4 minutes reading time
(899 words)
Simple ideas to get in shape for summer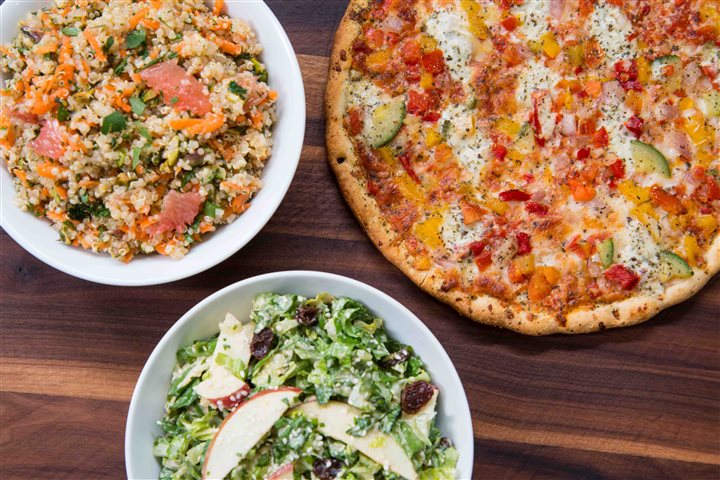 Did you know a balanced diet that includes plenty of fruits and vegetables is best for your health, but achieving that can be a challenge given everything you have to accomplish in a day. Daily meal planning doesn't have to be such a chore if you turn to your freezer for a little help. In fact, starting with frozen prepared foods as the foundation of your dinner plate and adding side dishes with fresh fruit, vegetables, whole grains and/or low-fat dairy can make it possible to serve a balanced meal that is quick and tasty. And that works for pizza night, too!
"Eating a balanced meal doesn't mean you have to give up favorite foods like pizza," says Bobby Parrish, Food Network personality and Today contributor. "It just means you need to be mindful of portion sizes and balance out your plate with a nutritious side dish of fresh vegetables, fruit and whole grains."
Research shows that Americans struggle with meeting recommended dietary guidelines. In fact, nine out of 10 people don't get the daily recommended servings of fruits and vegetables, the Centers for Disease Control and Prevention say. A simple way to improve the mix of foods you're eating is by supplementing something you already enjoy — like pizza — with side dishes made up of other food groups.
Nestlé USA's Balance Your Plate educational program aims to help you put together delicious and nutritious meals that incorporate both frozen and fresh foods. The website www.nestleusa.com/balance provides information, tips and recipes to help consumers create easy, balanced meals that meet dietary guidelines.
By choosing your favorite frozen dishes, like pizza, as the foundation of your meal, you can build a more balanced plate with these tips:
Tip #1 Make at least half your plate fruits and vegetables. For example, if you have a slice of cheese pizza, pair it with a fresh salad or your favorite vegetable side dish.
Tip #2 Figure out your portion by looking at the recommended Serving Size in the Nutrition Facts label. Here's an easy idea for pizza portions: picture your hand as a pizza slice and plan to enjoy one or two hands' worth.
Tip #3 Don't be afraid to mix vegetables right into or on top of your pizza. For example, top cheese pizza with fresh tomato and basil after it comes out of the oven.
Tip #4 Bagged salad greens, spinach or salad kits are a great, speedy way to add greens to your plate.
Parrish, who partnered with DiGiorno to create original side dish recipes, offers these two nutritious and tasty salad recipes to pair with your favorite pizza to create a more balanced meal: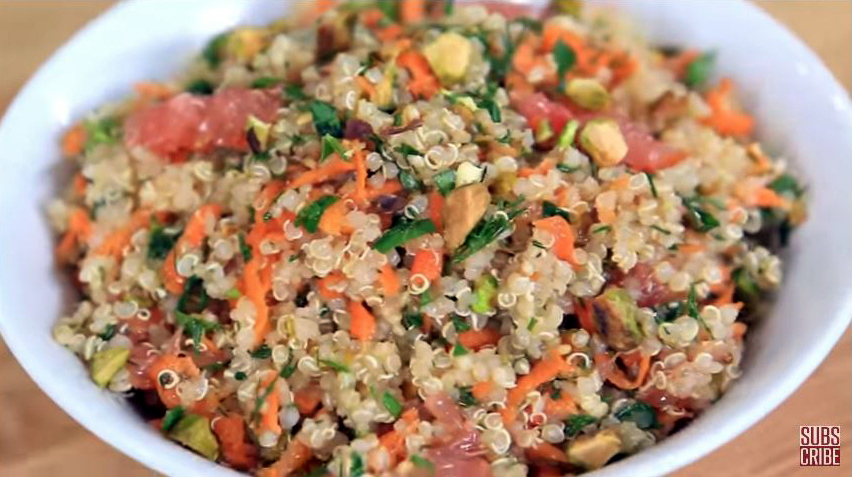 Quinoa and Grapefruit Herb Salad
2 tablespoons pistachios, chopped and roasted (optional)
1-2 small carrots, grated
1 tablespoon each of fresh parsley and dill, chopped
Couple cracks of black pepper
2 tablespoons extra virgin olive oil
Bring 1 3/4 cups of water to a boil and add 1/2 a teaspoon of salt. Add 3/4 cups of raw quinoa. Stir well, reduce to a simmer and cook uncovered for 20 minutes. Check the quinoa; the water should be absorbed and the grain should be fluffy. If the quinoa has not unraveled, add another 1/4 cup of water and cook until the water evaporates and the quinoa looks cooked. Fluff with a fork and allow to cool for up to two hours, or you can make ahead of time and refrigerate overnight.
Place the cooked, cooled quinoa in a large bowl. Using a knife, cut away all the skin from the grapefruit and cut all segments directly into the bowl. Add all the remaining ingredients and mix well. Check for taste; you may need to add more lemon juice. The salad will keep in the refrigerator for up to three days.

Shaved Apple and Romaine Crunch Salad

Ingredients: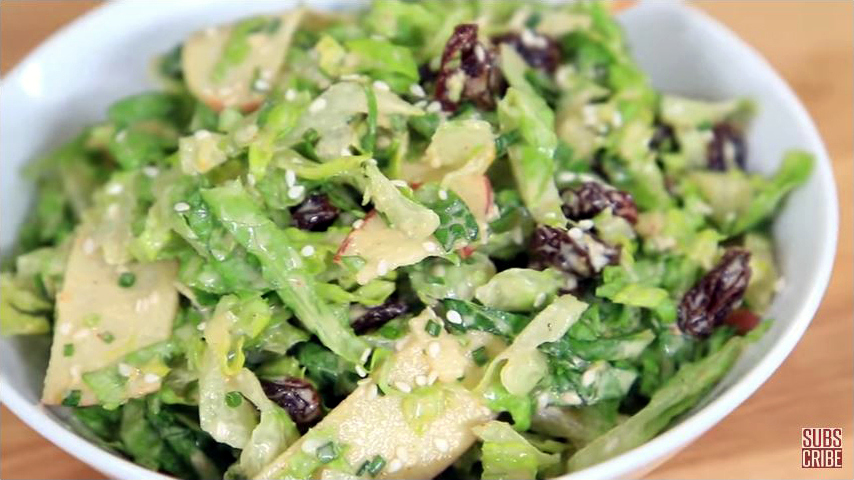 2 hearts of romaine lettuce
1 sweet apple, like gala or pink lady
1 tablespoon fresh chives, sliced
2 teaspoons agave nectar or honey
1/2 teaspoon smoked paprika
Zest and juice of half a lemon
1 teaspoon extra virgin olive oil
1 teaspoon freshly chopped parsley
Couple cracks of black pepper
Use a slicer or mandoline to thinly slice the apple. Place the slices in a large bowl and squeeze some lemon juice over the slices to prevent them from turning brown. Slice the romaine thinly and add it to the bowl along with the remaining salad ingredients. Set aside.
For the dressing, add everything but the water to a small bowl and whisk to combine. Add enough water to loosen the dressing so it's able to be poured. Check for seasoning; you may need a little more salt or lemon juice.
Keep the dressing and salad in the fridge until ready to serve. Right before you dress the salad, add 1/4 teaspoon of salt and a couple cracks of pepper to the romaine mixture. Toss the salad with just enough dressing to coat everything, making sure not to over-dress the salad. Once the salad is dressed, it must be eaten and cannot be stored in the fridge.
Related Posts
Comments
No comments made yet. Be the first to submit a comment