4 minutes reading time
(768 words)
Simplify fall with one-dish meals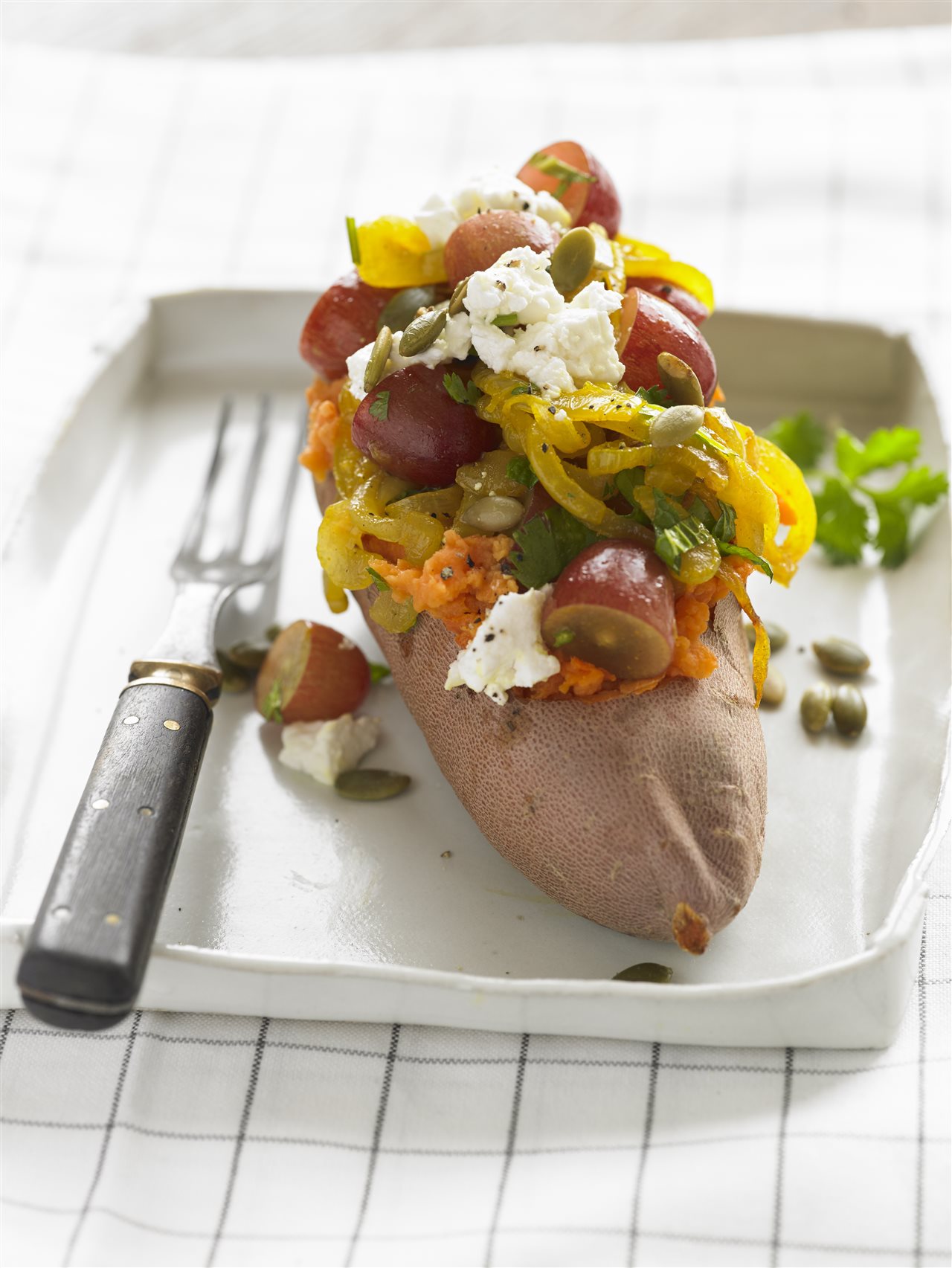 Fall feels like a new year - new classes in school, new friends and new activities. It's the perfect time for new meal ideas too! Put a new spin on family dinner favorites by adding unexpected ingredients such as California grapes. Change to a different pasta shape, sauce or cheese to create a new dish. Go meatless or vegetarian one night a week for a new dinner option. Remember to plan and shop ahead to help save time. When making a shopping list, be sure to include California grapes; not only are they a quick and perfect snack or easy side dish, but they're also a versatile ingredient.
A one-dish meal can be a new approach to dinner. Start with a family favorite like pasta - its neutral flavor blends well with nearly everything and the dozens of different shapes make mealtime more fun! Next, toss in a vegetable like spinach that doesn't need to be cooked. For protein, pick a distinctly flavored cheese such as blue cheese. To finish the dish, add colorful fruit, such as California grapes. Fresh grapes bring an element of surprise, with their sweet-tart flavor to counterbalance the sharpness of the cheese and crisp texture that delivers a satisfying bite.
Delight in new fall colors by building a meal around sweet potatoes. Like pasta, they are well-suited for the layering of flavors, textures and colors. Short on time? Cook them in the microwave rather than the oven. Then top with a sweet and tangy flavor combination of grapes, lightly caramelized onions and vinegar. Finish with Mediterranean-inspired flair by combining cilantro, mint or other fresh herbs with feta cheese. This classic Greek cheese is made from cow, sheep and/or goat milk and differs in flavor and saltiness depending on style and region. Each has its own distinct flavor, so try several to find a favorite. All taste even better when partnered with sweet, juicy grapes from California.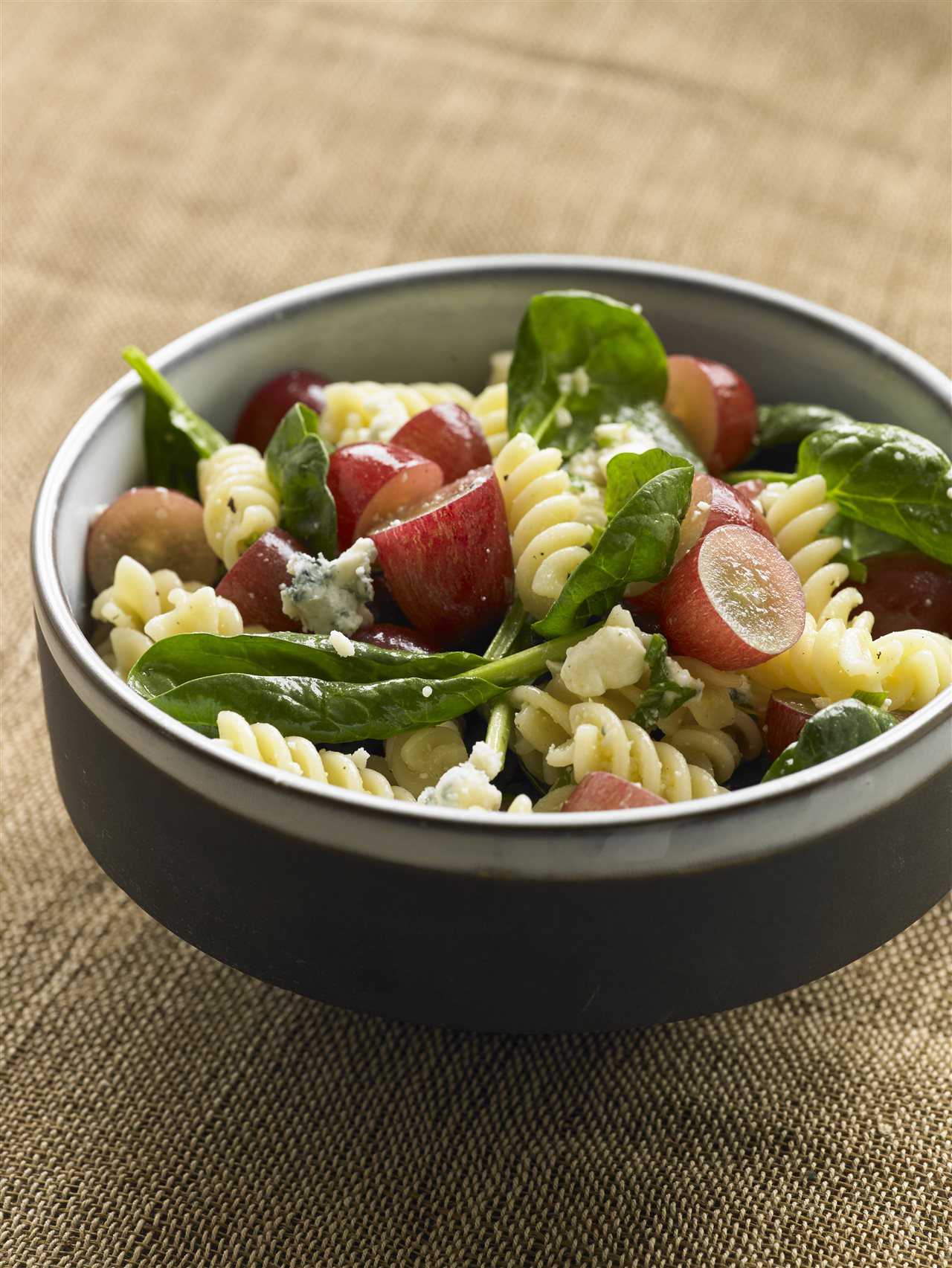 Pasta with Grapes, Blue Cheese and Spinach
12 ounces fusilli or other short pasta

1/2 cup crumbled blue cheese plus additional for garnish

2 tablespoons grated Parmesan cheese

2 tablespoons lemon juice

1 tablespoon rice vinegar

1 teaspoon grated lemon zest

1 teaspoon honey

1 small clove garlic, minced

1/3 cup extra-virgin olive oil

1/4 teaspoon each kosher salt and finely ground black pepper

3 cups halved red California grapes

3 scallions, thinly sliced

4 cups baby spinach
Cook the pasta in boiling salted water in a large pot until al dente. Drain and reserve.
While the pasta is cooking, whisk together the blue cheese, Parmesan cheese, lemon juice, vinegar, zest, honey, garlic, olive oil and salt and pepper in a medium bowl.
In a large bowl, combine the pasta, grapes, scallions and blue cheese mixture. Toss to mix, add the spinach and toss again. Serve with additional blue cheese sprinkled on top.
Add 2 cups diced cooked chicken if desired, for a heartier entree.
Nutritional information per serving: Calories 430; Protein 10 g; Carbohydrate 60 g; Fat 17 g (36% Calories from Fat); Sat Fat 4 g (8% Calories from Saturated Fat); Cholesterol 10 mg; Sodium 220 mg; Fiber 3 g.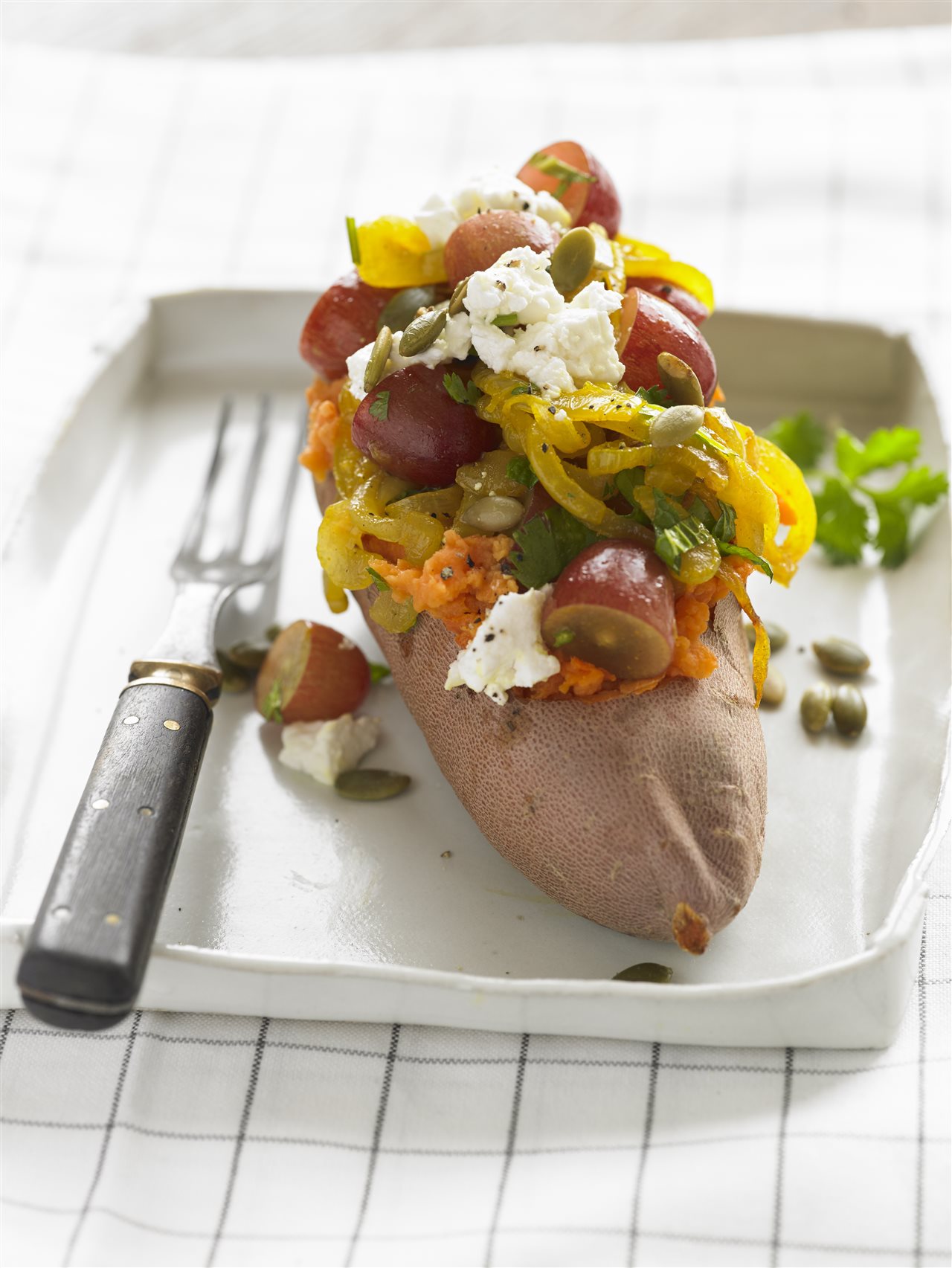 Roasted Sweet Potatoes with Onions,
4 medium sweet potatoes

1 tablespoon extra-virgin olive oil

1 jumbo yellow onion, halved and thinly sliced

1/2 tablespoon turmeric

1 tablespoon white wine vinegar

1/2 teaspoon kosher salt

1/2 teaspoon freshly ground pepper

1 cup halved red or black California grapes

2 tablespoons chopped toasted, salted pepitas

2 tablespoons chopped cilantro

2 tablespoons chopped mint

1/4 cup crumbled feta
Heat the oven to 400 F. Pierce the potatoes all over with a fork, place on a foil-lined sheet pan and bake for 1 hour or until potatoes are tender. Alternatively, wrap the potatoes in a damp paper towel and microwave 8-10 minutes or until soft.
While the potatoes are roasting, heat the oil in a large skillet over medium-high heat. Add the onion and cook until softened and lightly browned, about 8 minutes. Stir in the turmeric, vinegar and salt and pepper and cook 2 minutes longer. Stir in the grapes and turn off the heat.
When potatoes are done, cut off the top quarter of each potato, fluff the insides with a fork. Top with the onion mixture, pepitas, cilantro and mint and sprinkle with feta. Serve.
Nutritional information per serving: Calories 220; Protein 6 g; Carbohydrate 34 g; Fat 8 g (33% Calories from Fat); Sat Fat 2.5 g (10% Calories from Saturated Fat); Cholesterol 10 mg; Sodium 270 mg; Fiber 5 g.
Related Posts
Comments
No comments made yet. Be the first to submit a comment