3 minutes reading time
(549 words)
Carob-Coconut Cloud - a medium-glycemic breakfast or dessert to help with sugar cravings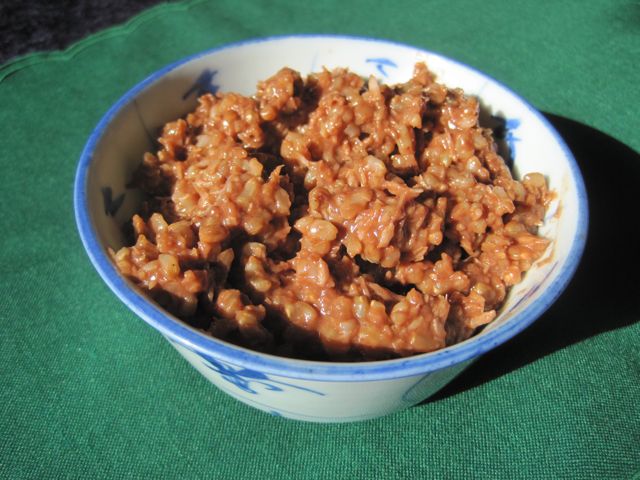 Delicious recipes for July.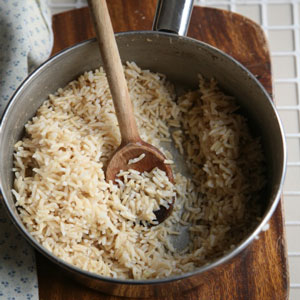 Positively Perfect Brown Rice
Rinse 2 cups organic short grain brown rice and soak overnight under an inch of filtered water in the saucepan you plan to cook it in. Soaking grains for a day before cooking initiates the sprouting process, which 1) makes it more easily digestible, 2) increases the grain's amino acid profile so it becomes closer to a complete protein, and 3) neutralizes it's phytic acid which would otherwise bind with minerals in the intestine and inhibit mineral absorption. Okay, the next day, pour off the old soak water and refill the pot so that the fresh water level is about 3/4 of an inch above the level of the rice - measure it if you have to! (No ruler? It's the length of your fore finger from the tip to the very first knuckle /joint just above your fingernail - not halfway up your finger). Soaked rice requires way less water to simmer than unsoaked rice. In fact, this 3/4 inch rule applies to every pot of soaked rice, no matter how big the pot, or how much rice you've soaked. Okay, after you've got that 3/4 inch of fresh water over the rice, bring it to a boil, reduce to simmer, and stir in1/2 tsp whole sea salt for every 2 cups of soaked rice. Put the lid on the pot at an angle so the steam can escape, and simmer for 40 minutes exactly. Comes out wonderfully fluffy every time.
Apple-Raspberry Spice Rice - a low-glycemic dessert or breakfast - better for you than apple pie, and tastes twice as good!
In a small saucepan over low heat add 1 cup Pacific brand oat milk (or 1 cup water for low-glycemic option) and 2 cups freshly simmered (or leftover) brown rice, 1 medium diced fresh apple, 2 Tbsp butter or ghee, ½ tsp whole sea salt, 1 tsp pumpkin pie spice and ½ tsp allspice. Simmer & stir for 3 minutes or so, adding more liquid if it's too thick. Turn off heat & add 12 drops Sweet Leaf brand English Toffee stevia (1 Tbsp grade B maple syrup or raw honey if not using stevia). Stir until mixed well & enjoy warm, with individual servings topped with pecans and raspberry drizzle: in a small bowl mix the juice of 1 ripe lemon (Meyer lemon is best), 8 drops Nu Naturals vanilla stevia & 1 cup mashed raspberries from fresh or frozen. Wow!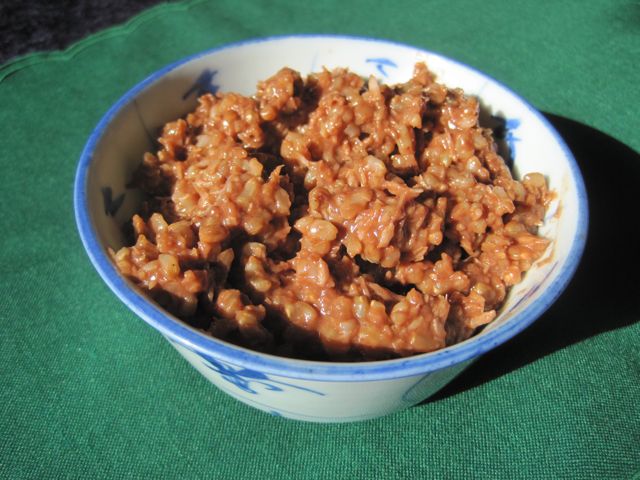 Carob-Coconut Cloud - a medium-glycemic breakfast or dessert to help with sugar cravings
In a small saucepan over low heat add 1 cup water and 2 cups any leftover grain (brown rice or millet are great!). Stir and add 1 Tbsp coconut oil, butter or ghee. Stir until melted and add ½ tsp whole sea salt, ½ tsp pumpkin pie spice OR ½ tsp each cinnamon & nutmeg, 1 Tbsp carob powder, and 6 drops vanilla stevia OR 1 Tbsp maple syrup OR 1 tsp raw honey, AND ½ cup dried coconut. Stir until mixed well & enjoy warm topped with pecans, almonds, walnuts, brazil or macadamia nuts OR fresh / frozen berries, OR both! Also, 1/4 cup meyer lemon juice, 10 drops vanilla stevia & 2 cups mashed berries makes a great, tangy-sweet topping.
Related Posts
Comments
No comments made yet. Be the first to submit a comment