1 minute reading time
(246 words)
Coconut-Almond-Nutmeg Cookies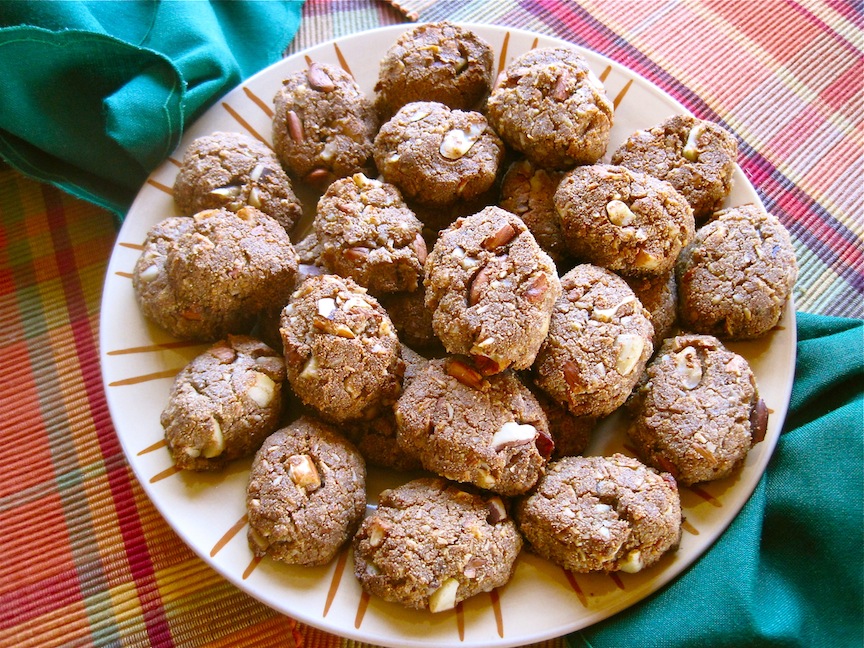 What cup of tea would be complete without a cookie?
This is is an amazingly delicious cookie recipe for those of us who can still eat wheat. These cookies are also fairly low in sugars, and only whole sugars! Next month, I'll share with you my famous amaranth cookie recipe, which is gluten free AND totally sugar free...Yay!
INGREDIENTS
1½ cups whole wheat flour OR whole spelt flour
1 cup of wheat germ
½ tsp each: aluminum-free baking soda, sea salt and nutmeg
1½ tsp cinnamon
1½ sticks butter
2/3 cup rapidura or coconut sugar
1tsp almond extract
one egg
1 cup chopped almonds & unsulphered coconut

TECHNIQUE
In a large bowl mix the flour, wheat germ, baking soda, sea salt, nutmeg, and cinnamon. Sift & set aside.

In a med saucepan on low heat, melt the butter and mix in the unrefined rapidura (sucanat) or coconut sugar. Remove from heat. Stir in vanilla extract and beat in the egg.

Add cream mix to dry mix and blend well. Lastly, add your favorite chunky elements. I like unsulphered coconut and chopped raw almonds, but you could replace these with pecans, walnuts, macadamia nuts, rolled oats, or dark chocolate chips. Be sure to only use 2 cups max of these chunky ingredients, or else your cookies won't hold their shape!

Place heaping spoonfuls on a buttered baking sheet and bake at 350 degrees for 12-15 minutes....these cookies are perfectly sweet and wonderful!
Related Posts
Comments
No comments made yet. Be the first to submit a comment