3 minutes reading time
(574 words)
Museum of Ventura County Vigorously Prepares for Re-Opening in January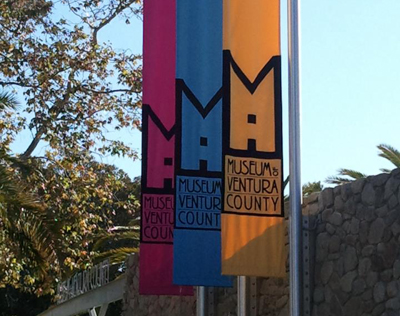 Gallery Closure Gives Way to New Ideas, New Exhibits and a New Energy
The Museum of Ventura County is preparing excitedly for the Grand Re-Opening of its galleries after being closed since September 1. A fundraising gala, "Splendors of the Museum" will be held on Saturday, January 7, followed by a community celebration—free and open to all— on Sunday, January 8 from noon to 5 pm. The community celebration begins with an opening ceremony at 12:30 pm, followed by free tours throughout the afternoon of the museum's new galleries. Two new exhibits, "Masterworks of the Museum" and "Really Awful People, featuring the George Stuart Historical Figures" will debut.
The rebirth of this century-old institution came from a desire to give residents throughout Ventura County more access to their history, and to provide a more participatory and exciting experience for all visitors from the moment they enter the museum.
Under the new direction of interim executive director and consultant Elena Brokaw, it is no longer business as usual. "As I toured this treasured cultural resource from top to bottom, I immediately saw one core problem—not enough gallery space. We needed to increase our ability to share more of the history of Ventura County with visitors and residents. Our 104-year-old collection comprises more than 31,000 historical objects, and it belongs to all of us. Although it can never be displayed all at one time, the lure of "what is in the basement" is so strong. We wanted to do something about that."
Accordingly, exhibition space has been nearly doubled by reinventing spaces, such as the lobby, courtyard and museum store as galleries where more artifacts could be installed and stories could be told. Changes literally begin at the front door, where guests are greeted by historic photos, large-scale objects and digital installations covering previously blank walls. This space is now meant to "set the stage", telling visitors where they are and what they can expect.
Even the way visitors proceed through the museum is different. Instead of entering through the museum store, they will proceed from the lobby into the outdoor courtyard space; they are literally re-directed into a more welcoming, expansive and chronological adventure. This space features a historic timeline mural, created by local artist Ryan Carr, which transports visitors back in time. Also in this space are citrus trees evoking the Mission Orchard, which existed on that very site 200 years ago.
Visitors will discover many artifacts and works of art that haven't been seen for years, which have been researched and revealed by the museum's curators. The inaugural exhibition, "Masterworks from the Museum's Collection" will pair works of art with artifacts and photos that convey the proud heritage and important stories of individuals and families throughout the region.
The beloved Chumash gallery, an essential field trip stop for 3rd- and 4th- grade students throughout Ventura County, has been transformed into a more vibrant and educational environment with the installation of large-scale graphics, authentic artifacts and interactive stations providing hands-on experiences for kids. This re-invigorates the museum's popular education program, led by a devoted Docent Council, which serves nearly 5,000 schoolchildren per year.
A new interactive gallery called "Is it Art?" brings forth some of the more unusual items from the collection and invites visitors into a collective discussion of what constitutes a work of art.
MUSEUM OF VENTURA COUNTY
100 E. Main Street
Ventura,CA 93001
Related Posts
Comments
No comments made yet. Be the first to submit a comment