2 minutes reading time
(375 words)
Thanksgiving Recipes: Savory Pork Roast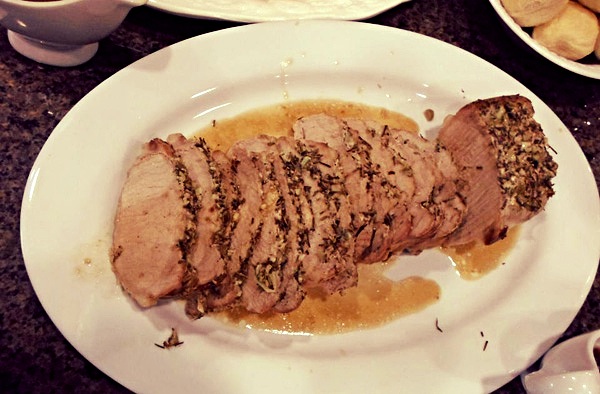 I started cooking this roast a few seasons ago and it is such a big hit at Thanksgiving, I actually crave it!
I do not remember where I found this recipe, however it is now part of my recipe book with recipes that I treasure. What I love about this dish is the simplicity of it, there is really not a lot of ingredients, and it cooks under two hours. Who can ask for anything more, especially when you have so many things to cook for the holiday.
INGREDIENTS:
-2 tablespoons and 3/4 teaspoon fresh rosemary
-1 tablespoon garlic salt
-3/4 teaspoon dried thyme
-1/4 teaspoon freshly ground pepper
-4-1/2 pounds boneless pork lion roast
That is it for the ingredients, simple, right?
DIRECTIONS:
1) Preheat oven to 350 degrees F (175 degrees C)
2) In a large. plastic rectangular container with a top, mix rosemary, garlic, salt, thyme & pepper. Place pork roast in the plastic container, seal with top. and toss & turn until completely covering with the garlic salt mixture. I let it sit in the refrigerator for about an hour, then I transfer it to a medium baking dish.
3)Cook the roast for one hour in the preheated oven, or to an internal temperature of 160 degrees F (70 degrees C)
According to my notes this has been adjusted to serve 9 people, which is about two slices per person.
Recipe from: Tatiana Wilcox-Ha-Oxnard, CA
Send us your own favorite family recipes for Thanksgiving to share to our readers in the 805, our staff will post a new recipe until Thanksgiving eve in our Food & Wine section. Please send the recipe with your name, and contact information to

This email address is being protected from spambots. You need JavaScript enabled to view it.

with Thanksgiving in the subject line. Having an image of the dish is appreciated but is not necessary.
Related Posts
Comments
No comments made yet. Be the first to submit a comment