2 minutes reading time
(390 words)
Unlock your inner chef with dinner inspired by the movie 'Burnt'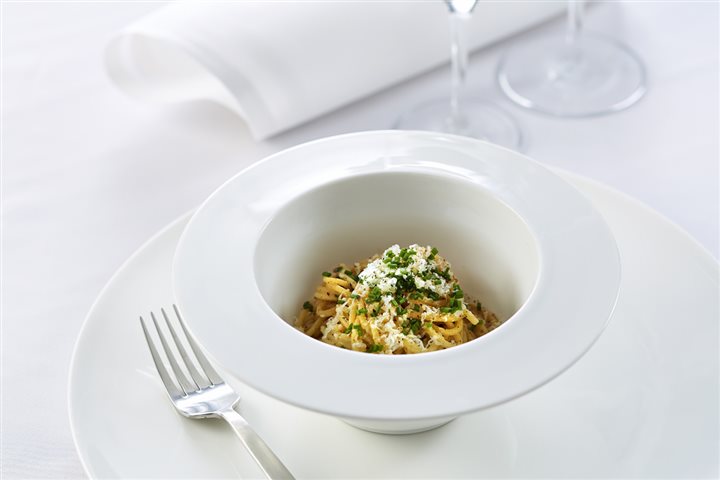 For a romantic date or an outing with friends, you can't go wrong with dinner and a movie. Whether you're headed to a theater or settling in at home, make your cooking the star of the show by taking inspiration from the new culinary movie "Burnt," starring Bradley Cooper, Sienna Miller, Uma Thurman and Emma Thompson.

In "Burnt," Bradley Cooper plays a two-star Michelin chef named Adam Jones, who has only ever cared about the thrill of creating explosions of taste. In the movie, he sets out to land his own kitchen and that third elusive Michelin star with the best of the best on his side.
A night of tantalizing, movie-inspired recipes
Kick off your movie night with a creatively crafted cheese board featuring Aged Havarti, Saga Blue Brie and Traditional Danish Blue from Castello cheese. Perfect your plate with gourmet pairings such as honeycomb, apricots, mixed olives and slices of grilled baguette. Use your cheese board to create a decadent crostini appetizer by layering cheese, fruit and honey atop a slice of bread.
To truly unlock your inner chef, start with a main course that brings "Burnt" to life on your plate through Sweeney's Simply Satisfying Cacio E Pepe. This delightful spaghetti dish features a garlic butter sauce and Aged Havarti cheese, which marries a rich buttery aroma with a creamy, melty texture.
Your evening's grand finale is an indulgent dessert of Chocolate Mousse with Danish Blue Cheese and Mango, featuring Traditional Danish Blue, a cheese with a nutty blue aroma and hints of marzipan.
Sweeney's Simply Satisfying 'Cacio E Pepe' (from the movie "Burnt")
Servings: 4
Ingredients:
1 package dried spaghetti
1 tablespoon coarsely ground black pepper
2 1/2 cups Castello Aged Havarti, shredded
3 1/2 tablespoons butter
1 clove garlic, peeled and crushed
2 tablespoons fresh chives, chopped
Salt
In a large saucepan of boiling, salted water, cook spaghetti until 'al dente.'
While the pasta is cooking, add black pepper to a non-stick skillet and toast until fragrant. Add the butter and garlic and cook for one additional minute, until butter is melted.
Drain pasta, reserving 1/2 cup of the pasta liquid. Place the pasta and liquid back into the saucepan. Toss with shredded Aged Havarti, season with salt (optional) and top with fresh chives.
For more movie-inspired recipes and the opportunity to win culinary prizes, visit Castello cheese at Facebook/CastelloUSA or at CastelloCheeseUSA.com.
Comments
No comments made yet. Be the first to submit a comment