2 minutes reading time
(342 words)
Artist Opening: Jack N. Mohr & Kaori Fukuyama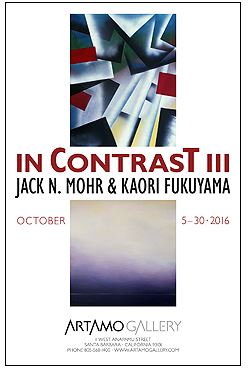 Jack N. Mohr & Kaori Fukuyama
October 5 - 30, 2016
Artamo Gallery
,
Santa Barbara, CA
An Opening Reception Thursday October 6, 2016 from 5:00 pm to 8:00 pm.
Continuing the "In Contrast" series ARTAMO GALLERY sets Jack N. Mohr's "progression series" of aerosol lacquers on canvas against Kaori Fukuyama's subtle, quiet oils. Mohr's vivid abstracts reflect the hectic and urban lifestyle from his time in Berlin, while Fukuyama pursues the Zen style peace from her Japanese upbringing.
Jack N. Mohr, a native of Berlin, Germany, studied visual communication and earned his M.A. in graphic-design at the State University for Creative Arts in Berlin. 1997 he moved to Santa Barbara, California. He works in different mediums — collage, painting, sculpture, print, and ceramics. In his mainly abstract art he likes to explore how light and shadow, contrasting shapes and textures or colors interrelate.
Kaori Fukuyama resides in San Diego, and is a full-time landscape designer by day, painter by night. Her artwork has been displayed at multiple galleries and juried shows in Southern California including Mission Federal ArtWalk, 51st International Award Exhibition and Southern California Regional Exhibition at Museum of the Living Artist in San Diego. Her work was featured in Studio Visit Vol. 18, a juried art magazine.
"Having grown up in Japan and now living and working in the U.S., I am constantly fascinated by the paradox and duality that exist in our society as well as within myself; hard and soft, left and right, east and west, complex and simple, dynamic and subtle... Contemplating within the two opposite worlds, once in a while I find a sense of spirituality and a great source of creation. I work with maximum color and surface texture creating an atmosphere that reminds us of the organic environment, while minimalistic shapes and lines emerge, interact, blur, or contrast the field of colors." — Kaori Fukuyama
Tuesday–Sunday, 12:00–5:00 PM
First Thursday until 8:00 PM
and by appointment only
Comments
No comments made yet. Be the first to submit a comment