2 minutes reading time
(436 words)
Artists Opening: Françoise Issaly, Michael Moon, Jack N. Mohr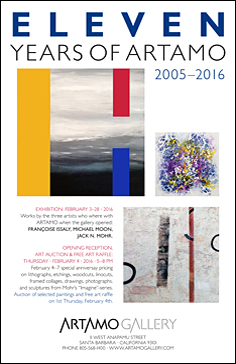 Francoise Issaly, Michael Moon Jack N. Mohr
February 3 - February 28, 2016
Artamo Gallery
,
Santa Barbara, CA
OPENING RECEPTION: THURSDAY · FEBRUARY 4 · 2016 · 5–8 PM
Celebrating 11 years in the same location, ARTAMO GALLERY shows recent works by the three artists who where with ARTAMO already eleven years ago when the gallery doors opened: Françoise Issaly, Michael Moon, and Jack N. Mohr. For the weekend of February 4th to 7th special anniversay pricing is announced for collectible original prints (lithograph, etching, woodcut, linocut), framed collages, drawings, and photographs as well as for small sculptures from Mohr's "Imagine"-series. An auction of selected paintings and a free art raffle will be conducted during Santa Barbara's 1st Thursday art walk on February 4th.
Françoise Issaly, born in France, and living in Canada, studied at the Universities of Montpellier and Bordeaux. Her work revolves around the fragment and the notion of fractal. Her compositions of squares, circles and/or triangles seem to be individually linked but are separated by neutral space.
Inspired by the Buddhist philosophy of the middle path as well as other mystical traditions, she creates visual spaces where realities overlap each other, trying to express a certain difficulty to be in the in-between, the oscillation, the wavering.
Jack N. Mohr, a native of Berlin, Germany, studied visual communication and earned his M.A. in graphic-design at the State University for Creative Arts in Berlin. 1997 he moved to Santa Barbara, California. He works in different mediums — collage, painting, sculpture, print, and ceramics. In his mainly abstract art he likes to explore how light and shadow, contrasting shapes and textures or colors interrelate.
Michael Moon, born and raised in Southern California, Michael Moon knew he wanted to be an artist since the second grade. From this time until graduating from college he sporadically continued his interest in painting, drawing and art history and after finishing his M.A. in Educational Psychology, he began a combination of formal study of art at Art Center College of Design, Pasadena, California, and UCLA.
Influenced especially by El Greco's passion, the impressionist's love of color, and the expressionist's love of paint, for the next years he painted essentially in solitude. During this time he also began to be influenced by Eastern thought as well as the practice of meditation. During this time he began to integrate Eastern and Western thought in the symbolism of his paintings.
Tuesday–Sunday, 12:00–5:00 PM
First Thursday until 8:00 PM
and by appointment only
Comments
No comments made yet. Be the first to submit a comment