4 minutes reading time
(895 words)
Review- FUBAR at Flying H
Review-

Flying H Group Theatre's presentation of Karl Gajdusek's FUBAR delivers another fun night of whacky, dark comedy.
(l) Brian Robert Harris in

Karl Gajdusek's

FUBAR at the Flying H Group Theatre,
Ventura, January 2016
Photo Credit: Maria Rojas
FUBAR is an old military acronym meaning "Fucked Up Beyond All Recognition." Grajdusek's script is itself a bit FUBAR. It's a mess. Undaunted, Flying H Theatre and director Kathleen Bosworth successfully milk Grajdusek's material for all its comic worth. Their secret? Solid ensemble acting, a great set, keen staging, and Bosworth's direction, including her deft handling of projection media.
Fortunately, Gujdusek, once a writer for Showtime's "Dead Like Me," also has a knack for very funny dialogue on top of an ability to create empathy even for otherwise unsympathetic characters.
His best comic creation here is Richard, wonderfully played by Ron Feltner, a happily addled hipster San Francisco drug dealer blithely mixing his chemicals, assumptions, and emotions into one big psychotropic, jangled stew.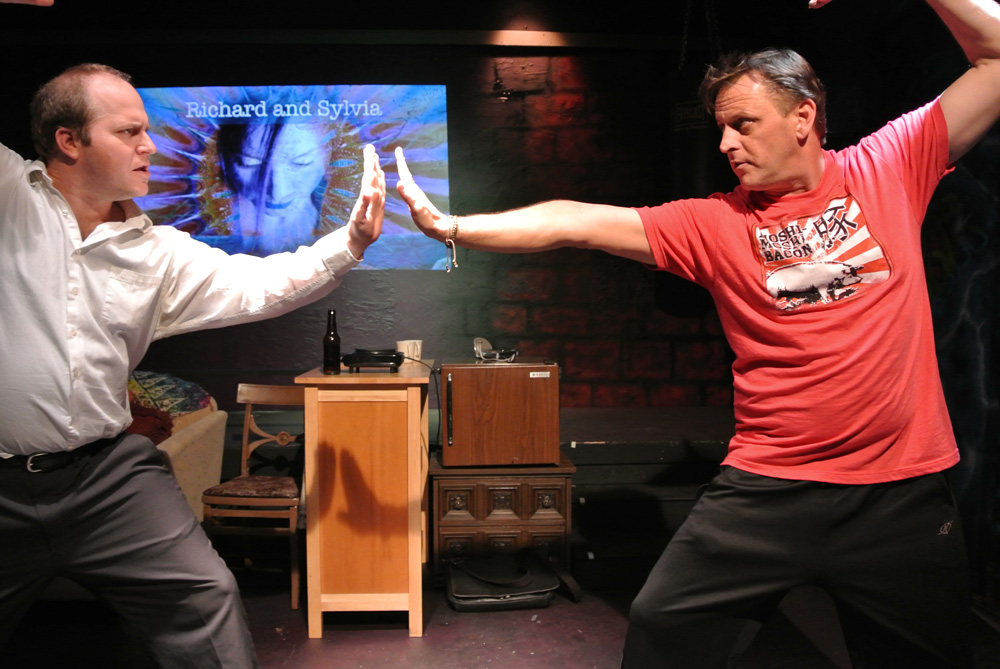 Dancing above the abyss: Brian Robert Harris and Ron Feltner in

Karl Gajdusek's

FUBAR at the Flying H Group Theatre, Ventura, January 2016

Photo Credit: Maria Rojas
The play opens with an old friend, David, played by an intense Brian Robert Harris, picking up some drugs from Richard in Richard and Sylvia's apartment. Jessi May Stevenson's Sylvia, Richard's partner, swims in her own psychotropic stew in the background, while David's wife, Mary, courageously played by Julie Fergus, stews in a very different witch's broth back at her mother's house.
David and Mary have returned to San Francisco to sort out Mary's mother's estate after her mother's suicide. David is enthralled by the quirky ease of Richard and Sylvia's open lifestyle while Mary is preoccupied by far darker demons. From this point on, their previously presumably quiet upper-middle-class lives plunge toward full FUBAR abyss.
Unfortunately, Mary's part is additionally plagued by a credibility-defying, incongruous, throw-away sub-plot with a character named D.C., played by Stan McConnell, and saved in this production in part by the grounding reality of McConnell's sober, low-key naturalism.
Variety's Sam Thielman has pointed out that the play would be enough without this gratuitous sub-plot which obscures the better parts of the play.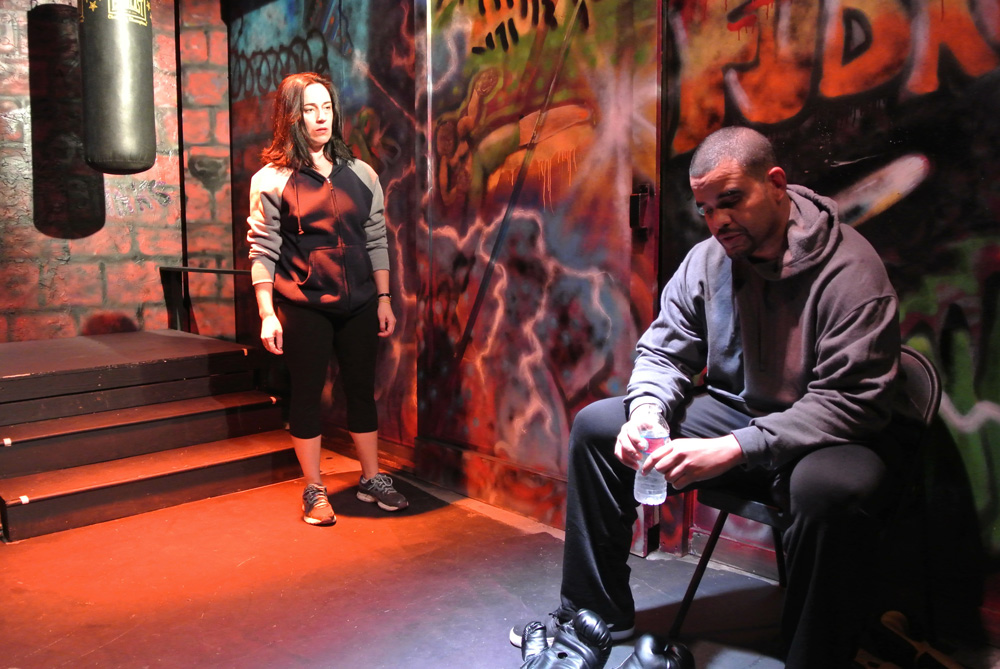 Wrestling with darker demons: Julie Fergus and Stan McConnell in

Karl Gajdusek's

FUBAR at the Flying H Group Theatre,

Ventura, January 2016



Photo Credit: Maria Rojas
With its incoherent motivations, ineffective violence, and improbable psychology--not to mention the tricky complexities it unnecessarily adds to the staging and plot timing-- it would be possible to cut this entire sub-plot and D.C.'s character completely out of the play with nary a change or detraction to the rest of the script.
What is left would be a much tighter core built around the multi-layered dynamic between the two couples. Of course licensing agreements prevent such things from happening, but one thing is clear, there exists a much stronger and better play within this script. Indeed part of Bosworth's success is keeping this core in the foreground as much as possible, providing continuity via its emotional and temporal intertwinings and overlaps.
One of the delights of this production is Jessi May Stevenson's Sylvia. This part could easily be played--and usually is--as a fluff part, a little annoying hippie with a body hovering in the background with two big male leads circling around her. Instead Stevenson brings an additional nuance and intelligence to the part, including superb off-line acting, which is a credit to Bosworth's directing.
Flying H Theatre company's fearlessness helps, too: language, nudity, difficult scripts, no budget, nothing seems to phase them. They refuse to be boring or safe and insist on giving you something good no screen big or small can deliver.
Along the same lines, it should be noted that this play has given other productions and directors considerable difficulties, including in places like New York City. Difficulties that Flying H seems to have overcome and then some. It is not an easy play to do.
We are fortunate that Flying H continues to do contemporary, living theatre here in the 805 that is challenging and more than worthwhile, not to mention wildly entertaining. Don't miss it.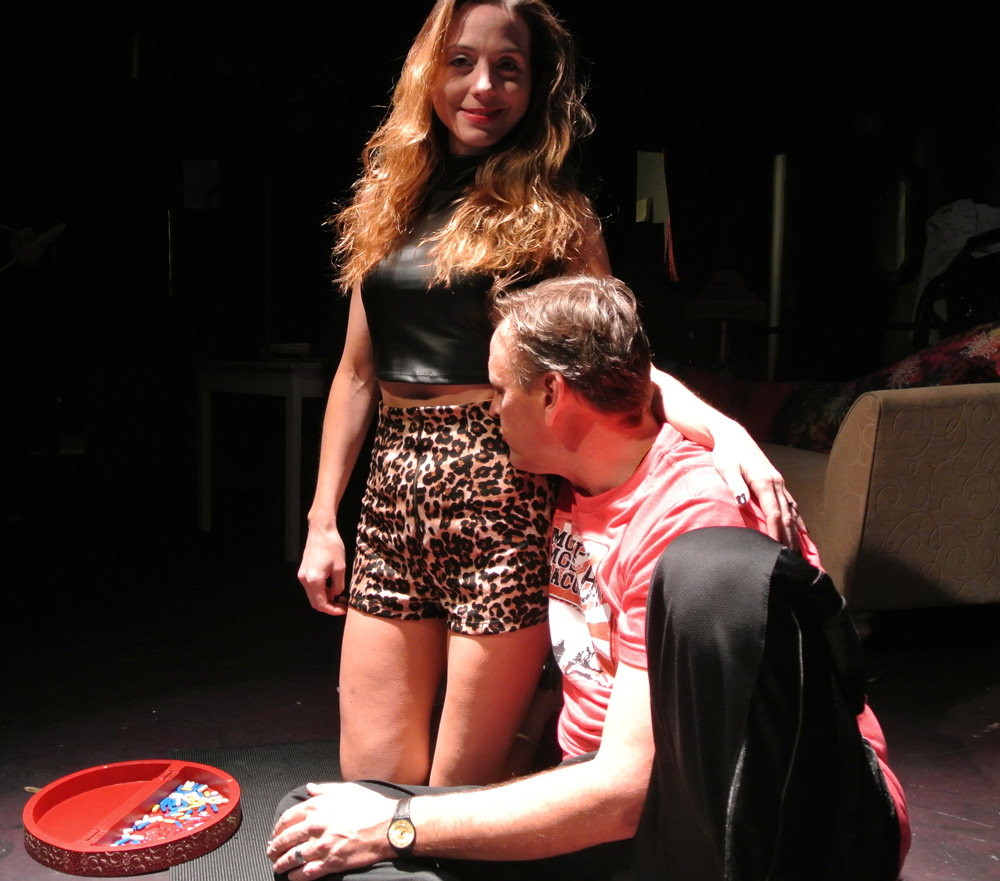 Transcendent brilliance in a drug-addled comic mess: Jessi May Stevenson and Ron Feltner in Karl Gajdusek's FUBAR at the Flying H Group Theatre,

Ventura, January 2016
Photo Credit: Maria Rojas
__________________________
FUBAR by Karl Gajdusek, directed by Kathleen Bosworth, with Ron Feltner, Jessi May Stevenson, Julie Fergus, Brian Robert Harris, and Stan McConnell.
Production by Flying H Theatre. Production crew: Brenda Evans, Steve Snider, Justin Woods, Kathleen Bosworth, Taylor Kasch, Paula Maxwell, Richard Duncan, Chad Parker, Maria Rojas Cynthia Killion, Shelby Maloney, and Mona Killion.
Flying H Theatre at 6368 Bristol Road between Johnson and Victoria, Ventura
playing through 14 February 2016. For tickets
805-901-0005
or go to
www.FlyingHGroup.com
site for tickets, information and directions to the theatre.
Reservations Highly Suggested
Comments
No comments made yet. Be the first to submit a comment