2 minutes reading time
(324 words)
Artists Opening: Susan Guy & Gerry Segismundo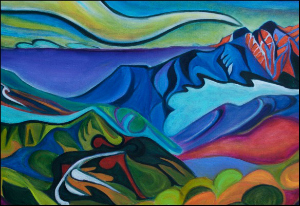 Susan Guy & Gerry Segismundo
January 19 - March 12, 2017
Fox Fine Jewelry
,
Ventura, CA
Susan Guy, Falling
Fox Fine Jewelry presents works by Susan Guy & Gerry Segismundo from January 19 – March 12 . An Artist Reception will be held on January 21 from 6 – 8pm.
Musician Corinn Conant will sing and play guitar during the reception.
Susan Guy needed to be different from her family of artists. She never painted and instead went to medical school. With funds tight, she often camped in the park. It was there that she was inspired and finally began painting. She began with wild, emotive, brightly colored images of nature as if an artistic dam had suddenly burst. In time her paintings became more sophisticated and finished, but still always painted in nature, of nature.
Guy will hike up to twenty miles to find the right vista. There she'll finish her oil painting, carrying the wet work or strapping it to her back for the trek home.
Gerry Segismundo was born into a family of artists in the Philippines. He devoted himself to the study of art, music, medicine and psychology. When he moved to Los Angeles, he expanded his studies to include abstract art, animation and graphic design. A Registered Nurse at Ventura County Medical Center for many years, he spends his free time painting, playing and listening to music.
Music is an important part of Segismundo's art, not only as a subject matter, but also in his artistic process. He warms up with music before painting. Says Segismundo, ""You can actually perceive and visualize colors based on melody and expression. Music can be warm or cold, as well as colors."
Monday – Thursday 10:30 – 7pm
Friday and Saturday 10:30 – 10pm
Related Posts
Comments
No comments made yet. Be the first to submit a comment