4 minutes reading time
(800 words)
Review: MacBeth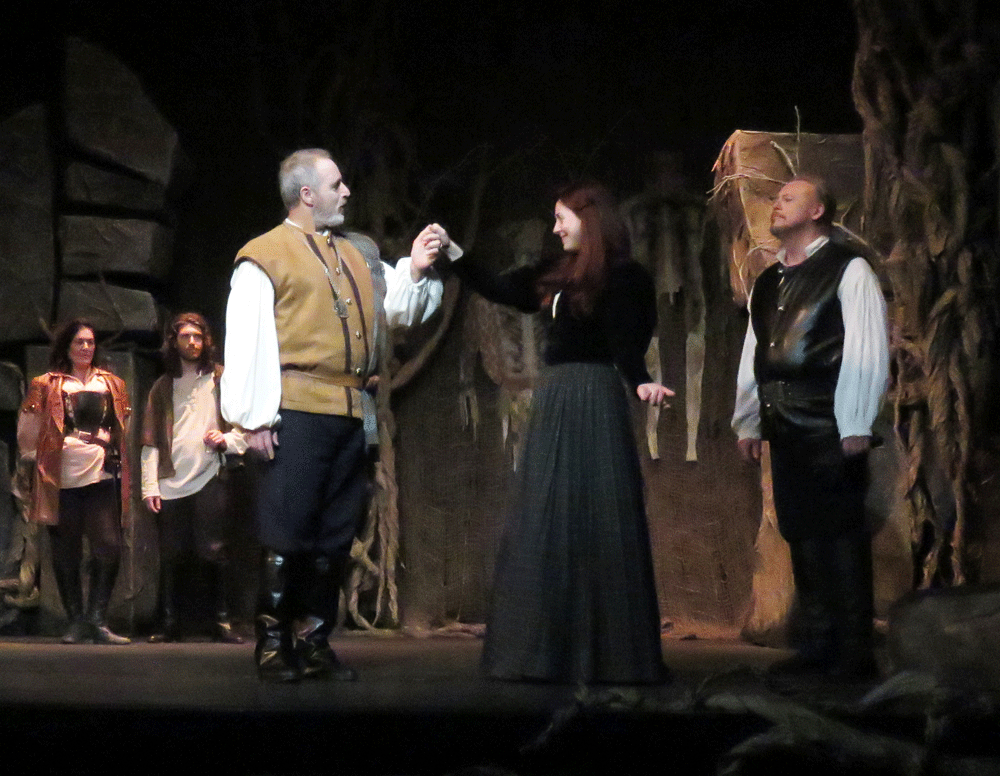 Lady Macbeth and the King dancing. Ojai Art Center Theater in conjunction with the Ojai Performing Arts Theater's Macbeth
Theatre
Review
When it rains, it pours, they say. While we don't get a lot of professional Shakespeare in our regional theatre, and thus one would expect there to not be much of a pool of Shakespearean actors locally, the 805 currently has two major Shakespeare plays on offer: Rubicon's fine King Lear, and The Ojai Art Center Theater's Macbeth. Not only that, but both productions are trying to do something new and interesting with their productions.
Both productions feature relatively, for the 805, innovative sets that work quite well. The Ojai's Director, Michael Addison, and Artistic Director, Richard Camp, say they wanted to do a more ambitious Macbeth and bring in collaborations with local artists into the production. This is very effective as they get a rich, textured set design from Kenny Dahle and Carol Shaw with lots of help from the Ojai Fiber Collective of Kyle Crowner, Pat Edwards, Carol Shaw Sutton, Mary Mohr, and Wendy Osher, complimented by solid costume design from Mary Crane.
The highlight of the artist collaborations is the bringing in of John Lacques, a percussionist with exceptional improvisation talent to provide a very effective LIVE percussion sound-track for the entire play. This alone makes a huge difference and separates this production of Macbeth from every other performance you'll ever see.
While Ojai's community theatre cannot hope to match the depth of talent that the professional Rubicon company brings to bear in their Lear, especially in terms of Shakespeare experience, Ojai does put together a remarkably good cast.
One of the primary reasons to see this Macbeth is to see Jessi May Stevenson's Lady Macbeth. This is a sizzling, deliriously thrilling Lady Macbeth from the manipulations of her opening lines to her fall into suicidal delirium.

Stevenson's partner in real life, Ron Feltner, plays Macbeth. The couple takes full advantage of this to add more than a little heat to their opening encounters. Feltner's is an astounded, stumbling Macbeth; an approach that hooks our empathy into following him on every turn of his confused fall into the temptations of power, and the resulting treachery and madness. This is an all-too-human Macbeth, an approach Feltner has used in past parts, in particular his painfully felt rendition of Anthony in Outside Mullingar at the Santa Paula Theater. Feltner seems to have a talent for Celtic obtuseness … if there ever will be a script taken out of Finnegan's Wake, Feltner will be ready for it.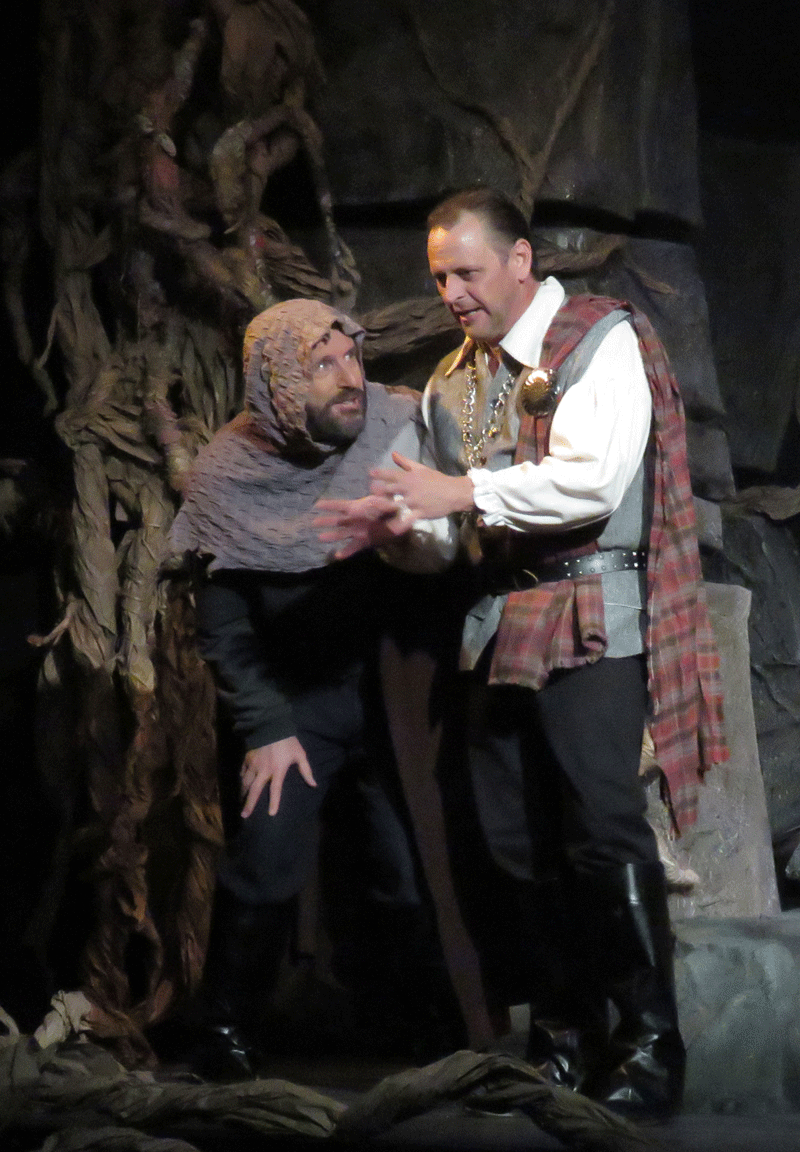 Plotting
.
Ojai Art Center Theater
in conjunction with the
Ojai Performing Arts Theater's
Macbeth
In contrast, Stevenson's Lady Macbeth is all radiant light and fire, thus convincing us all the more acutely that her fall into madness might be that much quicker and on a faster burn. Otherwise Shakespeare's Macbeth has always presented us with a subtle contradiction: why does Lady Macbeth, who is so much sharper, with her wits so much more about her in the beginning, fall into madness and suicide so much faster than Macbeth himself? It is a question few actresses and director's answer, but Stevenson illuminates the script, showing us the way as to how this should be so.
The ensemble work of the large cast carries the rest of the show, a credit to both director and cast members. A few special kudos are deserved for Daniel Ruark's Duncan, who is literally almost better dead than alive, and the real ringer in the proceedings: Susan Kelejian's Ross, who delivers some first-rate Shakespeare in her opening lines while showing that a woman playing a Scots noble plays quite well on stage, thank you very much. You cannot hide talent even when it is deep down on the cast lists, and cast against type.
As usual, the witches are an audience favorite, this time around aided by a wild child, played by Coree Kotula who does some especially fine physical acting, a high achievement for someone of any age, let alone an 11-year-old who can now honestly claim to be related to a witch.

Overall it is a lively and entertaining show, much more fun than the ponderous, overwrought renditions of Shakespearen tragedy that are more the usual case.

Macbeth by The Bard, William Shakespeare
Ojai Art Center Theater in conjunction with the Ojai Performing Arts Theater
Richard Camp, Artistic Director
Michael Addison, Director
Starring Nigel Chisholm, Ron Feltner, Byron Hays, Richard Kuhlman, Daniel Ruark, Bill Spellman, Susan Kelejian, Jessi May Stevenson
With
Eric Andersen, James Baker, Lynn Van Emmerik, Jolene Rae Harrington, Denise Heller, Susana Joslyn Johansen, Aaliyah Mora-Khan, Leonard Klaif, Anna Kotula, Coree Kotula, Clayton McLannock, John Vlenzuela,
and
Taylor Wilson
John Lacques, percussion, Kenny Dahle and Carol Shaw Sutton, production design, Mary Crane, costume design, Claire Cleary, lighting design, Kitty Bartholomew, props, Jaye Hersh, vocal direction
Joan Kemper, Executive producer, Stuart Crowner, Producer
At the Ojai Art Center Theater
www.ojaiACT.org

Related Posts
Comments
No comments made yet. Be the first to submit a comment