6 minutes reading time
(1287 words)
"Inaugural Alumni Enterprise Awards Winners"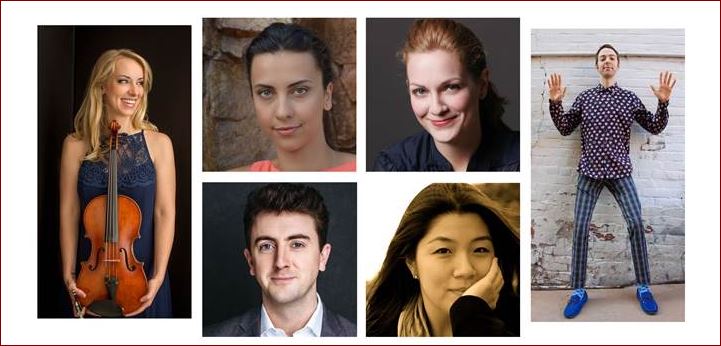 Music Academy of the West Announces Winners of Inaugural Alumni Enterprise Awards;
Total of $90,000 Awarded for Innovative Programs
June 13, 2018
- A pioneer of thought leadership in music and the arts,
Music Academy of the West
is thrilled to announce the winners of its inaugural
Alumni Enterprise Awards
. Open to all alumni of the Academy's Summer Festival, the awards program was announced last year to fund original classical music projects with significant community impact. A total cash prize of $90,000 will be shared among the six winning alumni: tenor
Benjamin Bliss
, violist
Molly Carr
and pianist
Anna Petrova
, pianist
Theresa Kim
, mezzo-soprano
Brenda Patterson
, and pianist
Evan Shinners
. They and their projects were chosen from more than 50 applicants by the Academy's senior management in collaboration with its
National Advisory Council
, comprising four key figures in arts and business management. Winners will be in attendance to speak about their initiatives at the Academy's second
Classical Evolution/Revolution Conference
on June 22.
Music Academy President and CEO Scott Reed explains:
"The launch of the inaugural Alumni Enterprise Awards provides a new incentive for our alumni to be entrepreneurial. We aim to inspire them to create projects that break the mold for what 21st-century musicians can accomplish. When alumni challenge our mission, it inspires us. These awards have the potential to transform careers and create relevant art that reflects our current society."
The Alumni Enterprise Awards were founded to support entrepreneurial and educational innovation, advancing the Academy's mission of furthering classical music education and cultivating discerning and adventurous audiences. To select the winners, the Academy's senior management collaborated with its distinguished National Advisory Council: Jeremy Geffen, Director of Artistic Planning at Carnegie Hall; Gregg Gleasner, founder of Gleansermusic; Mark Newbanks, Managing Director of Fidelio Arts Limited; and Chad Smith, Chief Operating Officer of the Los Angeles Philharmonic and Artistic Director Designate of the Ojai Music Festival.
About the six inaugural Alumni Enterprise Award-winners and their projects:
Tenor Benjamin Bliss (2012) is the Artistic Director of Mise-En-Scène Studios (MESS), the new opera production company he co-founded to provide a New York City home for young, world-class artists. Having produced several successful special events, MESS is already growing a predominantly young, membership-based audience. Now the company aims to develop a small, salaried ensemble of singers, to be known as the MESS Core Ensemble. The ensemble's first five prospective singers will come together for "The Initial Ensemble Session," or MESS: IES: a six-day retreat-style event to be held this November. Under the leadership of renowned stage director Paul Curran, the group will spend five days preparing operatic scenes for performance on the final day at a ticketed event in downtown Manhattan that will be geared towards MESS's millennial demographic.
Violist Molly Carr (2007) and pianist Anna Petrova (2017) perform together as the Carr-Petrova Duo and are co-founders of Music Heals Us, a nonprofit that presents free interactive classical performances, primarily to elderly, disabled, rehabilitating, incarcerated, and homeless populations. Their newest project is "Novel Voices," which uses art to raise awareness about the lives and struggles of refugees across the globe. Next season they will join composer Fernando Arroyo Lascurain and film-maker Lea Hjort for performances in refugee camps and programs in America, Europe, and the Middle East. Besides offering the momentary peace and healing that music can provide, they plan to record life stories from members of their refugee audiences. These will form the basis of Lascurain's new work, which the Carr-Petrova Duo will feature on its debut album, Novel Voices, and will premiere next fall in the project's culminating "Refugee Awareness" concert at Carnegie Hall.
Pianist Theresa Kim (2006) is the Founding Director of International Music Sessions (IMS), which works to bring together young people from diverse communities – many of them on full scholarship – through their love for music. Fostering social integration while delivering a first-rate musical experience, these education programs have previously been offered as one-to-three-week summer residencies. Now, Kim's latest project, "IMS Presents: Social Integration Workshops," aims to achieve the same ends in a shorter time-frame, with an initial offering of five weekend workshops in the U.S. and Mexico. If these are successful, she hopes the new, shorter IMS model will lend itself to scalability and mobility, with the ultimate goal of making the IMS experience available to students all over the world.
Mezzo-soprano Brenda Patterson (2000) is the co-founder and Director of Music of Victory Hall Opera, a pioneering chamber opera company in Charlottesville, VA. Her project, "The Forgotten," is a cross-disciplinary collaboration with Light House Studio, a training institute for young filmmakers. A Halloween double-bill that interweaves Humperdinck's Hansel and Gretel with Menotti's The Medium, The Forgotten explores American poverty, economic anxiety, and teenage gender identity. It will be staged at Charlottesville High School, where students will train as stage crew and tech operators, receiving invaluable mentoring from Victory Hall Opera's high-caliber artists, who include some of the most successful African-American singers in the industry.
Pianist Evan Shinners (2009) presents "The Bach Store": a storefront in New York City where those walking by can see and hear musicians – some of the Academy's distinguished alumni among them – play Bach every day, for six hours a day, over 30 days. Harnessing "pop-up" culture to bring music to the community, Shinners' project represents a cultural re-contextualization of Bach's music. Where surrounding stores exhort passers-by to spend, The Bach Store offers art, without admission fee or dress code, in a fully accessible meeting of youth culture and classical music. Spanning the breadth of Bach's extensive output, repertoire will include vocal works, chamber music, the complete works for solo violin, cello and keyboard, and an evening of concertos from the American Youth Orchestra.
The Alumni Enterprise Awards are generously funded by Lead Sponsors Regina and Rick Roney.
About the Music Academy of the West
The Music Academy of the West is among the nation's preeminent summer schools and festivals for gifted, young, classically trained musicians. At its ocean-side campus in Santa Barbara, the Academy provides these musicians with the opportunity for advanced study and performance under the guidance of internationally renowned faculty artists, guest conductors, and soloists. Admission to the Academy is strictly merit based, and fellows receive full scholarships (tuition, room, and board). The Academy's distinguished teaching artists' roster has included famed soprano Lotte Lehmann, composers Darius Milhaud and Arnold Schoenberg, cellist Gregor Piatigorsky, pianist Jeremy Denk, and Honorary Voice Program Director Marilyn Horne. Academy alumni are members of major symphony orchestras, chamber orchestras, ensembles, opera companies, and university and conservatory faculties throughout the world. Many enjoy careers as prominent solo artists. In 2014 the Music Academy entered into a four-year partnership with the New York Philharmonic, resulting in unprecedented training and performance opportunities for Academy fellows, and Summer Festival residencies for Philharmonic musicians.
The Academy has now launched a new partnership with the London Symphony Orchestra, highlighted by the following:
Musicians from the LSO will participate in each Summer Festival.
The London Symphony Orchestra will perform in Santa Barbara in 2019 and 2021.
Academy fellows will travel to London to perform in concerts with the LSO.
Academy competition winners will perform recitals in London.
Michael Tilson Thomas will serve as the Signature Festival Conductor of the partnership.
Sir Simon Rattle will oversee the fellows' experience in London.
The Music Academy of the West cultivates discerning, appreciative, and adventurous audiences, presenting more than 200 public events annually. These include performances by faculty, guest artists, and fellows; masterclasses; orchestra and chamber music concerts; and a fully staged opera. The 2018 Summer School and Festival will take place June 18-August 11 at the Academy's Miraflores campus and in venues throughout Santa Barbara. For more information, visit www.musicacademy.org.
Related Posts
Comments
No comments made yet. Be the first to submit a comment