7 minutes reading time
(1341 words)
Review: Milo's Other Mozart Performance of a Lifetime Comes to Rubicon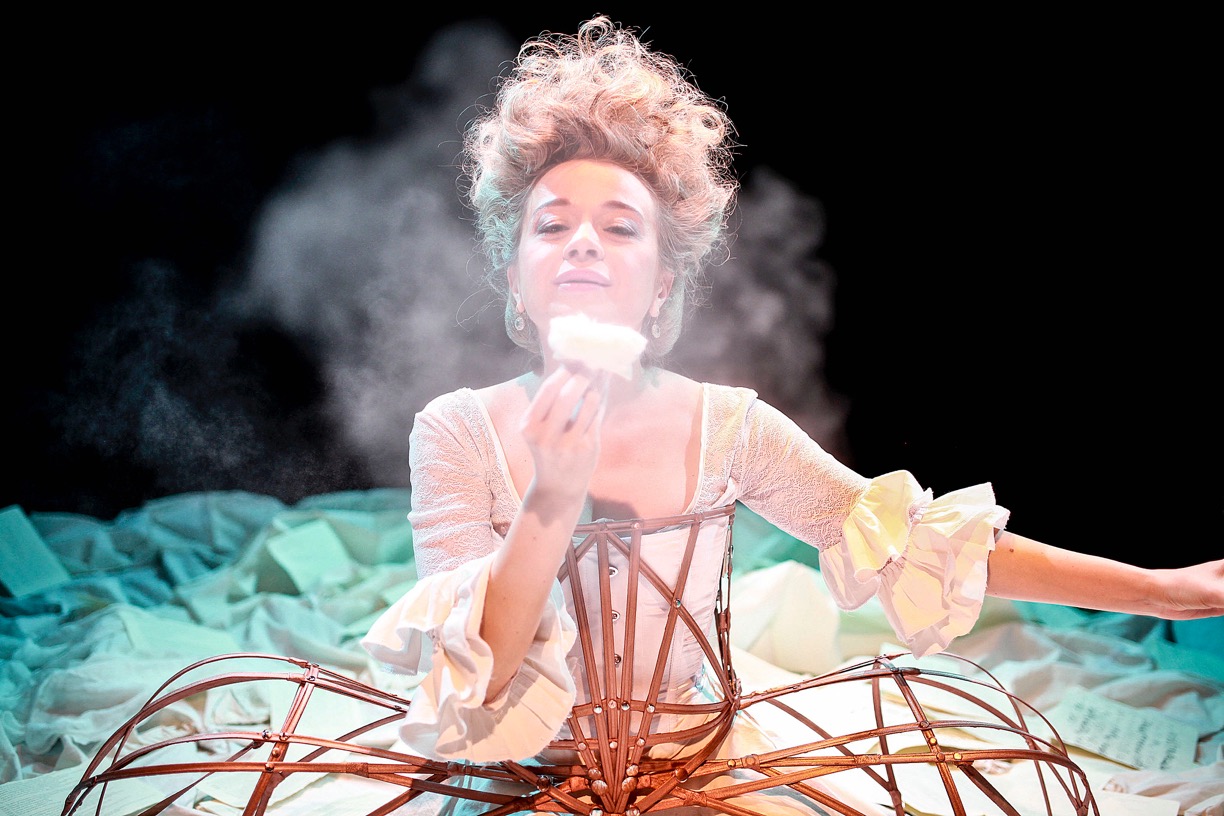 Beyond Mozart
Milo's Other Mozart Performance of a Lifetime Comes to Rubicon
It is to Karyl Lynn Burns and the Rubicon Theatre's great credit that they have brought Sylvia Milo's truly remarkable performance, The Other Mozart, to Ventura and the Rubicon stage for a limited engagement. This is a very special night of theatre, not to be missed by anyone even remotely interested in seeing a great performance. There is nothing quite like it available anywhere else. Rubicon brings in not only Milo but her entire original production that ran so successfully in New York and London and now tours internationally.
Many followers of classical music know that Leopold Mozart toured all the music capitals of Europe with a pair of sensational child prodigies, the wunderkinder Wolfgang Amadeus Mozart and his older sister, Maria Anna. As they emerge from childhood, history then follows the singular and most extraordinarily fast development of Mozart fils.
It is difficult, even today with the fast pace of our current times, to grasp the fact that barely three decades separates the rather linear keyboard music and lightly orchestrated symphonies of the late eighteenth century and Mozart's final uber-masterpiece, Requiem, at which point Western music is clearly ready for Beethoven, who emerges only a few years later.
Between those two giants, Mozart and Beethoven, Western music is advanced and opened up in the most astonishing ways, setting the stage for everything that comes after. Mozart not only advances the tradition, he blasts it wide open. But oddly, no one ever asks what happened to his older sister, who, when she still played public concerts was considered rivaled only by her brother in performing ability, interpretation, improvisation, and composition. Until now.
While visiting Salzburg and looking into Mozart's life and music, Sylvia Milo kept running into this amazing woman who was not his wife. It turns out it is Mozart's older sister, who carefully preserved every letter, note, manuscript, and artifact of her brother's and father's life and nurtured her brother's reputation for decades after his untimely early death so soon after their father's death [the Requiem is essentially Mozart's response to his father's death].
It turns out that father, brother, and sister were an extraordinarily close-knit trio who thrived on each other's love of music, company, support, and the richness of each other's mind. The brother and sister create their own secret language with an imaginary kingdom they rule together as king and queen. They affectionately know each other only as Wolfi and Nannerl, share sexual and scatalogical jokes in high humor mixed with sharp observations of places and people along with musical insights. They are both mentored and taught by their musical father; in fact, the young Amadeus wants to learn to play harpsichord because his sister plays it so beautifully. As a young boy, he evidently worships her.
Tragically, and not only for them but for all of human history, this all ends when social mores and the will of her parents force Maria to stop performing publically once she reaches 18, the age of marriage. The magic trio is thus split up as father and son depart to tour, while Maria is left at home with her mother "to focus on more domestic pursuits in order to pursue a husband."
This is a living death sentence for the young Maria, it is a torture to her to have the hands that can play "as clearly and beautifully as anyone in Europe" wasted on learning to embroider, clean, and cook.
But a closer reading of their story shows that none of the three musicians fares well or lives happily ever again. To be fair to her brother, Wolfi defends Nannerl's abilities, entreats her to compose more after she sends him a composition when he reaches Vienna, sends her copies of his keyboard compositions as soon as he composes them, and claims to the end of his life that no one can play his keyboard works as well as his sister. Alas, in most part because she was a woman, not a single one of her compositions survives, or, as some believe, they survive but are mistakenly attributed to her brother. Nannerl, to her sorrow in old age, only learns of her brothers great struggles in Vienna while reading Constanza's biography of her long-late husband, a work for which Nannerl generously lends her family letters to Constanza.
A tragic story in the least, but the suppression and repression of Maria Anna because she is a woman is perhaps one of the greatest cultural crimes of all time. Milo takes this poignant tale and turns it into a most mesmerizing solo performance in the hopes that we may some day end this kind of thing once and for all.
What Milo and her collaborators give us is a tour-de-force, at once tragic yet stunningly transcendent. Milo not only re-constructs a life, and a family, she deconstructs an entire civilization, creating a scathing critique of the treatment of women, yet projecting a vividly empowering portrayal of a brilliant woman who knows who she truly is, while entrancing us from the monodrama's opening tingling notes until its final riveting apotheosis.
This is a piece that moves even seasoned theatre-goers who have seen the world's best theatre from New York to London to tears. It is truly a once-in-a-lifetime do-not-miss performance. You have to experience it directly; no review, notice, or words will begin to convey its impact.
Milo is assisted by an extraordinary cast of collaborators. Even though there is only Milo on stage, there are many characters, not least of which is her hair, all hers, styled by Courtney Bednarowski; her set, which is her amazing 50 pound dress covering the entire stage constructed for her by Magdalena Dabrowski of the Polish National Theatre, with a pannier sculpted by award-winning costume designer, Miodrag Guberinic who has worked for everyone from Madonna to the legendary Steppenwolf Theatre in Chicago.
Isaac Byrne directs, assisted by Janice Orlandi, a specialist in period-style movement and teaches Williamson and Michael Checkhov Techniques, which Milo has studied as well as with the Lee Strasberg Institute, Stella Adler, and The Grotowski Institute [Milo is originally from Warsaw, Poland].
A significant part of this performance is its soundscape. Composer and percussionist, Nathan Davis created the soundscape using music by Leopold Mozart, Wolfgang Amadeus Mozart, and Marianna Martines, another woman composer of the late eighteenth century. Unfortunately none of Maria Anna's music survives. The soundscape is further enhanced by very appropriate contemporary music composed by Nathan Davis and composer Phyllis Chen, a founding member of the International Contemporary Ensemble, famous in her own right for her work with toy piano and contemporary music.
In researching the life of Maria Anna, Milo also uncovered the remarkable woman keyboardist and composer of the period, Marianna Martines, who was a generation older than the Mozart children. Martines, unlike the Mozarts, was sufficiently wealthy and independent enough to continue her own private career performing private concerts and publishing her own compositions. Milo's work has, in part, spurred a revival and long overdue interest in Martines's music as well. Look her up and give a listen, it is quite good. Which only serves to underline the question of how good Nannarl's must have been, a musician and composer that so many expert contemporary witnesses thought was clearly and significantly better.
__________________________________________
The Other Mozart
Created, written, and performed by Sylvia Milo
Directed by Isaac Byrne with period-style movement directed by Janice Orlandi
Soundscape by Nathan Davis, with music composed by Nathan Davis, Phyllis Chen with additional music by Marianna Martines, L. Mozart, and W. A. Mozart
Lighting design by Joshua Rose, Costume and Set Design [dress] by Magdalena Dabrowska, Costume Design [pannier sculpture] by Modriag Guberinic, hair by Courtney Bednarowski,
_______________________________________________
Comments
No comments made yet. Be the first to submit a comment