3 minutes reading time
(665 words)
Delightful Bob Privitt Show at the Ventura County Museum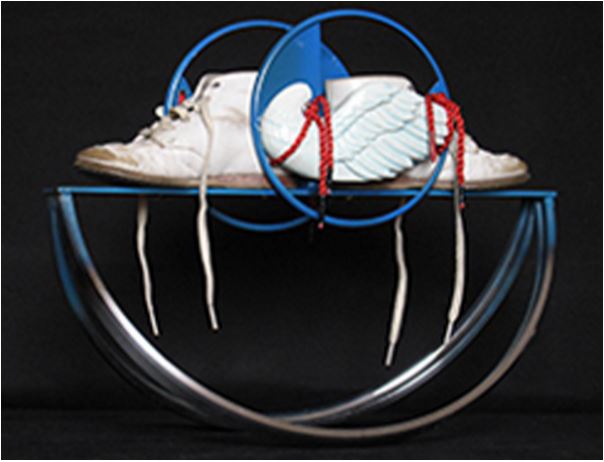 Art Review
Delightful Bob Privitt Show at the Ventura County Museum
Bob Privitt's solo show, Manipulations, brings another round of Privitt's well-known and delightful assemblages to the Ventura County Museum. Privitt has also had a solo show of his work at the Tool Room gallery at the Bell Arts Center when it was run by the museum. The current show presents a tighter, more closely related group of small sculpture/assemblages. Though color is not usually a key element in assemblage art, this show uses color very effectively to up the intensity of the visual impact to good effect.
Each of Privitt's pieces presents a sort of puzzle, using plays on words, or objects, or visual puns or as one piece title suggests, "Connundrums". Do not glance and walk by a Privitt piece. You need to look at it, figure it out, play with it, and enjoy its humor. In this show, viewers are literally able to play with the pieces: they are all made to be touched and handled. In this sense the pieces resemble wonderfully wrought, beautifully made toys. But toys that also toy with the mind and tickle the funny bone.
Multiple layers of pun and meaning pop out at every turn. One of my favorites, a piece titled Sysiphus, turns the classic myth on its head, as it is turns the rolling of the ball up and down into a playful game, not the eternal torture of the Greek myth.
The show is in a rather too-cramped space, but Privitt's work does well in close quarters, encouraging you to get up close and personal with it, touch it, and in some cases, move it around or at least parts of it.
Do not be deceived by the show's small scale: this is a major and important show by one of the region's best and most-beloved artists. Do not be put off by the museum's stupidly patronizing, clumsy, and at this point in time, ridiculous asking if this is art, as if some strange smoke from the 1970s had wafted its way into the galleries. This is wonderful art, to be enjoyed by all.
Privitt himself has had a long and lasting impact on art in the 805, mentoring other artists, generously assisting in regional art institutions whenever he can, and acting as a strong mentor and living example of what a responsible artist in his community can be. Long retired from university teaching, Privitt is still at the height of his powers, as this show amply attests.
As Bob Privitt, a Professor Emeritus at Pepperdine University, is one of the region's best, most well-known artists, still closely followed by students of even decades past, highly respected by his fellow artists, and admired by audiences across the 805, many of which have no connection to the museum, this is a good show for the museum to have at this time. It would be wise for the museum to have many more shows like this and give those audiences more of a reason to be connected with this museum located in the heart of old downtown Ventura, at the nexus of its Avenue and Old Downtown cultural zones.
Two other mature artists who have done much for the local scene that would do well for the museum with a solo show in the main galleries would be Hiroko Yoshimoto and John White, among others. It remains to be seen, however, whether the museum will be able to effectively exploit the wealth of local resources surrounding it as it moves into its new future and avoid succumbing to the little-minded narrowness of its past which so deeply disconnected it from its surrounding arts community, not to mention alienating it from and locking it out of access to major donor communities.
Comments
No comments made yet. Be the first to submit a comment