5 minutes reading time
(1003 words)
Art Review: Mark Bradford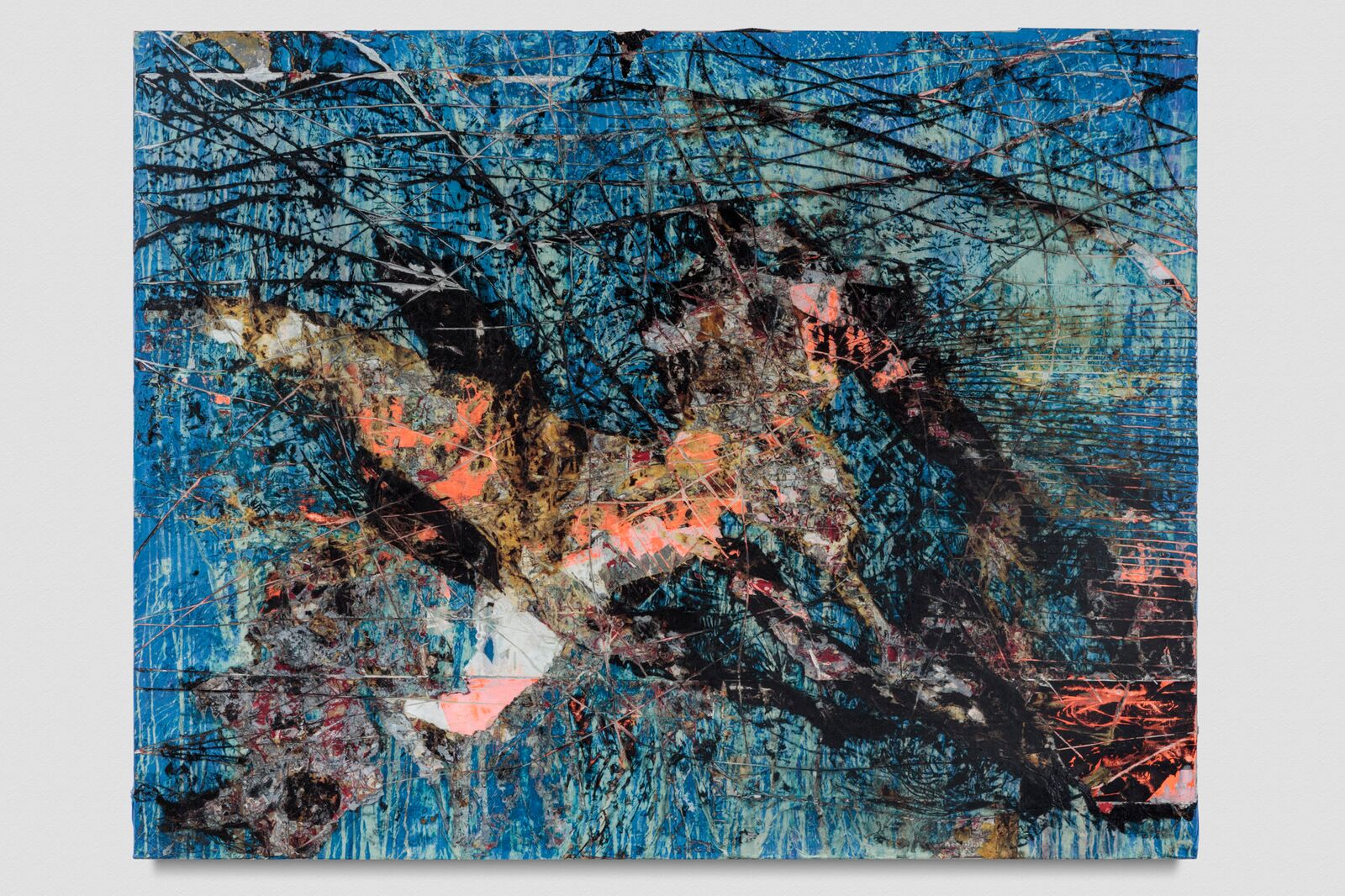 Mark Bradford at Hauser & Wirth, Los Angeles
Mark Bradford's solo exhibition "New Works" at Hauser & Wirth's magnificiently raw Los Angeles location is the artist's first gallery exhibition in his hometown in over 15 years. Bradford's star has been on the ascendency over the last decade, burning white hot since his "Tomorrow is Another Day" exhibition for the US Pavilion at the 2017 Venice Biennale, which will travel back to the states for a stint at the Baltimore Museum of Art.
The Biennale was the talk of the art world during the Venice Biennale, with a lot of people talking as if Bradford had come screaming out of nowhere. As usual, a lot of people hadn't been paying attention.
Bradford had already mounted a fairly long string of strong, well-distributed solo shows starting with a touring exhibition first presented at the Wexner Center for the arts in Columbus, Ohio, in 2010, which travelled to the Institute of Contemporary Art [ICA] in Boston, the Museum of Contemporary Art in Chicago in 2011, and the San Francisco Museum of Modern Art in San Francisco in 2012. This was succeeded by the "Mark Bradford: Sea Monsters" show a the Rose Art Museum in Waltham Massachusetts in 2014, which traveled to the Gemeentemuseum den Haag in the Netherlands in 2015. Then came his "Scorched Earth" show at the Hammer Museum in Los Angeles, also in 2015; "Tears of a Tree," at the Rockbund Art Museum in Shanghai, China, also in 2015, and the "Mark Bradford. Receive Calls on Your Cell Phone From Jail" show at the Contemporary Art Museum in St. Louis, Missouri in 2016. He also completed a couple of larger site-specific works, including one at the Hirshhorn Museum and Sculpture Garden in Washington, D. C., Bradford's largest site-specific piece to date, measuring in at 400 linear feet.
Much of this attention was generated in the wake of Bradford's MacArthur Fellowship Genius Award in 2009. With major collectors such as Eli Broad behind him and this kind of exhibition momentum, Bradford was more than ripe for a commercial gallery show in his hometown.
I had seen and been intrigued by Bradford's work before all this, a single piece in a long forgotten show that already, in my mind, revealed great promise. Bradford has developed a visually persuasive process that uses mostly cellulose-based found materials, such as comic books and graphic novels, posters, newsprint, magazines and endpapers. Cellulose has unique water-related properties: it can absorb water 50 times its dry weight, while its fibers retain integrity, it pulps, glues and tears easily, can be reconstituted, take on inks, dyes, and paint readily, and is easily worked without the aid of machines. Most importantly of all, it can easily be printed and thus carry all kinds of information.
All of this is exploited by Bradford. Bradford calls all this cellulose stuff the "tools of civilization" to, as Hauser & Wirth put it "conflate cultural and political forces ... [creating] layers of social commentary in paintings that evoke deep feeling." Bradford puts it with more of a cryptic twist: "How we build and destroy ourself are the materials that I'm really interested in, and paper is one of the main ways in which information is displayed." It is that "build and destroy ourself" that does the trick and keeps us coming back to see more, or again, see what lies there in the shreds of these richly worked surfaces.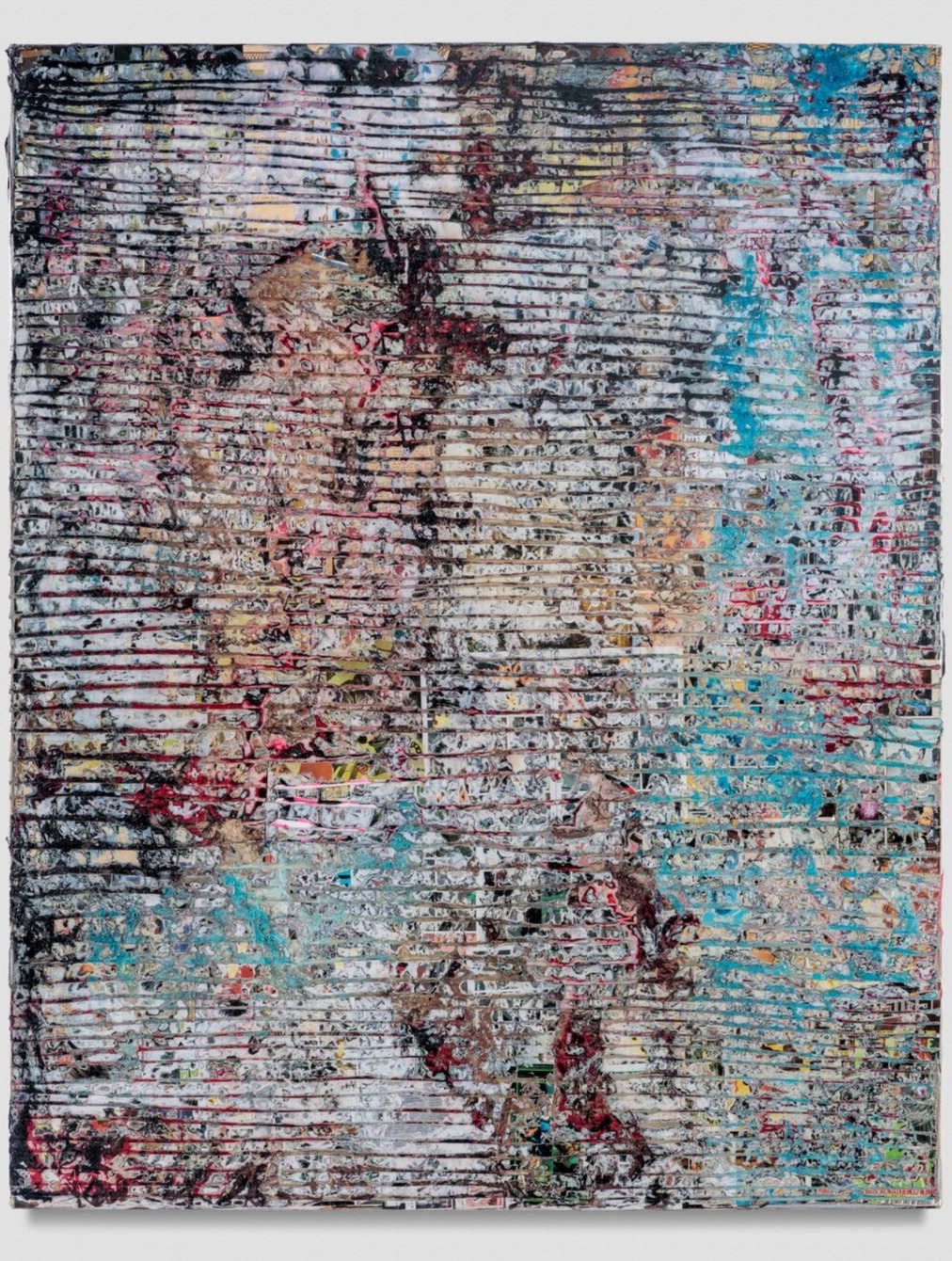 From a distance most of Bradford's most successful works look a bit like optically-enhanced aerial photographs of great metropolii or intense geologically active sites, the kind we see from satellite images put out by people such as JPL [the Jet Propulsion Lab] though this is often contradicted by easily distinguished slashes and gashes that give visual forms that could not possibly appear in such photographs. In other images these gashes look a lot like highways slashing through said metropolii. On closer inspection we see more of the layering, the archeology of the surface, with its words and disrupted images and texts seeping through from the source materials.
The current show of "New Work" is mostly based on comic and graphic novel source materials. Many of the paintings have titles taken from captions and speech bubbles found in that particular painting, such as "Tonight ... we feed!" Some viewers will instantly recognize the source comics and graphic novels from just a few phrases or glimpses in the painting's surface. Other viewers will be completely clueless. But any iconographic reading into these sources is not necessary to get a considerable whallup from the paintings. They work just fine as total image, without further dissection.
This is helped by Bradford's color which has always added an air of gravitas and excitement, with its neon, process camera pinks and electric litho oranges seeping through its burnt phthalocyanine blues, deep blacks, and skudded earths with subtler green seeps here and there. Within these larger painted neighborhoods, the printed colors of the original comics are readily visible as well at close range.
What we get with Bradford is an extended investigation into an archeology of meaning, closely mapped to an archeology of materials, weathered, worn, and warped by the artist's hand. There are metaphors here, culture as layered intentions and created by entire sub-cultures of meaning, from Apocalyptic zombie tales to our contemporary superhero mythologies to current events, to a discourse on process and image-making; but it is best to not get too tight in the interpretive mapping of details to meaning, for the real joy of these paintings is the visceral satisfaction of just looking at them, taking them in as luscious expressions taken from our world and given back to us, well-digested, but wholly new and fully formed for our visual enjoyment.

Mark Bradford New Works
10 paintings
17 February - 20 May 2018
Hauser & Wirth Los Angeles
901 East 3rd Street, Los Angeles

Related Posts
Comments
No comments made yet. Be the first to submit a comment