3 minutes reading time
(668 words)
3 Winter Recipes & Wine Pairings To 'WOW' Any Crowd!
Whether you're cooking for two or a dinner party with friends, these recipes are the perfect accompaniment to the holiday season. Try them with the recommended wine pairings for a truly memorable meal.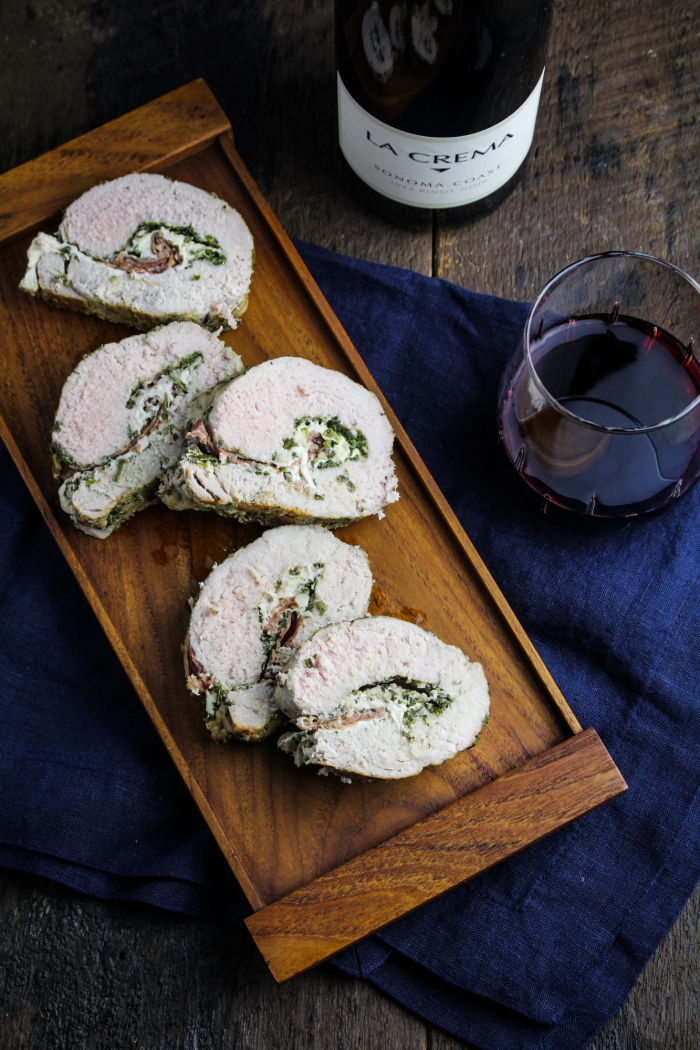 Prosciutto, Mozzarella, and Sage Pesto Stuffed Pork Tenderloin
Serves: 4
One pork tenderloin, about 1-2 pounds

1 bunch fresh sage

6 sprigs fresh rosemary

15 sprigs fresh thyme

4 cloves garlic

6 tablespoons olive oil, divided

sea salt and pepper

6-8 thin slices of prosciutto

6 thin slices fresh mozzarella
1. Remove the leaves from the sage, rosemary, and thyme. Place the herb leaves in a food processor with the garlic and 3 tablespoons of the olive oil. Pulse the herbs until a finely minced rub is formed. Season the herb mixture with salt and pepper.
2. Rub one half of the herb mixture on the inside of the prepared pork tenderloin. Top with slices of mozzarella, slightly overlapping, and then with slices of prosciutto. Carefully roll the pork tenderloin up as you would a jelly roll, tucking the filling back in as needed. Use butcher's twine to tie the pork into a roll, using one piece of twine every 2-inches. Rub the remaining half of the herb mixture on the outside of the pork and marinate the pork in the fridge for at least eight hours.
3. Preheat the oven to 375 degrees F. Heat the remaining 3 tablespoons of olive oil in a Dutch oven or other oven-proof skillet. Brown the pork on all sides, then place the Dutch oven in the preheated oven until the internal temperature reaches 145?F, about 20-30 minutes. Remove the pork from the oven and let rest for 10 minutes, then slice and serve.
Wine pairing: La Crema Sonoma Coast Pinot Noir, lacrema.com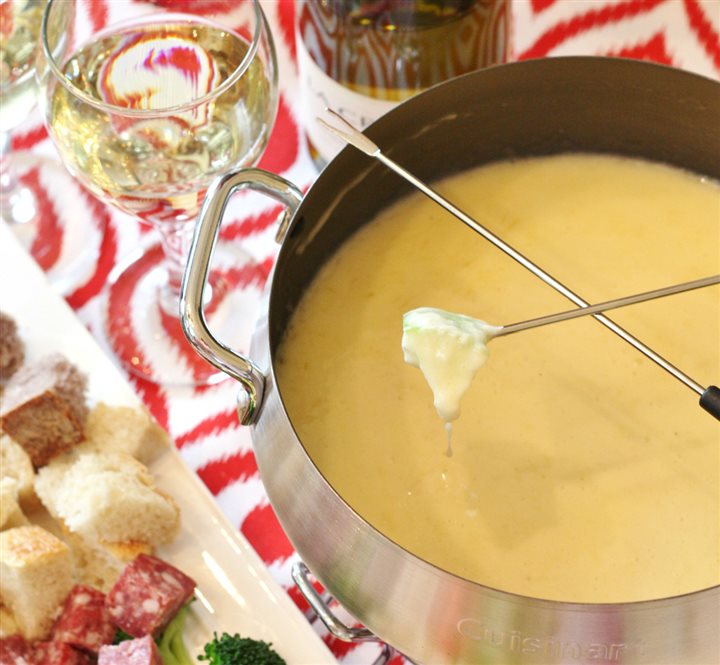 Serves: 2-4
8 ounces Gruyere cheese

5 ounces Baby Swiss cheese

3 ounces Brie cheese

1 tablespoon cornstarch

1 cup Matanzas Creek Sauvignon Blanc

1 clove of garlic

1 tablespoon fresh squeezed lemon juice

half teaspoon Dijon mustard

Pinch of nutmeg

Bite sized granny smith apples, vegetables, bread cubes, or sausage
1. Grate the Gruyere and Swiss cheese (freeze for 20 minutes before-hand for easier grating). Sprinkle the cheese with flour and mix well.
2. Set electric fondue pot to medium heat. Add 1 small clove of garlic, finely minced, until lightly golden.
3. Pour 1 cup of Matanzas Creek Sauvignon Blanc, Dijon and lemon juice into pot and bring to a simmer.
4. Reduce heat to low. Gradually stir cheese into the simmering liquid until smooth and creamy. Stir in nutmeg.
5. Serve with bite sized veggies, apples, bread and sausage. Dip, swirl and enjoy!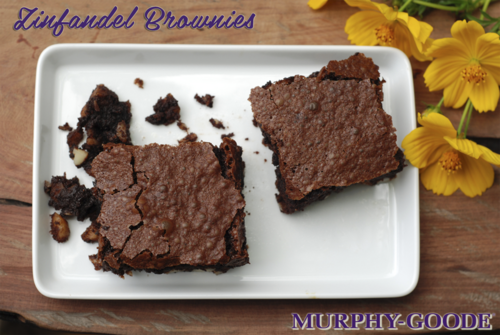 2 cups Murphy-Goode Zinfandel

20 ounces melted Ghirardelli 60 percent cocoa, dark chocolate squares

12 ounces melted unsalted butter

20 ounces sugar

8 eggs

4 ounces all-purpose flour

1 tablespoon vanilla extract

8 ounces Ghirardelli milk chocolate, double chocolate filling, chopped
1. In a saucepan, simmer wine to reduce by half, measuring one cup.
2. Mix together butter and chocolate, then in a mixer beat together with sugar.
3. With mixer on low, beat in eggs one at a time, allowing each egg to be incorporated. Beat on medium high for an additional five minutes, or until mixture has lightened in color.
4. Fold in reduced wine and vanilla, then flour and chocolate. Mix until fully combined.
5. Spread finished mixture in a buttered and papered jelly roll pan. Bake at 350 degrees for 18-20 minutes, rotating pan halfway through bake time. Brownies are done when toothpick inserted in center comes out with a sticky crumb.
Related Posts
Comments
No comments made yet. Be the first to submit a comment