4 minutes reading time
(758 words)
Homemade Ice Cream in Ojai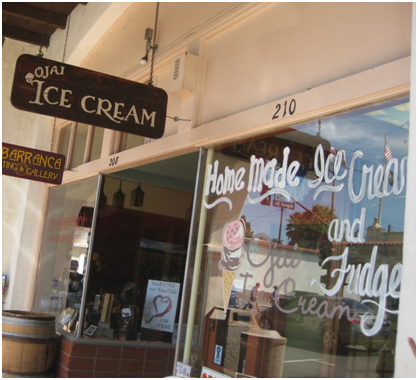 "I'll take a sugar cone single chocolate chip."
On a hot summer day, it's very common to go to the beach and constantly have the urge to quench your thirst with something refreshing and cool, especially in the small town of Ojai. Known as an outdoor walking town to many, the inland location of Ojai can reach temperatures averaging between 85-90 degrees on a typical summer day. To beat the heat, one can be entertained nestled in the shades of Libby Park, shopping indoors downtown, catching a movie at the Ojai Playhouse, or even grabbing some ice cream at Ojai Ice Cream. Originally opened in 1979, the ice cream shop is still in business as third owner Doug Rydbeck personally states "the shop is designed for an ice cream shop."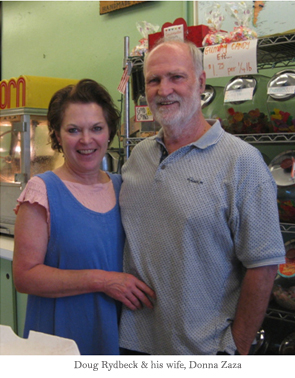 Doug grew up in the Los Angeles area and was a world traveling nomad for six years during the 1970s. He was able to visit every continent, excluding Antarctica. One might wonder how this adventurous spirit found his way to the small town of Ojai to become the third owner of the ice cream shop.
Doug started out as a manager at the Sears Toy Department in Pasadena, and later became a food broker in the 1980s. He also worked at Kelley-Clark and as a manager at Johnston Yogurt. When Doug was looking for an investment he came across an advertisement in the paper which listed an ice cream store available in Ojai. He learned more about the industry, and officially took over the shop in 1992. Doug has had reign over the establishment for nearly twenty years now.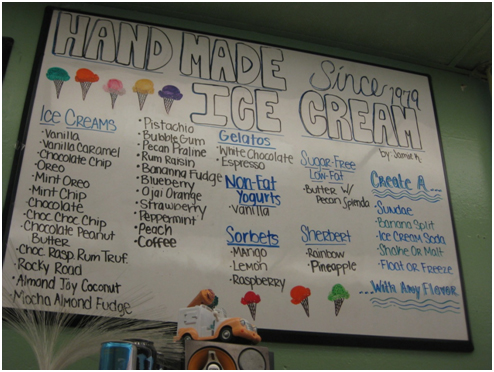 The ice cream shop is very independent and can be considered old fashion, as it is one of the few that continues to make their own homemade ice cream. When I learned that Doug makes his own ice cream, I was intrigued to know more about the process as I thought it must be quite complicated. Little did I know, there is no big secret to making homemade ice cream. It is as simple as following the ice cream formulas by gathering all the ingredients for the specific flavor and then popping them into the machine.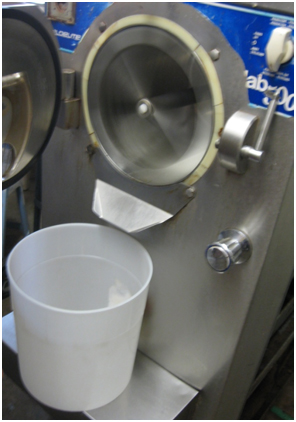 The machine only makes one bucket at a time, so one can make about five buckets an hour. Doug used to make the ice cream at the shop himself, but now it's taken care of by Jaime Kneeland – the son of his manager Sheila Kneeland.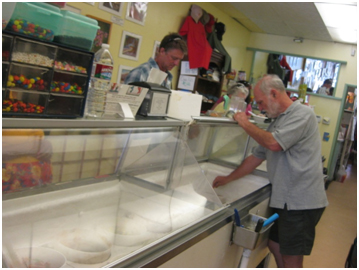 There's over a couple hundred different flavors of ice cream at the shop; its most popular flavors being Oreo, Ojai orange, mango sorbet, white chocolate gelato, coffee, and rum raisin. While most of these are year-round, some flavors run seasonal when specific holidays draw near. For instance, when the annual Lavender Festival occurs in Ojai every June, Doug makes lavender flavored ice cream just for the occasion. Other than ice cream, the shop also sells other little snacks such as popcorn, pretzel, fudge, and over 130 different candies.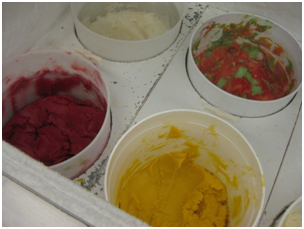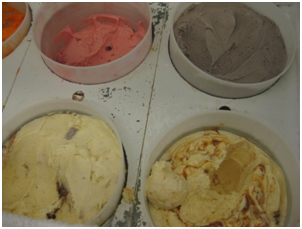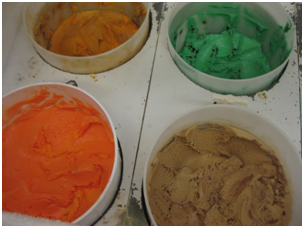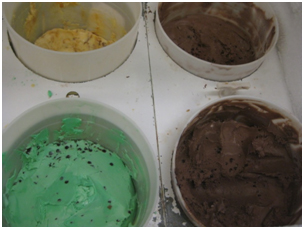 So what does it take to operate and maintain a small ice cream store? There's constant cleaning, refrigerating, and making of ice cream; which in turn means the necessity of many ingredients. As Doug reveals, ingredients now-a-days are more difficult to find as it's no longer a one stop thing; he has to buy certain items from multiple individuals and companies. Doug buys his flavorings in Oxnard, but for certain ingredients, he has to order them all the way from St. Louis, Missouri. Fortunately, if there is ever a shortage in supplies, Doug also has the choice to improvise with his ingredients a bit.
Doug says that the most rewarding aspect of his job as an ice cream owner is the longevity and payment back of employees. He feels that for small businesses like his, employees are the most important, as they are the ones helping to manage the store. He believes that as an employer, he has the responsibility to teach his employees to become good people. It makes him content when he sees his past employees now grown up and with their own families, come back to visit the shop. Doug surely values his employees and I'm happy to have had an opportunity to interview him.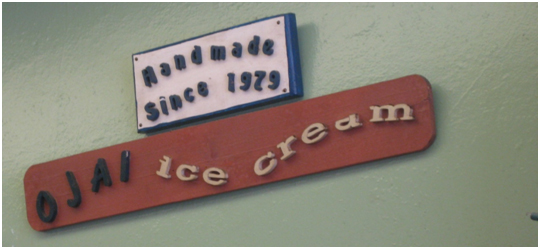 Fun Fact: The movie Easy A (2010) was filmed in Ojai, with many scenes filmed in downtown Ojai and one particularly in Ojai Ice Cream itself.
Doug and his wife, Dona, currently reside in Ventura, CA.
Ojai Ice Cream
210 E Ojai Ave
Ojai, CA 93023
(805) 646-6075
Related Posts
Comments
1
We went to the Lavender Festival yesterday and stopped by for homemade ice cream and tried their delicious lavender ice cream. O...M...G
We went to the Lavender Festival yesterday and stopped by for homemade ice cream and tried their delicious lavender ice cream. O...M...G