2 minutes reading time
(372 words)
Artist Opening: Jack N. Mohr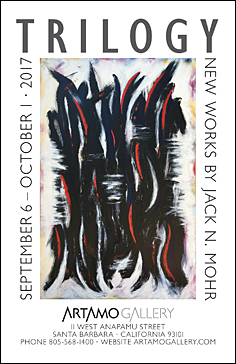 September 6 - October 1, 2017
Artamo Gallery
,
Santa Barbara, CA
An Opening Reception Thursday September 7, 2017 from 5:00 pm to 8:00 pm
ARTAMO GALLERY presents the newest works from three series of paintings by Jack N. Mohr: In Balanced the artist pairs intuitive paintings with sides of a single color — a balancing act of contradicting visual elements. In his Duality-Series he combines equally sized canvases coming from left and right brain approaches, and his Black-Series features bold, rhythmic single-panel works.

Jack N. Mohr, a native of Berlin, Germany, studied visual communication and earned his M.A. in graphic-design at the State University for Creative Arts (now University of Arts) in Berlin. 1997 he moved to Santa Barbara, California. Aside from his graphic-design work he is home in a variety of art mediums including photography, collage, sculpture, print making, painting and also ceramics. But painting with acrylics and mixed media became is his focus and still is for the last 15 years.
In his mostly abstract art he likes to explore bold movements, and how light and shadow, contrasting shapes and textures or colors interrelate with each other and balance out in the finished composition.
SOLO EXHIBITIONS
2017 Trilogy Artamo Gallery, Santa Barbara, California
2017 Balanced Artamo Gallery, Santa Barbara, California
2015 Here Now Artamo Gallery, Santa Barbara, California
2015 Then There Karpeles Museum, Santa Barbara, California
2014 The Red Room Artamo Gallery, Santa Barbara, California
2013 The Blue Wall Artamo Gallery, Santa Barbara, California
2010 Behind the Scenes Artamo Gallery, Santa Barbara, California
2010 Now, Then & in Between CSUCI Art Gallery, Ventura, California
2009 Retrospective Om, Ventura, California
2008 Red & Blue & Beyond Om, Ventura, California
2008 Imagine! Artamo Gallery, Santa Barbara, California
2006 SB Arts TV (30 min. Artist Portrait & Interview, multiple airings), Santa Barbara TV Channel 17
2006 Contradiction Artamo Gallery, Santa Barbara, California
2005 From Vertigo to Blue Roberts Art Gallery, Santa Monica, California
2004 New Work Neuvié Gallery, Santa Barbara, California
2004 Behind the Scenes Faulkner Gallery, Santa Barbara, California
2004 From Vertigo to Blue Faculty Club, University of California, Santa Barbara
2004 Mindscapes & Numbers BoxHeart Gallery, Pittsburgh, Pennsylvania
2003 Progression Santa Barbara Conference & Visitors Bureau, Santa Barbara, California
2002 Flowers of the Night Delphine Gallery, Santa Barbara, California
2002 Framed! Delphine Gallery (front room), Santa Barbara, California
2001 Topography of White Delphine Gallery, Santa Barbara, California
1985 Behind the Scenes Lemberg Studio Gallery, Berlin, Germany
1975 Collages & Drawings Galerie Murmel, Berlin, Germany
Tuesday–Sunday, 12:00–5:00 PM
First Thursday until 8:00 PM
and by appointment only
Comments
No comments made yet. Be the first to submit a comment