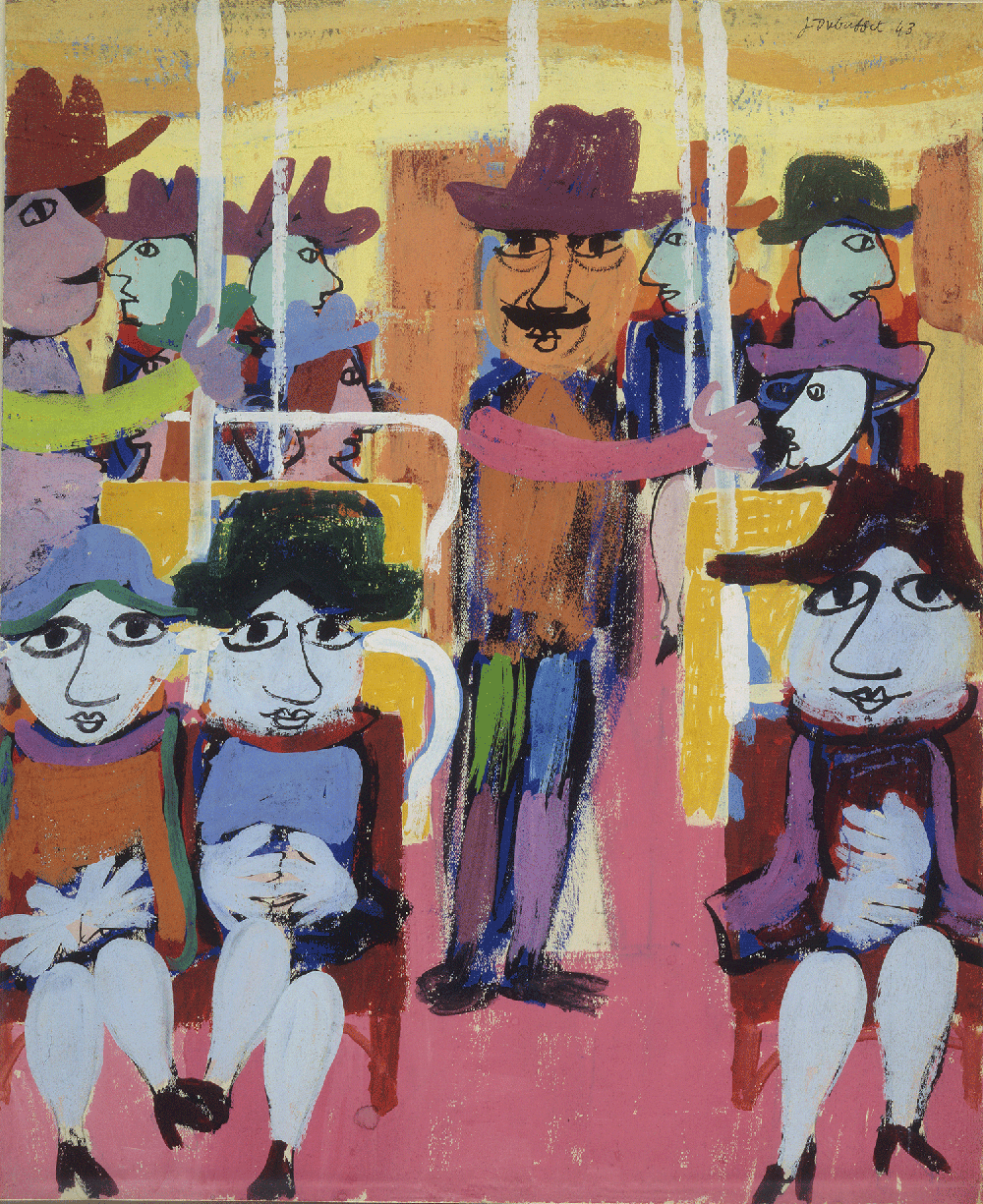 Art Review
BEYOND THE 805
Jean Dubuffet Drawings at the Hammer
The current exhibition of Jean Dubuffet's drawings at UCLA's Hammer Museum is the first exhibition of Dubuffet's drawings of this depth and scope. Consisting of almost 100 works created between 1935 and 1962 it spans Dubuffet's most creative years, curated by Isabelle Dervaux, Acquavella Curator of Modern and Contemporary Drawings at the Morgan Library and Museum. The Hammer presentation is curated by Connie Butler, chief curator, with Emily Gonzalez-Jarrett, curatorial assistant. Dubuffet is in some ways the most influential and perhaps best French artists since WW II , so this show represents an important addition to the understanding of his work and post-war art history scholarship.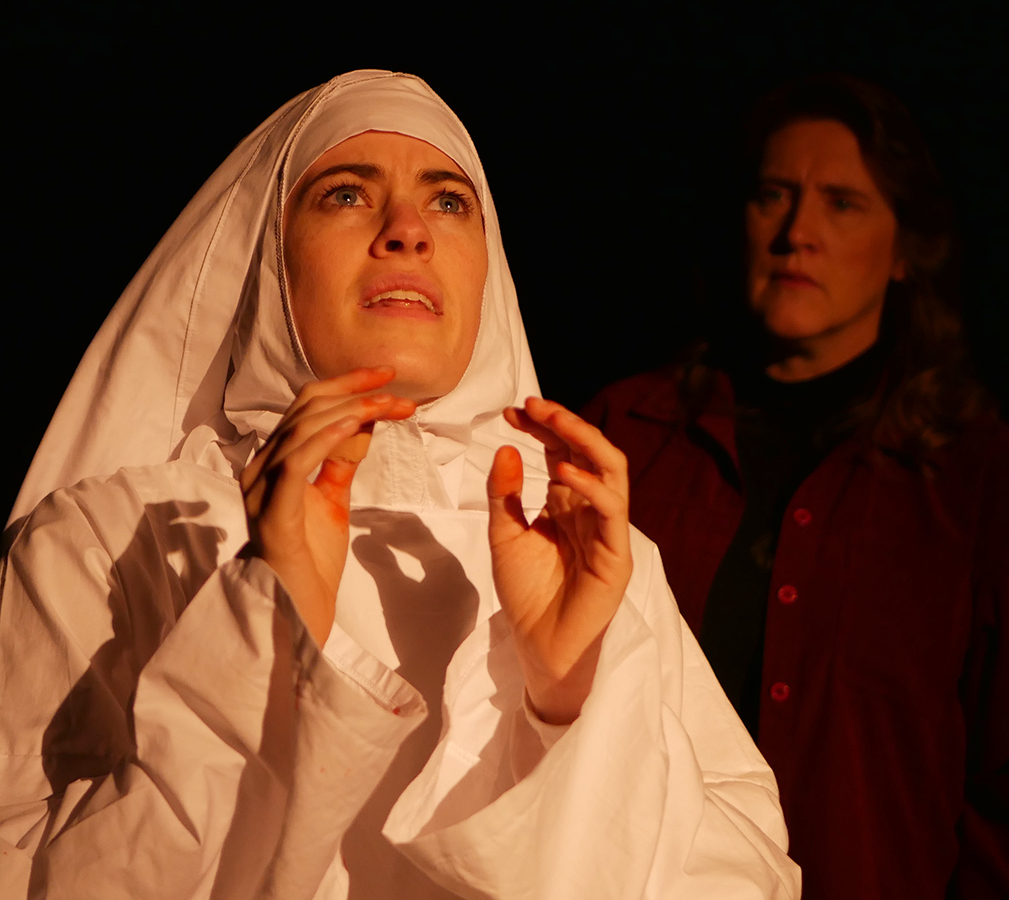 A well-worth seeing production of Agnes of God is currently playing at the Elite theatre in Oxnard. It is the first play in a season of challenging and important plays by the Elite this year. Season tickets are highly recommended.
As the play opens, we are given to believe that Agnes is a young woman who has evidently murdered her newborn child while living in a Catholic convent. She seems remarkably and a bit uncannily unhinged and it is up to a court-appointed psychiatrist, Dr Martha Livingstone, with her own Catholic demons to fight, to try and unravel the situation or even decide whether Agnes is sane enough to stand trial. Set as a murder mystery, the play completely upends that genre as it unfolds as a three-way psychological wrestling match between Dr. Livingstone, Agnes, and Agnes's Mother Superior, who is herself not all she at first appears to be.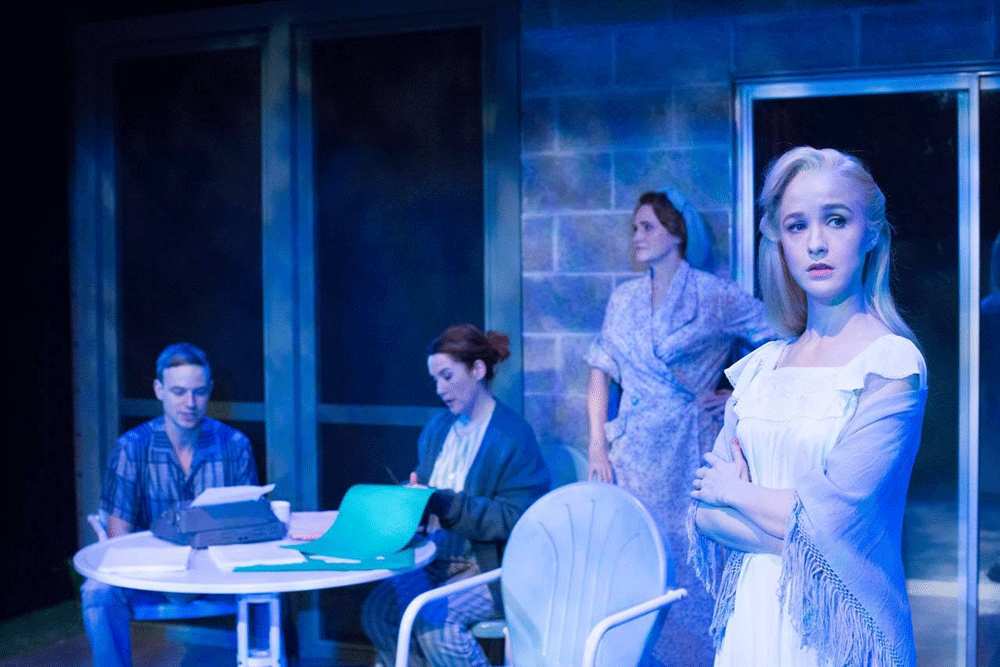 Review-
With the wonderful cast and director of the previous installments reprising their roles, the third and last installment of the Nibroc Trilogy, Gulf View Drive, the conclusion to one of the most popular and critically acclaimed projects in Rubicon Theatre history, opened to an energetic and enthusiastic house last night. The play runs through 12 February 2017, and if you missed any of the two previous parts of the trilogy, no worries, this play stands on its own and offers up some first-rate comedy in the process.
(left) Erik Odom, Faline England, Sharon Sharth and Lily Nicksay star in Gulf View Drive, the final play of the acclaimed Nibroc Trilogy by Arlene Hutton .Performances January 25 – February 12 at Rubicon Theatre Company.

Photo credit: Jeanne Tanner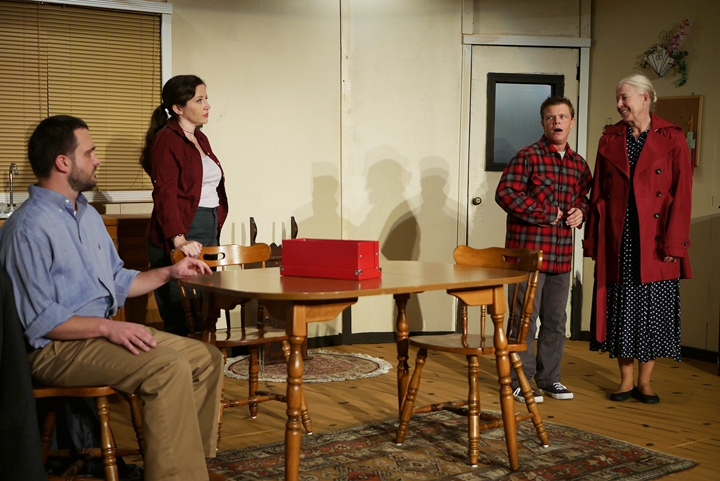 Review-
The
Elite Theatre of Oxnard
presents the world premier of Jason Furlani's
Family Trees
, a rambling, good-natured comedy set in Schenectady, New York. With a set that feels just like my late aunt's house in Schenectady; solid, heartfelt acting, and a very funny script, the play is a great choice for the holidays, full of a warmth and good-will that will have everyone leaving the theatre with a smile.
Review-
Ensemble Theatre Company's
production of Neil Simon's
Chapter Two
offers ample evidence why Neil Simon's plays are some of the most successful and frequently performed theatre in the world. Chapter Two is in many ways one of the best and certainly one of the most uniquely personal plays in the Neil Simon universe.
Understanding beyond all expectation. Caroline Kinsolving and Todd Weeks in Neil Simon's Chapter Two at the Ensemble Theatre Company.
Photo Credit: David Bazemore.​
Review
Arthur Miller's All My Sons
Big credit goes to the Elite Theatre for bringing in Arthur Miller's All My Sons, one of the great classics of post-War American theatre. The play is multi-layered, dynamic, timeless, and superbly written. A must-see for all theatre fans.
Allen Gardner and Jim Seerden.
Elite Theater Co Oxnard, CA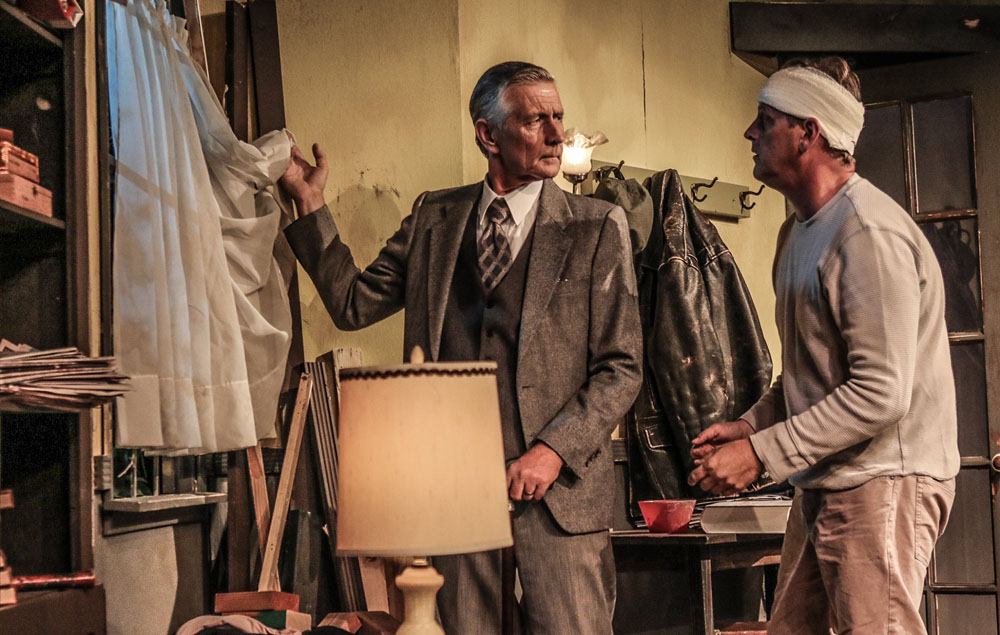 Review-
The Santa Paula Theatre Center is currently showing an outstanding production of
The Night Alive
, a wonderfully written, recent [2013] play by Conor McPherson, undoubtedly one of the best playwrights of our time. This is an excellent production of a great play, by one of our greatest playwrights. Don't miss it.
(l) Cecil Sutton and (r)Ron Feltner

in Conor McPherson's

The Night Alive

at the Santa Paula Theater Center, downtown Santa Paula, through 2 October, 2016.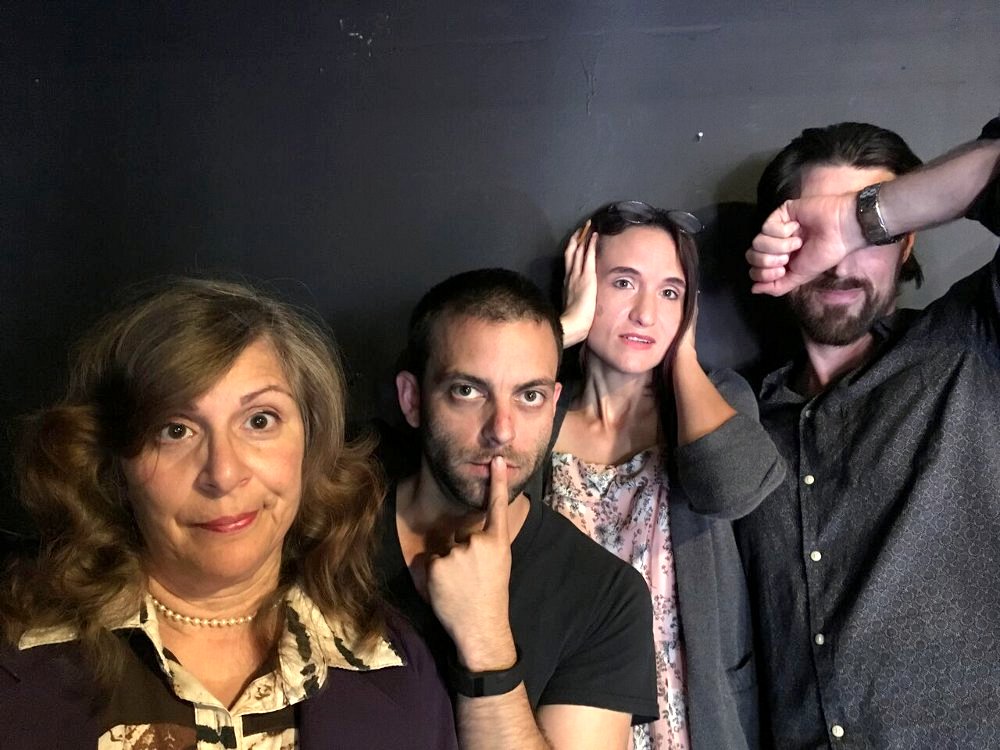 Review-
Flying H Theatre company brings us Peter Sinn Nachtrieb's The Totalitarians, a dark and a bit daffy comedy about a political campaign gone awry, just in time for the current political season.

The sad thing is that it may be the last play produced by the Flying H Theatre, which announced that it would be closing its doors after The Totalitarians runs. This is a serious loss for theatre in the 805 as there is no other theatre here like it.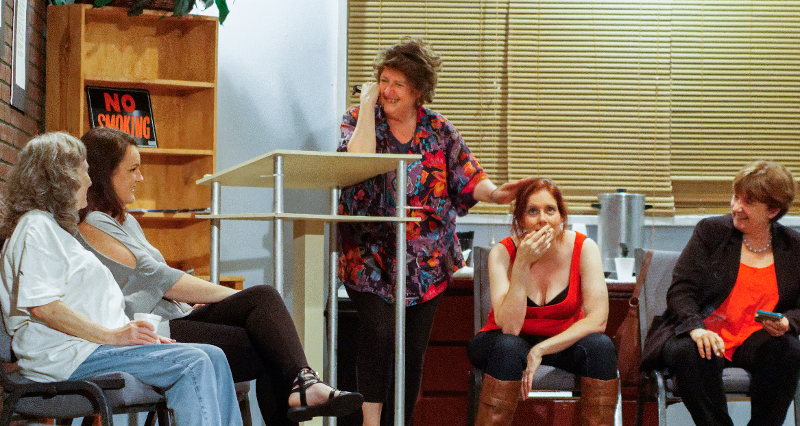 Last weekend to see this
The Elite Theatre Company's Tom Eubanks has wisely brought fellow playwright, Michael Perlmutter's new play Open Meeting Closed to their South Stage for what is turning out to be a banner year for the Elite's South Stage. Perlmutter also directs.
Perlmutter has been quite active acting in the local theatre scene this year as well with appearances at the Santa Paula Theater, Flying H, and Ojai, but this play makes clear that Perlmutter is, after all, a fine writer and playwright.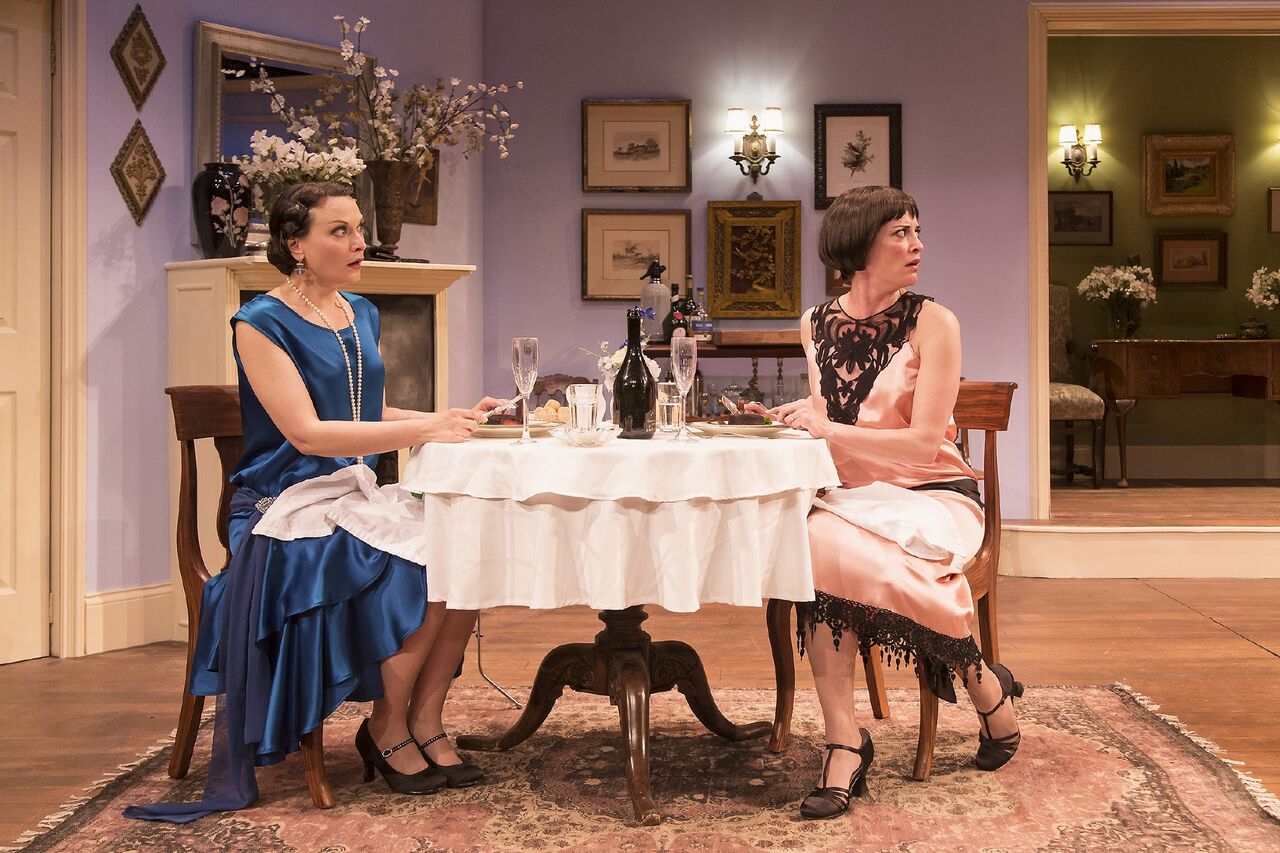 Review-
Noël Coward's Fallen Angels delivers at The Ensemble Theatre
A hilariously witty script, superb cast, first-rate production and direction, who could ask for more? A reviewer of its 1925 premier complained that the only thing wrong with Fallen Angels is the final curtain. Ditto for the Ensemble Theatre of Santa Barbara's current production of the Noël Coward classic.