8 minutes reading time
(1525 words)
Psst, did you hear? February 2018

THE BEAR AND STAR TEMPTS CUPID WITH A ROMANTIC VALENTINE'S DAY DINNER-
Los Olivos' The Bear and Star, serving "Refined Ranch Cuisine" inspired by the Parker family hospitality at the eponymous Fess Parker Inn, celebrates Valentine's Day Dinner on Wednesday, February 14, 2018, with a holiday menu created by Chef John Cox and his team. The Bear and Star has quickly been embraced by food-conscious diners applauding the restaurant's sustainable menu program. The restaurant is a pioneer in Santa Barbara County in its true ranch to table philosophy, with a commitment to sourcing most of its meats, fowl and produce from the Parker ranch and organic farm or nearby purveyors, built on Santa Barbara County's rich ecosystem.
Chef Cox's extravagant Valentine's Day dinner is perfect for toasting romance in the Santa Barbara Wine Country. The evening begins with an Amuse – Deviled Farm Egg with Caviar; followed by a First Course choice of Three Morro Bay Reserve Oysters with Santa Barbara Rock Crab "Rockefeller"; or Winter Greens with Crispy Country Ham, Asian Pear and Goat Cheese. The Second Corse is Parker Ranch Wagyu Short Ribs with Stone-Ground Polenta and Pan-Roasted Kale; or Wild Chanterelle Mushrooms with Creamy Toasted Orzo, Black Truffle Camembert and Lemon-Parsley Gremolata. Dessert is a perfect ending with either a Key Lime Pie with Graham Cracker Crust; or a Dark Chocolate Ganache Cake with Cassis. Petit Fours and Chocolate-Covered Strawberry are presented before guests depart. Sparkling and wine pairings are available for the dinner selected by The Bear and Star's General Manager Robert Williams.
Pricing for the Valentine's Day menu is $68 per adult and $35 additional for the optional wine and sparkling pairing. For those desiring to start their Valentine's Day earlier, The Bear and Star also offers their complete fresh ranch menus for breakfast and lunch. Reservations are highly recommended. www.TheBearandStar.com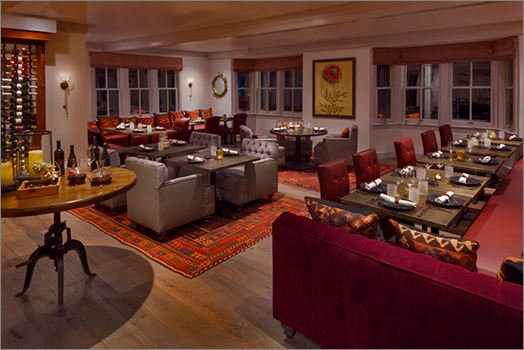 Dining Room, photo courtesy of Grey Crawford

The Cave Celebrates Your Favorite Valentine

-
With live music, wine and champagne, romantic ambiance, and an exclusive 1-night-only menu this Valentine, The Cave is an ideal destination to bring a special someone on Valentine's Day. Guests will be treated to a 3-course menu, which offers decadent options like Lobster Bisque, Crab-crusted Halibut, and Pink Champagne Cake Cheesecake. Accompanying the dining delicacies are exceptional wine pairings, served at the table or from one of the over 40 wines available from their self-service enomatic machines. Bottles are also available for purchase from the adjacent Ventura Wine Company, to which a $10 corkage fee applies. Live music from Vashon will be played from 5-9pm. Dinner seating times start at 4pm, and reservations are required. The cost is $60 per person, plus tax, gratuity, and drinks. To make reservations, please call 805-642-9449.
To complement this romantic evening, The Cave also offers an impressive selection of gifts- perfect for any Valentine's palate. Select from bottles of fine wines or champagne, handmade candles, accessories, sparkly glasses, or even a membership to the Cave Box wine club. Gifts can be purchased any time the Ventura Wine Company is open, or call ahead to present at the table on Valentine's Day. www.TheCaveVentura.com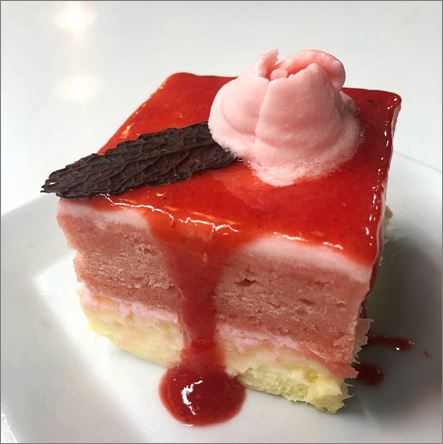 Pink Champagne Cake Cheesecake. Photo Credit by Kayla Pope

Enjoy One of Mixologist Alberto Battaglini's Custom Valentine Cocktails…The Rossini and Chocolate Sazerac

-
S.Y. KITCHEN presents a San Valentino Dinner on Wednesday, February 14, 2018 with alluring holiday dishes and special Valentine's Day aperitivo and digestivo cocktails created by Alberto Battaglini. Chef Luca and his culinary team will prepare exquisite seasonal specials for couples to savor.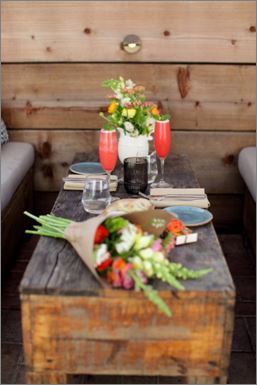 Begin the evening with a Primi course of Blue Prawn Catalana with Vapor-Cooked Vegetables and Saffron Mayonnaise; or Piemontese Beef Steak Tartare with Baby Artichokes and Black Truffles. The featured Paste is Sheep Ricotta Ravioli with Marjoram, Tomato Concassé and Brown Butter. Guest are offered several options for the Secondi course – choose Colorado Lamb Chops with Carrot-Orange Purée, Fresh Peas and Madeira Reduction; or a John Dory Fillet with Butternut Squash, Porcini Mushrooms and Asparagus. Complete the romantic evening with Dolci prepared by Sous Chef Francesco – Coconut Cheese Cake with Berries, Hibiscus Flower and Balsamico Reduction. Pricing is à la carte and reservations are recommended for one of the most popular dining nights of the year.
Cuddle together in the Cocktail Courtyard at night by the outdoor fire pit before or after dinner with an Aperitivo or Digestivo by Mixologist Alberto Battaglini for a little extra flirting – try the Rossini with Prosecco & Strawberry Puree; or the Chocolate Sazerac with Bourbon, Vanilla, Chocolate, Anise & Cherry. This is truly designed for romance in Santa Ynez!
In addition to the Valentine's Day Specials, S.Y. Kitchen will offer their complete à la carte menu on Valentine's Day for those that prefer the restaurant's signature dishes. For an early celebration, guest may opt to enjoy the restaurant's popular lunch menu from 11:30 a.m. – 2:30 p.m. on Valentine's Day. www.sykitchen.com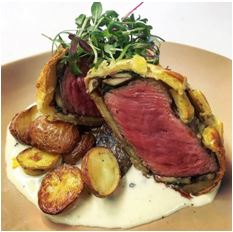 Food We Love-
February ushers in fresh additions to our Small Plates menu. Joining some of our guest favorites, like Beef Wellington and Broccoli and Beer Mac 'n Cheese, are eclectic new dishes like White Barbeque Fried Chicken with a deep-friend sage buttermilk airline chicken breast and house white barbeque sauce, Eggplant Pomodoro Poutine featuring fried eggplant fries with a house red wine Pomodoro and mozzarella cheese sauce, Al Pastor Bao with a Spanish chili pineapple marinated pork and pineapple salsa, and Scallop & Asparagus featuring a leek and asparagus-wrapped U10 scallop with a roasted asparagus caramelized onion puree, strawberry rhubarb coulis, and crispy prosciutto. These are crafted using locally-sourced ingredients, while making good use of seasonal flavors and harvests. These new Small Plates items will be available the entire month of February. www.TheCaveVentura.com

TEMPT CUPID WITH A ROMANTIC VALENTINE'S DAY DINNER AT LOQUITA-
Chef Peter Lee Presents a Seductive Spanish Menu for Lovers in Addition to Loquita's Seasonal Menu of Spanish Delicacies on Wednesday, February 14th
Toast to Valentine's Day with a specialty cocktail created by Bar Manager Gavin Koehn – Hierbas del Amor with Tarragon and Ginger-Infused Gin, Jerez Blanco Vermouth, Lemon, Campari, Rosé and Egg White. The four-course dinner begins with a First Course of Oysters; and a Salmon Tartare Cone with Feuille De Brick, Salmon Tartare, Salmon Roe & Piquillo Pepper; followed by a Second Course of Carpaccio de Porchetta with Pork Belly, Pickled Mustard Seed, Mustard Green & Chives; alongside Rabo de Toro with 20-Layered Potato Galette, Preserved Meyer Lemon Creme Fraîche, Braised Oxtail & Horseradish; and Camarón Frito - Fried Head-On Shrimp with Espelette. For the Third Course guests sample dishes of Zanahorias – Roasted Carrot with Honey-Sherry Glaze and Whipped Ricotta; and Pollo – Loquita's Organic Rocky Chicken with Black Truffle, Robuchon Mash and Jus. Dessert completes the dinner with Chef Lee's Chocolat Coulant – a Molten Lava Cake.
Pricing for Loquita's Valentine's Day Dinner is $75 per person. Additional wine pairing is available for $25 per person. Guests may also opt for the complete à la carte dinner menu instead of the Valentine's Day prix fixe menu. Reservations are highly recommended and are available from 5:00 p.m. – 10:00 p.m. www.loquitasb.com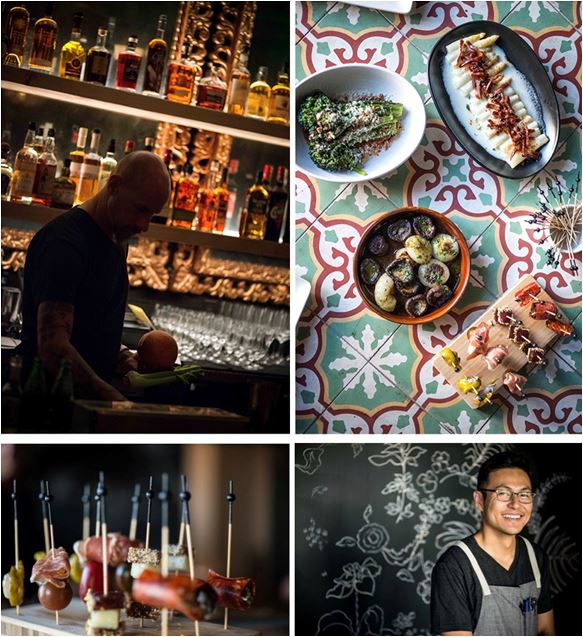 THE LARK PRESENTS ROMANTIC VALENTINE'S DAY SPECIALS ON WEDNESDAY, FEBRUARY 14TH-
Chef Jason Paluska's Inspired Dishes Set the Table for Romance and are Designed for Sharing
Chef Jason Paluska and the team at The Lark present Valentine's Day dining with enticing dishes created for the ultimate romantic dining experience. The holiday will be celebrated on Wednesday, February 14th, 2018. Guests may choose from Chef Paluska's romantic specials – Foie Gras Mousse with Feuille de Brick, Wood-Fired Ellwood Canyon Strawberries, Duck Fat-Roasted Hazelnuts, Pickled Rhubarb and Tarragon; or Butter-Poached Lobster with Creamy Parsnip Agnolotti, Sugar Snap Peas, Lobster Roe, Preserved Meyer Lemon and Pea Tendrils; and Grilled Niman Ranch Pork Belly with Fuji Apple Glaze, Fennel Kimchee, Yuzu Aioli, Lavash Cracker and Opal Basil.
The Lark also offers the complete market-driven

dinner menu

that has made the restaurant popular, with signature dishes of Crispy Brussels Sprouts with Medjool Dates, Roasted Beet Carpaccio, Japanese Hamachi Crudo, The Lark Porchetta di Testa, Crispy Duck Confit Wings, Caramelized Diver Scallops, Cast Iron-Roasted Sonoma Chicken, and Slow Cooked Beef Ribs.
Dinner may begin with a specialty Valentine's Day cocktail – Crimson & Clover with Ford's Gin, Dolin Blanc, Lemon, Aperol, Grenadine & Egg White or pair with
a selection from The Lark's award-winning wine list, menu of craft ales or lagers.
Pricing is à la carte and ranges from $7 to $48 for the menu of small plates and large platters. www.thelarksb.com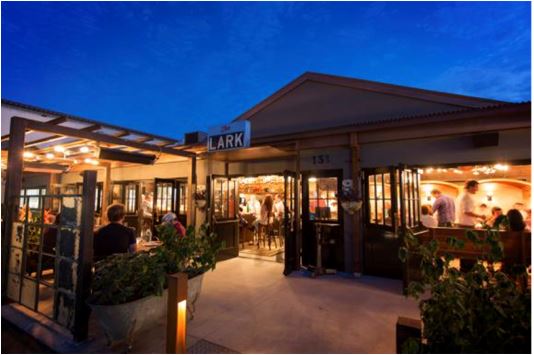 Photo credit: ©Macduff Everton 2013

If you are a restaurant within the 805 and want to send us a little seasoning of news, please send an email to This email address is being protected from spambots. You need JavaScript enabled to view it.
Related Posts
Comments
No comments made yet. Be the first to submit a comment